As Genshin Impact fast approaches its first birthday, its popularity shows no signs of diminishing. On the contrary, with a recently added third continent that is chock full of new characters and story content, more new players than ever before are diving into the free-to-play action RPG.
Much of Genshin Impact's popularity stems from its accessibility, but there's far more to it. It's beautiful to look at and relaxing to listen to. It has an engaging story and endearing characters. Mechanics are easy to learn, yet difficult to master. Content trickles out at a steady pace. I could go on and on, but you're better off reading our review. Even with all the rave reviews, some would-be players are wary to jump in. If you've been on the fence about playing the game because of its pricing (or lack thereof), we hear you. This guide is for you.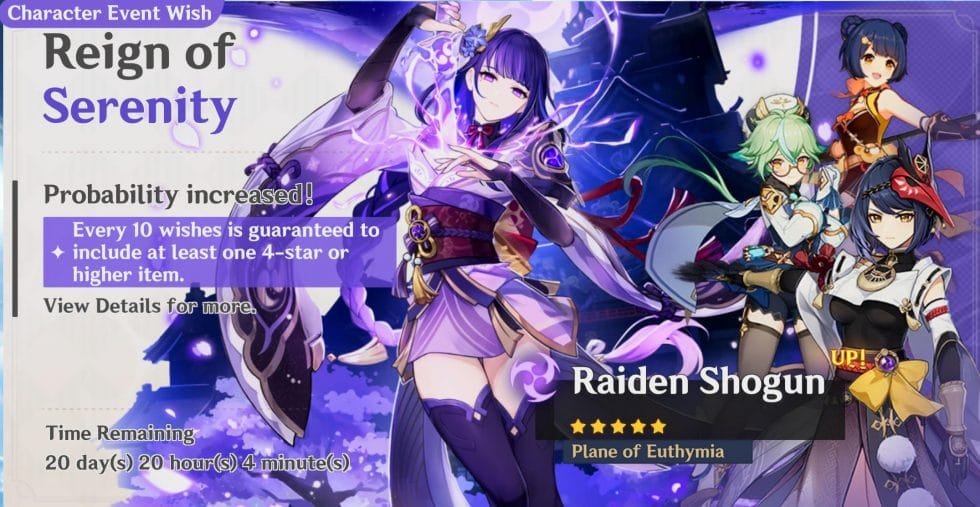 What is Free-to-Play?
For the uninitiated, Genshin Impact is a free-to-play (F2P) action RPG developed by MiHoYo. That "free-to-play" label carries a harsh stigma, and for good reason. For years now, the mobile gaming market has been dominated by games that are ostensibly free but offer a bevy of microtransactions. These transactions range from experience points and statistic gains in RPGs (games with this are often referred to as "pay to win") to in-game currency used to buy a roulette attempt to win a character or item (this is referred to as a "gacha" mechanic) – and they all involve very real currency.
Free-to-play games are now a significant part of gaming on all platforms. You can't really blame the publishers. After all, why charge a flat $60 for a game when you can make it free and potentially get hundreds, or even thousands of dollars out of each player. Call the game an "ongoing service," make a five-year roadmap, and reap the benefits. The sad reality is that only a tiny percentage of high-paying players are all that is needed. These big spenders are referred to as "whales." The mark of a good free-to-play game is when it does not cater too much to whales. Also, don't be a whale! Instead, choose to be a small fish in a big pond!
Consider the PlayStation Version
Brand new to the game? Check out our beginner's guide to familiarize yourself with some of the game's basic concepts. The next step is deciding which version to download between mobile, PC, and PlayStation 4/5. If you have a PlayStation 4 or 5 and don't mind some minor performance issues with the former, you can get access to a free five-star Cryo character with Aloy from Horizon: Zero Dawn.
Aloy is a timed exclusive for PlayStation players who have reached Adventure Rank (AR) 20 in version 2.1 but will be added to the PC and mobile versions in version 2.2. PlayStation players will also have free access to Aloy's Predator Bow. Unlike Aloy, however, the bow will remain a PlayStation exclusive.
Unlock Story Characters and Noelle for Free
Genshin Impact is a generous game, but maybe not in the way that some players would expect. It's easy to focus on obtaining those sweet, sweet Primgems that are used to "wish" for characters and weapons, but you can grab a handful of characters for free fairly early on. It's a good idea to focus on getting through the introductory story quests ASAP. Doing so unlocks a series of quests that will give you Amber, Lisa, and Kaeya, who will help carry you through the early portion of the game.
Keep saving Primogems, though! Once you have a decent number, you should start exchanging them for Fates. Between freebies and quest rewards, you should have enough for eight Acquaint Fates, which can be used for the Beginners' Wish banner. Making one full set of wishes on the banner earns you Noelle. Noelle is a four-star Geo character who is a useful tank and healer early on.
Unlock Barbara and Xiangling
With a proper healer on your team, you should be able to work your way toward Adventure Rank 18. Reaching that milestone will unlock the "A Long Shot" quest. Complete the quest, which involves defeating the first major boss, and you'll unlock Barbara. Barbara is an efficient Hydro healer who can be viable even in the endgame. Just avoid ice attacks while her water-based healing circle is in effect, or you'll become frozen.
Xiangling is the final character who is permanently free. Like Barbara, she is viable no matter your AR, and brings some serious Pyro-based DPS to any party. The feisty foodie can be unlocked by reaching AR20 and completing Floor 3 of Chamber 3 of the Spiral Abyss. Xiangling's elemental burst transfers to other characters, which makes her invaluable against icy foes.
Get Back to Collecting Primogems and Fates!
Now that you have a decent party and are past the teen ARs, it's time to focus once again on Primogems and Fates. There are many ways to earn both for free, including:
Log into your miHoYo account on the HoYoLAB Daily Check-In site
Complete four daily Adventurers' Guild commissions (available at AR 12)
Open treasure chests
Complete time challenges in the Spiral Abyss
Got Amazon Prime? Claim monthly loot here
Complete character Test Runs (available through Events menu)
Make offerings to the Frostbearing tree in Dragonspine
Make offerings to the Sacred Sakura tree in Inazuma
Exchange Stardust and Starglitter in the Shop menu
Complete "hangouts" with four-star characters
Diligence is the key to earning enough Primogems to make a viable attempt at obtaining a featured new character. If given the option, always choose Intertwined Fates over Acquired Fates, as the latter cannot be used to wish for characters featured in Event Banners.
Make the Most of What You Get
Always remember that there are no "bad" characters in Genshin Impact. Every character has something to offer, and team composition is often more important than individual builds. If you prefer the original team of the Traveler, Amber, Kaeya, and Lisa, you will have no problem using them for the entire game. Endgame content such as the final three floors of the Spiral Abyss will be more difficult without five-star characters, but you can still complete it with enough perseverance. And don't forget to equip and level up appropriate artifacts!
Forget all of the stigmas associated with the free-to-play model and focus on exploration. Genshin Impact provides a compelling world to explore in Teyvat. You'll gather all the resources you need simply by exploring and using your daily allotment of resin to complete domains, so don't stress about hoarding items. Relax and take in one of the most relaxing experiences in gaming at your own pace and budget.