My favorite Pokémon is Snorlax. He's basically my spirit animal. He's big and fat, sleeps all the time, and he owns that about himself. I already have several little Snorlax knickknacks. So, continuing with my Summer of Amigurumi, it made sense to create a new Snorlax to add to my collection.
Two of them!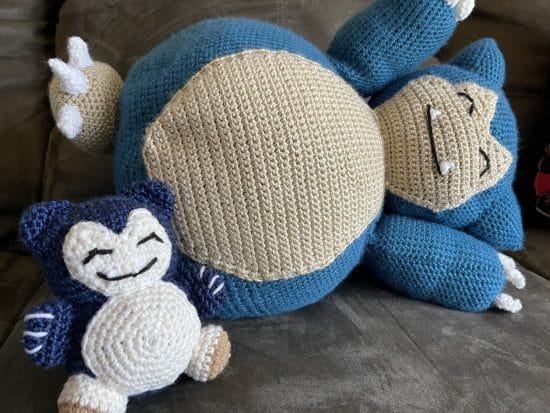 Yes, there are actually two amigurumi there to show. The big one I made last year, and the little guy I made this week. While they are both cute, the little one is my favorite (he's so chonky!).
So the Little One First…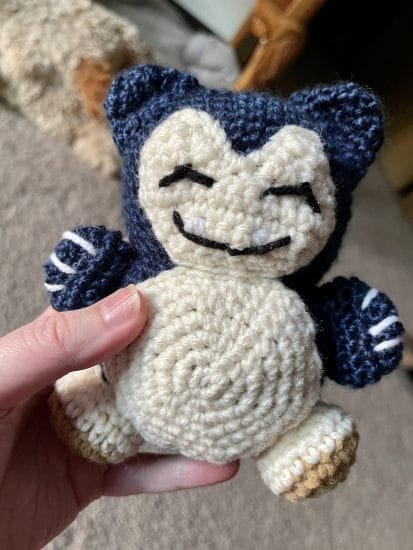 This little Snorlax was made using Caron Simply Soft Yarn (because it's my favorite and I use it for pretty much everything) and following this FREE pattern by KnotBadAmi. Vincent from Knot Bad makes a lot of amazing patterns. I have several of them on my "to make" list so you may see them pop up again throughout my Summer of Amigurumi. Actually, I know you will. So, check out their stuff. It's FREE!
I really didn't alter anything for this pattern other than the type of yarn used. I was able to complete him in about 5 hours (with frequent interruptions). Overall, he was a lot of fun to make and adorable as a finished product.
Next Up, The Big Guy
I'm just catching the irony in that I call the little guy my "chonky" Snorlax, while this Snorlax is BIG. Seriously, he's as big as my cat. Or slightly bigger perhaps. I made this guy over a year ago and just used scrap yarn that I had on hand. If I were to redo him, I'd use a lighter tan for his belly and face… but he is still fun. Maybe he just got too much sun while lounging on the beach and got a little tan.
For this giant guy, I used another FREE pattern. This one is from Mia Hand Crafter and is easy to read and fun to make. Just make sure you have a lot of Polyfil for him.
Will I Make More? Yes
I still have several other patterns for Snorlax amigurumi to make. For now, these two are proudly joining my collection on my bright yellow Pokémon shelf. Perhaps it will become a yearly tradition to add one.
If you have made or do make any Snorlax, I'd love to see your finished results! Have fun, and happy hooking!