Rescuing Robin Hood is a fun, fast-paced, cooperative deck-building game for the whole family! Can you work together to save Robin Hood from the evil Sheriff of Nottingham? This game is my new favorite, and honestly, I would give it more than 5 stars if I could.
Quick View
Title: Rescuing Robin Hood
Publisher: Castillo Games
Release Date: 2021
Price: $44.99
Suggested Audience Age: 10+
Number of Players: 1-5
Time to Play: 20 minutes per player
Availability: Castillo Games, Foundry Game Rooms, Tabletopia, and more
Recommended for fans of: 2 player board games and Robin Hood
Geek to Geek Media was provided with a review copy of this title
What's The Story?
Gather round and let me tell you the story of Robin Hood. Well, actually, most people probably already know that story. Here it is again! Set in Sherwood Forest, Robin Hood has been captured by the notorious Sheriff of Nottingham. Never fear! The leaders of Robin Hood's Merry Band are joining together with villagers to rescue him!
Playing as one of the Merry Band (Friar Tuck, Maid Marian, Little John, Alan-A-Dale, and other well-known names), you assemble your crew and fight.
What the Gameplay Feels Like
This is a cooperative deck-building game. Each round you build your little band with cards of villagers and then work together with the other players to decide how best to use their skills to defeat that round's enemies. Each villager and your player card will have certain stats such as Wit, Stealth, Brawn, and Jolliness. Additionally, they may offer some benefits such as Scouting, Cookery, or Prayer. Going up against the enemies you may not know the exact stats you will need to beat, so work together to plan the most strategic plan of attack.
This game offers a lot of math and strategy, but not so much so that it gets overwhelming or daunting. It was easy to learn, engaging, and fun to play, and offers a lot of humor, artistry, and engagement amongst the players.
What I Liked
To be honest…all of it. This game hooked me the minute I first saw it. Granted, I am a fan of the Robin Hood tale anyway. However, it all is flawlessly presented in this game. The quality of this game is incredible. The care taken for such small details proves that this is truly a passion project for Bryce Brown and all others involved in the creation of this game.
And, if I may take a moment, I will also add that while I do not know Bryce Brown personally, from the brief interactions we have had over email in the process of receiving this review copy, he seems to be one of the kindest people you will meet.
Back to the game itself, the villager cards are detailed and creative. At first, I just thought that it was great artwork by Paul Vermeesch and clever puns in the names. However, it goes even deeper than that. Included with the game is a Character Guide with backstories for EVERY CHARACTER. Simple villagers such as Hughes Onfyrst (a great nod to Abbott and Costello) or Myles Tugo have paragraph backstories that are hilarious and fun. Even Leolina the Cat has a paragraph backstory (see above image)!
Can We Talk About That Box?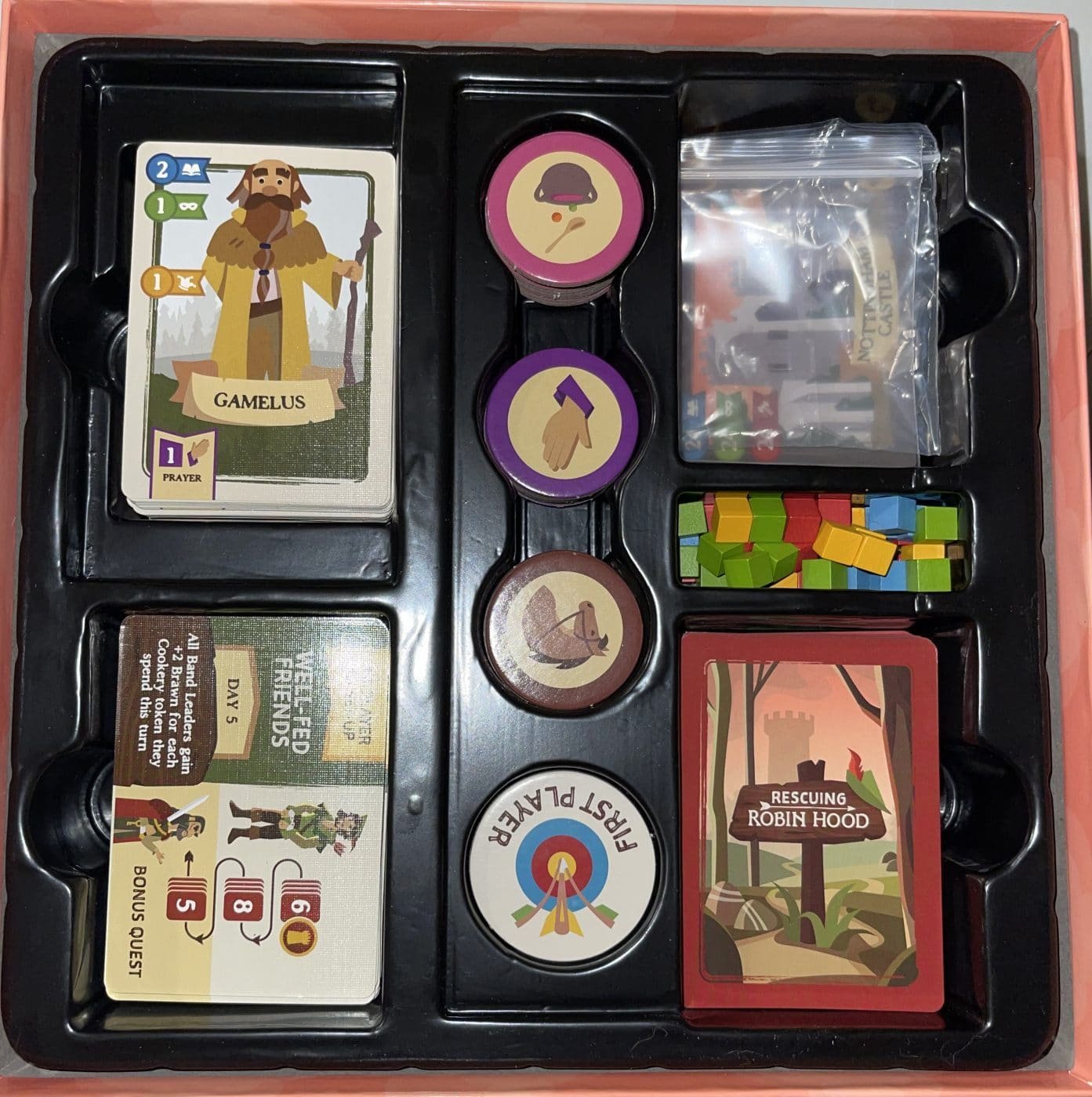 One of my biggest pet peeves is when a fantastic board game has absolutely no organization to the contents in the box so it just becomes a chaotic mess. But look at this box. Literally a place for everything…and even EXTRA bags!
What I Didn't Like
Only that I didn't have this game in my life sooner. Honestly, it is so incredibly well done and such a fun game that everyone needs to go buy it now.
Geek to Geek Media Rating: 5 out of 5 Merry Bands of Stars
Honestly, I'd give this game more than 5 stars if I could. This game is an absolute delight and a new favorite of mine.