Well, geeks, it's that time of year again. Where we gather around the fire, telling stories, rolling dice, and sharing in the joy and cheer of being around those we love. In that spirit, have I got the thing for you! A Dungeons & Dragons one-shot to usher in the Christmas season. It's called Claus for Concern, and it's available (for FREE) at DMs Guild.
"Claus for Concern" has over a dozen holiday and winter-themed magic and wondrous items, maps of all locations, and full custom stat blocks for enemies and bosses!
This adventure is designed for levels 3-5 with scaling adjustments for parties of lower levels. Additionally, my estimation is that you can complete the mission in a 3-4 hour session, but you can easily shorten or extend it based on your party's needs.
Someone Save Santa!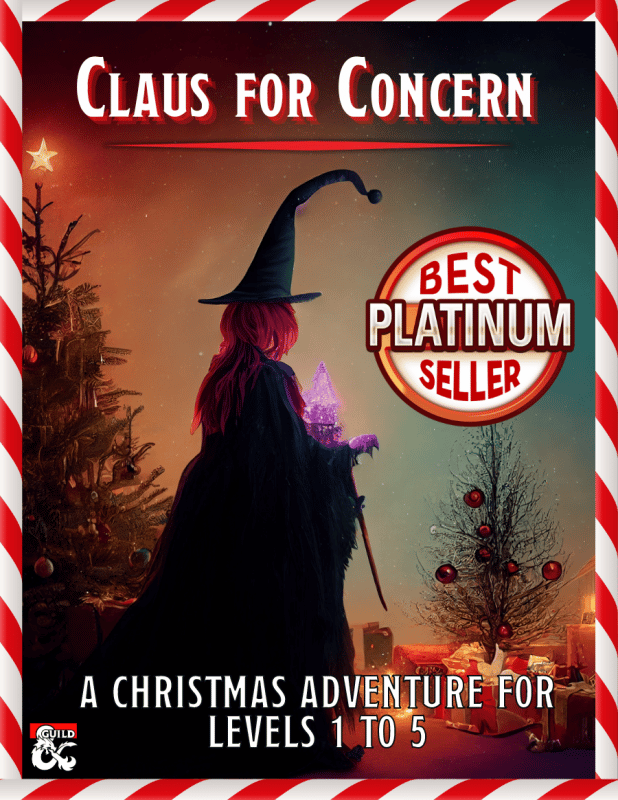 In terms of what the module is about, I think you'll have a hoot with this one:
Oh, no! Something's wrong in the toy factory! Santa has been bamboozled, and his workshop is overrun with frosty foes, wintry wrongdoers, and North Pole ne'er-do-wells.

A team of Santa's elves manage to escape the workshop warzone and recruit a party of adventurers to go take back toyland.

Can our heroes muster enough cheer and joy to make sure all the good girls and boys get their holiday gifts? Or will everyone forever get stockings full of coal…whether they're on the Naughty List or Nice?

Product Description, Claus for Concern
The adventure is designed to be a stand-alone Christmas quest. But with a few tweaks here and there, it could very easily be incorporated as a side story into any arctic campaign you have going. And with the popularity of the Icewind Dale: Rime of the Frostmaiden campaign setting, Claus for Concern can be slotted into any shenanigans around the Ten Towns.
Bonus! More Free D&D Christmas!
I also have a companion title called Stocking Stuffers & Side Quests which is pretty cool, too!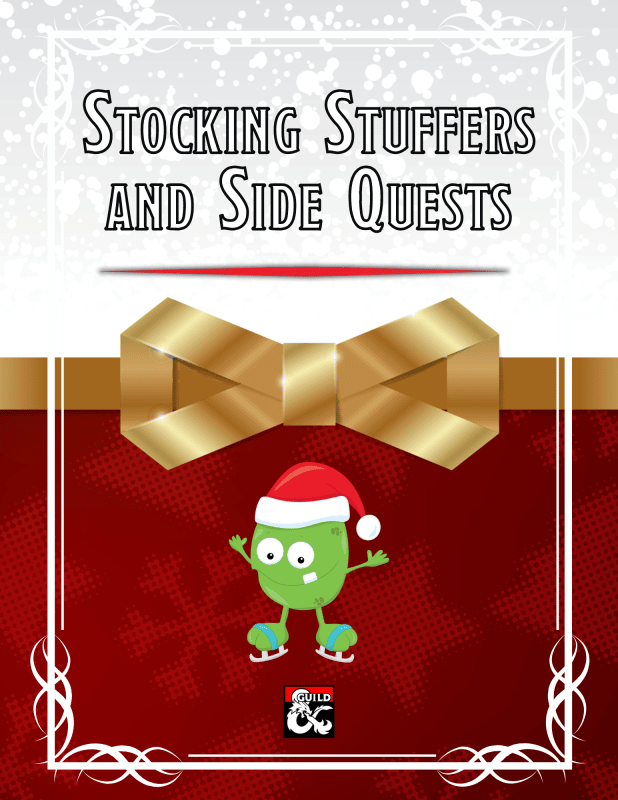 It has 2 full side-quests called Wally's Follies and Hag-ing A Few People Over, as well as 13 new magic items, and 5 NPC stat blocks. Oh, and did I mention that this one is FREE, too?
A Gift to the Whole World
How's that for some egotistical self-aggrandizing, huh? Originally, I was going to write Claus for Concern as a bonus for the GtG Patreon's 2020 holiday zine. But the further I got into it, I thought it was too much fun not to put on DMs Guild, too (as a Pay What You Want title, at that — even $0).
Go Forth and Bring Merriment!
I hope you all enjoy the module and that maybe during a couple of the toughest years many of us have faced, we here at Geek to Geek could help spread just a little bit of cheer. So head out and get ready to smash some snowy bugbears, frazzle some frost elementals, and put some sprites and mephits on ice. Happy holidays, everyone!
Remember, you can grab your copy of Claus for Concern and Stocking Stuffers & Side Quests on the Dungeon Master's Guild. (If you do, remember that ratings and comments are incredibly helpful). For even more holiday fun, check out the best Halloween titles on DMs Guild, too!