Following last fall's wide release of Persona 5 Royal, both Persona 3 Portable and Persona 4 Golden are now available on modern consoles and Xbox Game Pass!
Quick View
Geek to Geek Media was provided with a review copy of this title.
A Social Link to the Past
Thoughts on Persona 3 Portable from Steve WittkampPersona 3 Portable
Ah, Persona 3 – the game that started it all! Oh wait, wouldn't that be Persona 1? Well, sure, but Persona 3 is about as different from Persona 1 and 2 as those games are from the Megami Tensei games they spun off from. Persona 3 brilliantly reinvented the series in 2006 by incorporating social simulation elements into the traditional dungeon-crawler RPG formula. It's just as important to forge and improve social links with your peers as it is to grind out levels in the randomized floors of the game's gigantic dungeon, Tartarus.
You spend roughly one year in the shoes of a Japanese high school student who attends school by day and battles monstrous foes called Shadows by night. You're not alone, of course. You have a handful of companions – members of S.E.E.S. (Specialized Extracurricular Execution Squad) – who eliminate Shadows by your side. Most importantly, you have an ever-changing roster of Personas, summoned from your very own psyche by pointing a prop gun at your head and pulling the trigger, to aid you. Personas grant you magical abilities and affect your basic stats, but don't get too attached, as you need to fuse them together to gain stronger abilities.
This particular release of Persona 3 is based on the 2012 PSP version, which is most notable for allowing you to select between a male and female protagonist. Your choice of protagonist affects social links, romantic partners, and even some available locations. This option alone makes Persona 3 Portable (P3P) the superior version of the game for many, but it's not without its drawbacks. Due to being developed for the PSP, the presentation had to be scaled back from a traditional RPG in which you manually move your character throughout the town to a more visual novel-inspired structure. Much of the additional content from the expanded "FES" PlayStation 2 release sadly did not make it into the P3P either.
While it's unfortunate to not have the extra content and epilogue from Persona 3: FES, it's great to have any version of this classic game available for modern consoles and PC. Granted, it's a little unusual to be playing a game designed for a standard-definition portable device on a 4K television using my Xbox One X, but those hand-drawn character portraits look great in HD, let me tell you! Everything looks clean and runs smooth, with none of the glitches often encountered in upscaled releases of older games. This release of P3P is a great opportunity for those who only got into the series with Persona 5 to see where the tried-and-true formula of modern Persona came from, and a nostalgic blast for fans like myself who adored this game well over a decade ago.
The Switch is Just Better
Thoughts on Persona 4 Golden from TroytlePower
Nearly six years ago I finally replaced my long-lost PlayStation Portable with a PlayStation Vita. I tinkered around with it here and there but didn't really find a game to sink my teeth into until I picked up Persona 4 Golden just before my wife and I headed out on a multi-state road trip. I had never touched either the Persona or Shin Megami Tensei series before and was immediately bored to tears by how little gameplay there is in the first few hours of the game.
Seriously, it takes forever to really get into things.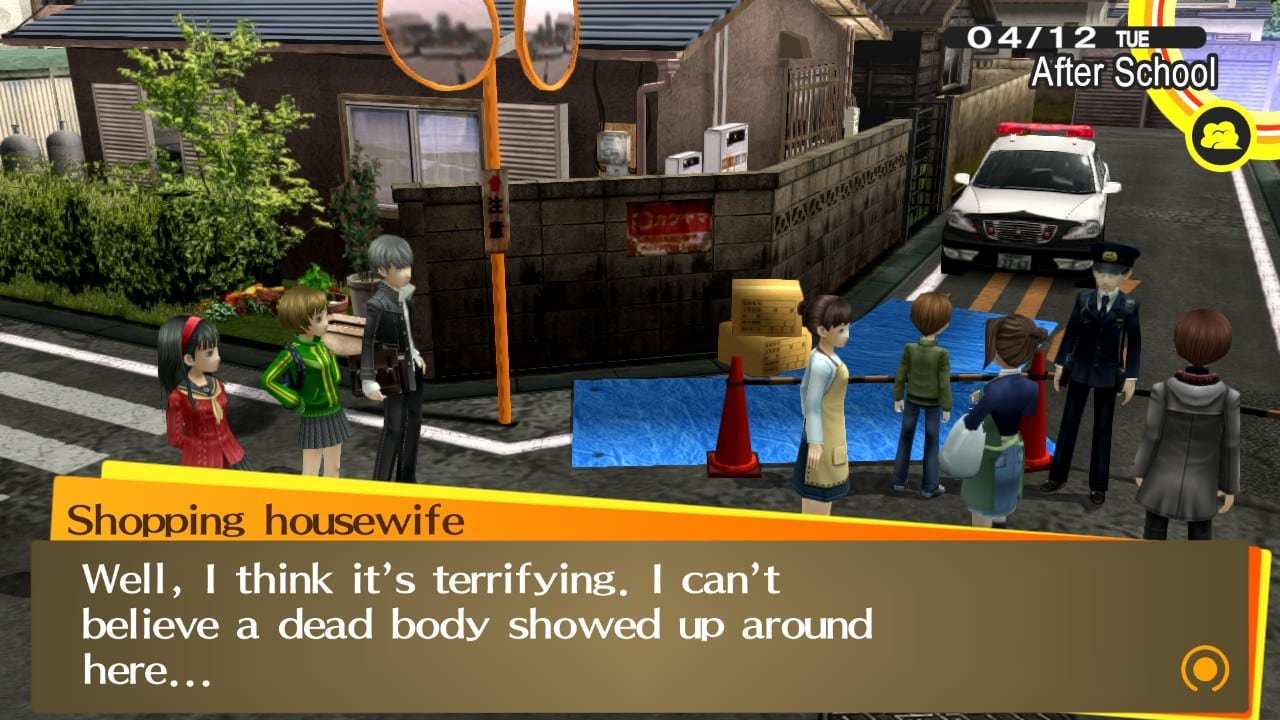 It took hours for me to understand what sort of game Persona 4 Golden was. You play as a high-school boy who moves to a new town just as a series of strange murders occur there. You and your friends start trying to figure out what is going on, while also navigating classes, part-time jobs, and social connections with other folks in the community.
Oh, also you go inside a TV at a department store to fight demon shadows with a golf club.
Unfortunately for Persona 4 Golden, that same road trip was the one where we found a freshly released Nintendo Switch sitting on a shelf at Walmart. Once I had that system in hand, my Vita started to gather dust… and all these years later it's still pretty dusty. I tried to pick Persona 4 Golden up several times since then, but I just never got sunk into it.
Now, finally, I've picked up Persona 4 Golden again with its release on the Nintendo Switch, and I'm shocked at how much more I'm liking it now than I did then.
As far as I've seen so far, this game is a straight port of the Vita version of the game. I don't see any additional accessibility options or improvements. The game does look a little better than it did on Vita thanks to the bigger screen, but other than that there are no drastic changes that I've found.
I figured I'd end up skipping through a lot of the opening story. There's no way to outright jump forward, but you can fast forward through dialog up to the point that you have to make a choice on how to respond to someone. I did this for a few scenes, but pretty quickly got pulled into the story and found myself enjoying letting the conversations play out.
One annoyance is that you can't access the menu mid-conversation, and there are long periods of nothing but long conversations in the opening of the game. The reason I wanted to get to the menu was first that the voice-over was set to Japanese, and second because the game is not set to auto-advance text by default. Once I switched it to English with auto-advancing text, I was able to let those conversations play out as if I was watching a show, and I really got into things.
The two characters you spend the most time with at the start of the game, Yosuke and Chie, are absolutely adorable. Since your protagonist is silent, even when you do choose dialog prompts, they carry the majority of the work in setting up the stakes of the paranormal murder mystery. Both of them are kind of dweeby but pure-hearted in a way that I absolutely adore, and I found myself way more invested in helping them out than I did the first time I tried the game.
I've only just gotten up to the point where the game introduces combat and starts to open up, and I'm so excited for the ride. Persona 4 Golden on the Switch is effectively the exact same game I played all those years ago, but seeing it on a fresh platform on a slightly bigger screen (or a way bigger screen if you dock the system) feels absolutely wonderful.
I can't wait to see where this massive story goes!