A few years ago, I started a project in which I would stream every game in Falcom's classic action RPG series, Ys. Now that I've basically become "the Ys guy" in my corner of Twitch, I get asked a lot of questions about the games. With Ys 9: Monstrum Nox recently released on PS4, PC, and Switch, this seemed like a great time to compile my answers to some of the most frequently asked Ys games questions.
How do you pronounce Ys?
Let's get this one out of the way upfront. I often hear Ys mispronounced on Twitch as "wise" or "yiss." These pronunciations don't work because the word Ys comes from French. (The first few games in the series are inspired by ancient French mythology.)
When pronounced correctly, Ys should sound like the first syllable in "Easter." However, with a North American accent, it often comes out sounding more like the first syllable of "easy". While not quite as accurate, this pronunciation is generally also accepted among fans. (That pronunciation also offers way more opportunities for puns!)
TL;DR: "eees" or "eeez"
How do the Ys games play?
The Ys games are action RPGs that play like a hybrid of The Legend of Zelda and Secret of Mana. The mechanics vary a bit between the games, but in general, you will be exploring dungeons, fighting monsters, and finding chests with new gear. The games feature stats and leveling up like a traditional RPG, however, they are designed to prevent over-leveling and discourage grinding. Gaining mastery of the mechanics to take down challenging bosses is a big part of the reward in Ys games, especially in the earlier entries in the series.
As for the combat itself, the Ys series has used three different battle systems over its 30+ year history:
Bumper combat: The oldest games in the series use this system. Rather than having an attack button, you strike enemies by simply bumping into them. If you hit their sides or back, they take damage and you do not. However, if you have a head-on collision, the enemy damages you and you only deal minimal damage to them. This system is deceptively simple but still makes for challenging gameplay.
Solo hack-and-slash: The middle games in the series use this system, which will feel most familiar to Zelda players. You play as a single character and walk up to an enemy to press a button to swing your sword.
Party-based: The modern Ys games use a system most similar to Kingdom Hearts or Secret of Mana. You play with a party of threecharacters and control one directly while the other two are managed by AI. At any point you can change which of the three you control.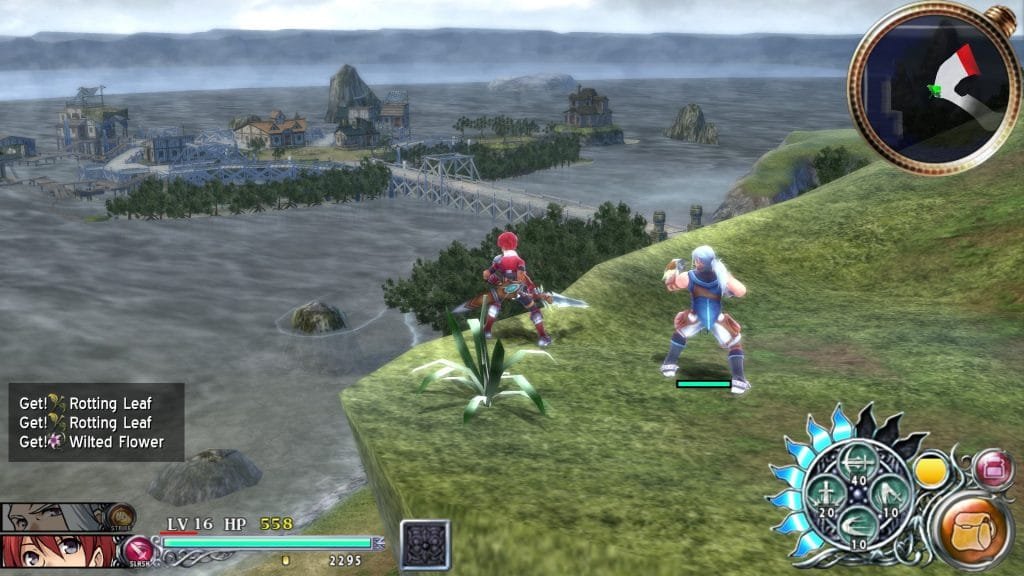 What are the Ys games about?
The Ys games follow the adventures of Adol Christin, a redheaded swordsman and explorer. In each game, he arrives in a new region and quickly finds himself drawn into some kind of mystery. The story of each game generally focuses on Adol learning about the local legends, exploring ruins, and finding ancient artifacts. Throughout his journies, Adol makes friends that help him on his journey but inevitably end up getting himself into trouble (especially with the local authorities).
The series takes place in a medieval setting that is like an anime high fantasy reimagining of the real world. As a result, the games take inspiration from the cultures of actual ancient civilizations but incorporate some kind of twist. In some cases, this is done subtly, and in other cases, it's quite on the nose. (I probably don't need to tell you what places the "Romun Empire" and "Afroca" are based on.) The setting also includes some elements of alternate history, with certain realms of science and technology being far more advanced than in real-world medieval times.
How are the Ys series games connected?
Unlike franchises such as Zelda, Final Fantasy, and Tales, each game in the Ys series takes place in the same world and star the same main character, Adol Christin. At first glance, Adol may seem similar to Zelda's Link in that he's also a silent swordsman. However, unlike Link, you play as the same incarnation of Adol in every game. Despite this common thread, each entry in the Ys series is intended to be approachable as a stand-alone experience. The games may occasionally make references to each other, but recognizing these references is never essential to understanding the plot. Essentially, each game recounts one of Adol's many adventures as he explores the world.
Why should I play the Ys series?
Now that you understand what these games are about, here's what makes them great:
The Ys games are some of the most highly polished action RPGs you can play. A lot of other action RPG series have combat that is either spammy (Kingdom Hearts), janky (Secret of Mana), or punishing (Dark Souls). The Ys games offer up a challenge but victory always feels attainable. I also love that they are balanced to minimize the need for grinding; Ys understands that playing an RPG shouldn't be busy work.
If you're someone who is interested in the history of the action RPG genre, you owe it to yourself to play one of the older Ys games. While relatively obscure in the West, these games were highly influential to the Japanese games industry.
One of the standout features of the Ys series is its soundtrack. The Falcom sound team has knack for blending rock and classical music to make for really impactful pieces. For example, here's one of my favorite pieces from Ys 2: "To Make the End of Battle"
Getting into the Ys franchise is pretty low-investment by RPG standards. Most of the games in the series can be completed in under 30 hours (some as little as 10 or 15) and they are often heavily discounted during sales on Steam & GoG.
Are you sold on giving Ys a try? If so, check out my guide on the best places to start the series.