If you're like me, sometimes you really want to play a board game but there's nobody to play it with. Well, that's where solo games come in (like my favorite, Palm Island). I didn't even know that solo board games existed until a couple years ago. Now I am slowly trying out as many as I can get my hands on. This week I am here to talk about a little game called Friday by Friedemann Friese and Rio Grande Games.
Friday: A Solo Board Game Adventure
The game Friday is inspired by the novel Robinson Crusoe by Daniel Defoe. You are Friday, a happy island dweller who finds Robinson after he has capsized on your beach. You are trying to help get Robinson to leave your island. So you teach him abilities to help him survive. If Robinson is able to beat two Pirates at the end of the game, he leaves the island and you have peace and quiet back.
Personally, I kind of love that you are playing as Friday trying to just get rid of Robinson.
A Deck-Building Game
As you go through the game, you are essentially guiding Robinson. His abilities are shown by a pile of cards, and are very limited. On your turn you can attempt to defeat hazard cards using your fight cards. If you win the fight, you get to add that hazard card to your deck. If you don't, you lose some health but also get to remove some cards from your deck that you may not have wanted. This way you can try to optimize your deck of cards in preparation for fighting the two pirates at the end of the game.
Sounds Easy? It's NOT
I really wanted to love this game. I love the graphics, the quality of the materials, and I've always ADORED the story of Robinson Crusoe. However, it took a bit of fighting with myself and the game before I started to get comfortable with it.
Perhaps I shouldn't have tried playing my first couple games while I was sick and feverish. However, it was actually really difficult for me to figure out the rules. Some of the rules are written a bit ambiguously.
Additionally, there are a lot of moving pieces here. Three storage boards, several types of cards (which can mean different things based on how they are facing), and life points all add up to a lot of stuff to keep track of.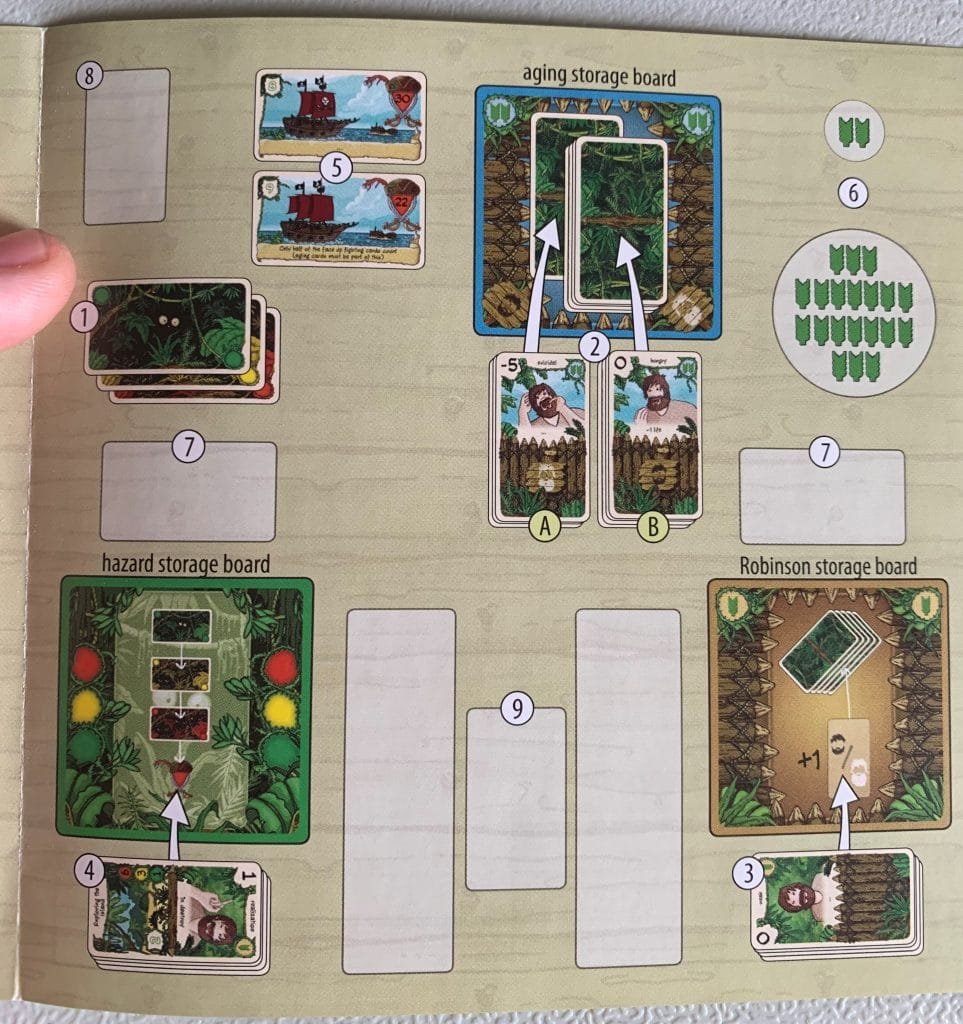 I persevered however. It took me about 8 games, as well as watching some gameplay videos online before I felt confident with it. However, once I did…it is a lot of fun. It is designed so as you get better at the game it can become more difficult with built in difficulty levels. This means it would be a perfect game for someone who likes a challenge.
Tips From My Failures
A few things I learned while playing Friday as a solo board game:
Don't be afraid to lose some health if you can destroy bad cards.
Learn the tricks of what cards work best for the different phases (I found getting as many Destroy abilities as possible during the Green phase worked great for me).
YOU CAN LOOK THROUGH BOTH DISCARD PILES AT ANY TIME. It actually says this in the rules! Page 15 of the rule book if you are curious.
Don't overthink it on the first few plays. Part of my biggest problem was trying to make things a lot harder than it actually was.
Have some pen and paper nearby. I found it easier to write some things down as I went during my first couple play throughs.
There's an App for that
As I was starting to figure out the game, I found myself looking online for gameplay videos to see how others were playing it. Several sites I found referenced the App. Yes, this game is actually a mobile game as well! While I have not yet purchased the mobile version, it appears by all accounts to be the same basic game. Perhaps having a computer tell me what is and is not allowed would help me to learn the rules better! Also being able to take it anywhere with me without needing room to setup the cards and boards would also be convenient. I may pick this one up.
So…how good is Friday the solo board game?
Friday is a great game that provides hours upon hours of entertainment. I would recommend this to anyone who already has a good grasp on deck-building games and who likes a challenge.
I know I will be playing this one much more, especially as I start to get better at it… winning is much more fun than losing.