This past week, we got tons of good news at the Nintendo Direct! We saw lots of JRPG goodies–from Rune Factory 4 and 5 (yeah, that's right, they're making 5!) to a surprise Final Fantasy IX drop that very day! We also got plenty of Dragon Quest news. First, we're getting Dragon Quest Builders 2 on July 12th. The game looks amazing, and I cannot wait to play it! Besides the announcement for the remake of Link's Awakening, the biggest news (for me, at least) was that Dragon Quest XI S is headed to North America, baby!
So, what exactly has been confirmed? Quite a bit, actually. Still, there's a bit more I'd like to see included in this version that we Westerners haven't gotten yet.
Confirmed: More Marriage Options
In December, the Japanese trailer for Dragon Quest XI S released, and series creator Yuji Horri confirmed that they were adding more marriage options. As the game is, you can only marry one person in the postgame. With the Switch version, they are adding several other options, including both men and women. To avoid spoilers, I won't go into any more details, but this could be fun. Personally, I was disappointed in who the Luminary married in the PS4 version, so I like that we get options.
Something I Want: Kurucchi
If you follow me on Twitter, then you know I love Kurucchi. He's a little Spirit of Time that you can actually recruit to join your party as a permanent member in the Japanese 3DS version of the game. I have wanted Kurucchi in the U.S. since playing the PS4 version and realizing he wasn't in it. I love him so much, I had him shipped all the way from Japan to come and live in my house.
Confirmed: New Character Stories
Speaking of new character stuff, the Switch version of the game will have new content where we see the other members of the party becoming the protagonist of their own stories. I loved every single person in Dragon Quest XI, so I'm super excited to see them at the forefront of their own unique stories. Personally, I think I'm looking forward to Jade's and Sylvando's stories the most. Although, there's a certain spoiler-y character whose story I also look forward to playing.
Something I Want: A Collector's Edition
I'm really hoping the Nintendo Switch version gets its own Collector's Edition. The one for PS4 looked amazing, and stupid old me didn't grab it when I had the chance. There has been a lot more DQXI stuff released in Japan, and I would love to see some of it come stateside in a Collector's Edition for the Switch.
Confirmed: 2D
The Nintendo 3DS version, which wasn't released in the West, gave players the option to use that classic, 2D Dragon Quest style. Like a lot of you, I've been hankering to play this game in 2D. The combat is set to classic mode, party members follow you around, and everything looks super 1986. If you love great JRPGs and have a soft spot for nostalgia, then Dragon Quest XI S will be the perfect combo for you. I'm not sure if I'll play the entire game in 2D, but I will most definitely have to try it out for myself.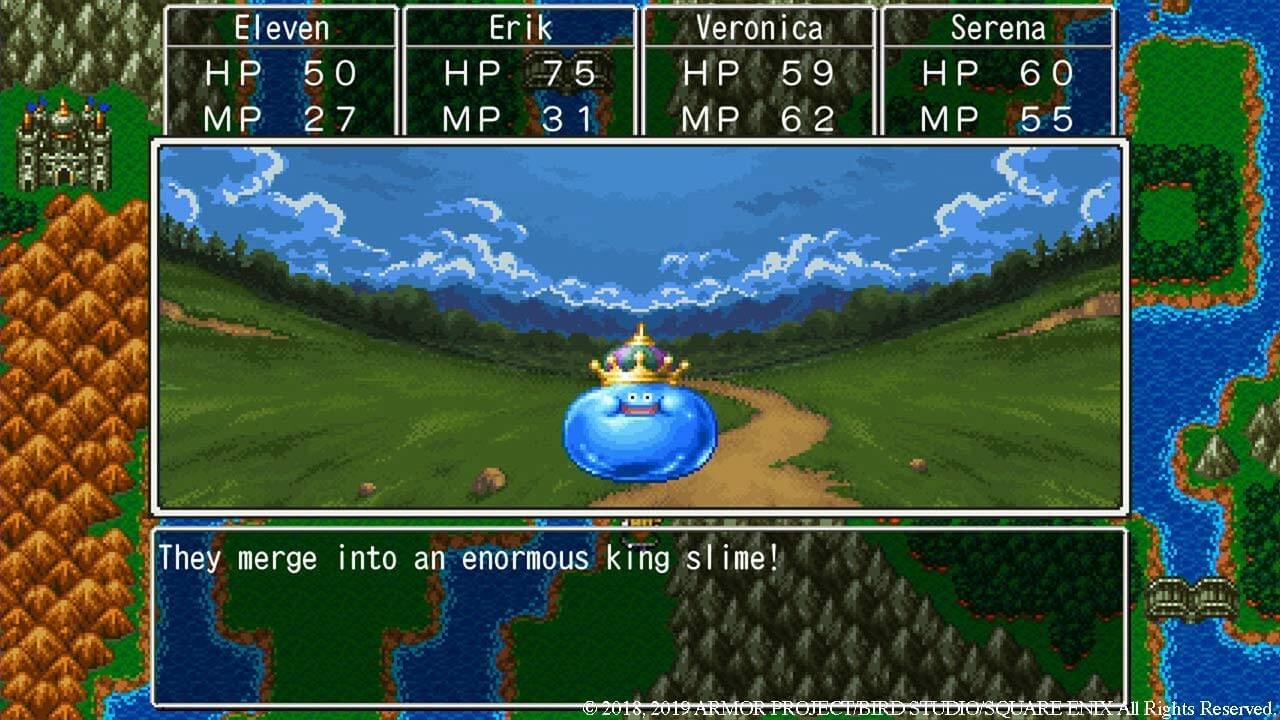 Confirmed: New Music Options
A lot of folks complained about the music in Dragon Quest XI. To me, it was never a big deal. But the good folks at Square Enix listened to these complaints, and now the Definitive Edition will include the orchestral option so many people have been pining after. Even though this isn't a biggie for me, it's good to see a company listening to its fans.
Something I Want: Yocchi Village
As we've established, I love the Spirits of Time. In the 3DS version, they're called Yocchis. Also in the 3DS version, you're able to visit the Yocchi Village. There's even a kind of mini-game where you go around and collect these little guys via StreetPass and send them back to their village. I would LOVE to see this added in some capacity to the Definitive Edition here in the States.
But There's Still Time…
Dragon Quest XI S Definitive Edition isn't released in North America until Fall 2019. I'm sure we'll see more announcements in the coming months. My fingers are crossed that we'll get everything on my wishlist.