Quick View
The Game: Forgotten Treasure (coming to Kickstarter October 12 2021)
How Many Players: 2-4
Age Range: 14+
What Type of Game: Strategic turn-based card game
Difficulty/Complexity: low
Average Length: 10-30 minutes
Replayability: moderate
At the time of this review, this game is not yet released. I was able to playtest using Tabletopia
What's The Story
In Forgotten Treasure, you play as a pirate searching for lost treasures. Sailing the seas and searching for sunken treasure is something that nearly every child has dreamed of doing! With this card game, you get to take on that role once again. Compete against fellow pirates to obtain the most treasures. Protect yourself from dangerous events and the devious actions of other players while collecting keys to be able to snatch those chests to win the game.
What the Gameplay Feels Like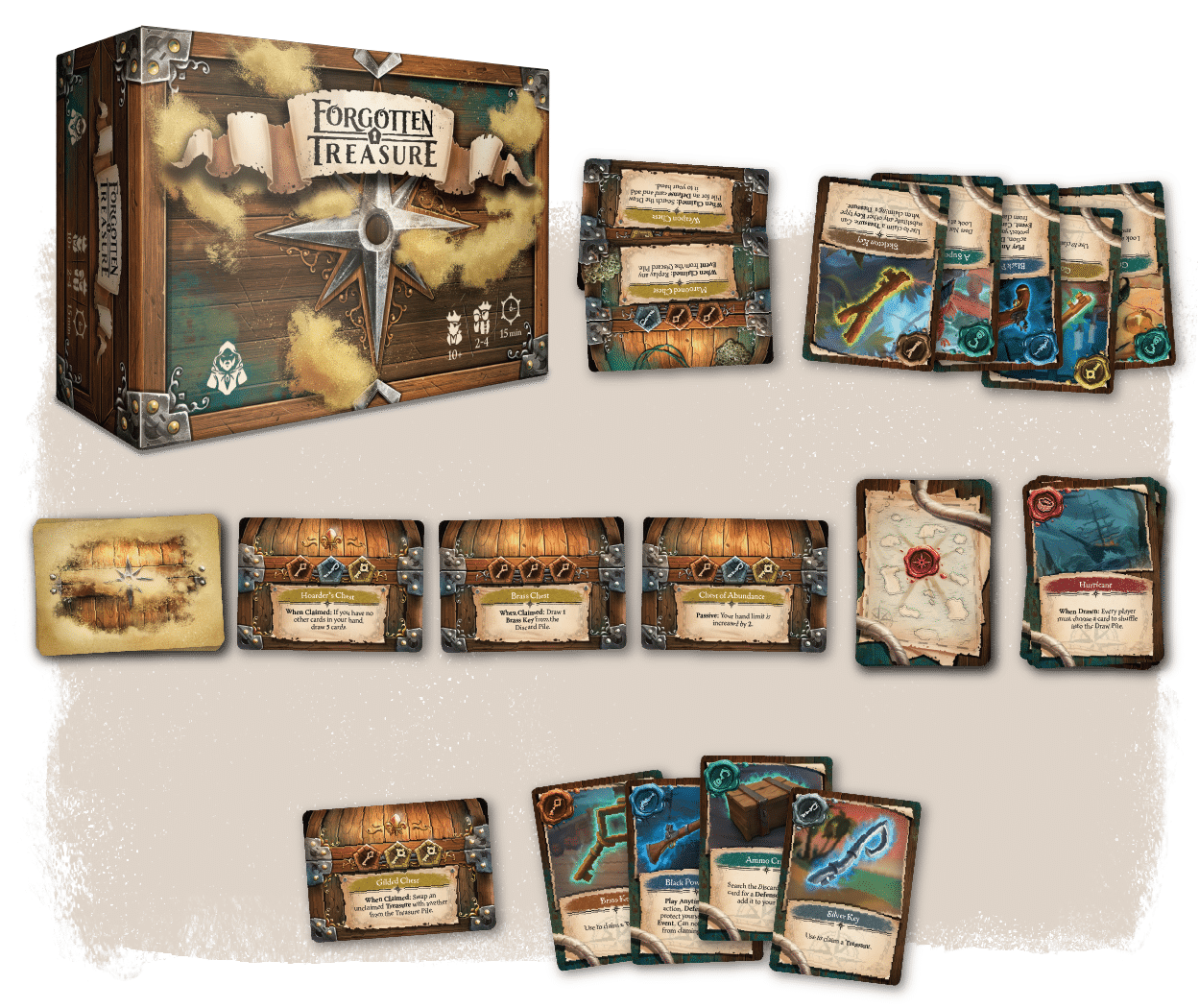 The gameplay for Forgotten Treasure is quick and easy. This is a strategic turn-based game where you are focusing on unlocking treasure chests. The first to claim 4 of the chests wins the game! Save up keys to match with the chests in the center of the table to be able to claim that treasure. However, there are events as well as action cards that can throw off your plans.
Each turn you are able to perform 2 actions. These can include drawing a new card, playing action cards, creating combos with your action cards, or using your keys to open a treasure. Additionally, you have defense cards that can do things such as protect you from an event, stop an item from being played, or even stop another defense from an opponent.
What I liked
The artwork for Forgotten Treasure is perfect. You can really feel the pirate theme on these cards and they are bright and colorful (The Angry Chickens card is probably my favorite). The artist, Philipp Ach did an absolutely fantastic job.
I also appreciate that it is a quick and fun game that only two people can play and still have a great time. For those seeking more of a hurdle, it also has fun side challenges such as collecting cards with skulls on them to win the game instantly.
Overall, the game feels very well thought out and well balanced with a good amount of strategy for those who wish to utilize it and also an element of luck for the less strategic-minded players.
What I didn't like
Personally, I always struggle with digital versions of physical games. I must admit that the Tabletopia experience was extremely well designed. However, I struggle with reviewing a physical product that I have not physically seen.
Otherwise, this is a really great game and I can't wait to hold the real cards in my hands!
TL;DR
Forgotten Treasure is a fun, quick game that is perfect for a small group of 2-4 players to play anywhere, anytime. It is easy to learn, fun to play, and coming to Kickstarter on October 12, 2021.
I will absolutely be supporting this game, and I hope you will too!
Rating