Are you a cat lover? Are you a puzzle lover? How about Physics? If you answered yes to at least the first two, then you would like this game. Fort Meow is an adorably fun puzzle game available on Steam for the PC. Developed and published by Upper Class Walrus back in 2015, it's not exactly a new game. However, it still holds up as a silly, fun game that's worth the money.
The Gameplay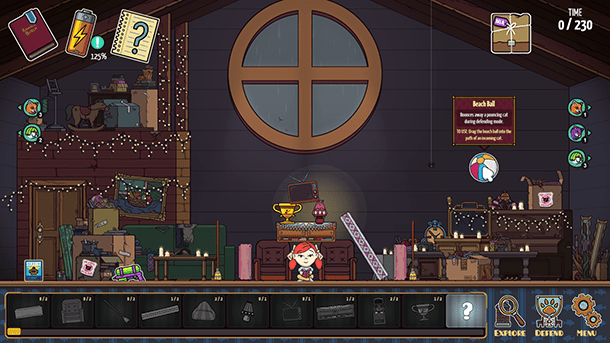 Fort Meow is a physics based game about building a pillow fort. Actually it goes well beyond pillows as you are using everything you can find in the house. With each level you use different household objects to build a fort around your little girl. Then, cats of different shapes, sizes, and abilities come flying out of nowhere to disrupt her reading and sit on her lap. While personally, I welcome a cat on my lap when reading a book, apparently this little girl does not. Try to build your fort strong enough to thwart the cat-aclysmic events taking place around you!
Is There A Story?
Actually, there is a story! Your character is the cute little girl named Nia. She goes to her grandparents' house but finds nobody home. This house is a huge, dusty, old manor house in a very cartoon style. Nia wanders up to the attic and comes across her grandfathers journal. However, every time she starts to read the journal, she is attacked by cats wanting to sit in her lap and distract her! So, the obvious solution is to build a giant pillow fort.
Where did all these cats come from? What secrets does her grandfathers journal hold? Where are the grandparents? And how does this little girl manage to bury herself under all this furniture? Why do some of the cats have watermelons on their heads??
Cat-astrophic Fun
Fort Meow manages to bring me back to it time and time again. The first time I played it, I stayed up until 2am to beat it and try to get all the Steam achievements. Since then, I have gone back to this game a couple times a year just for the fun of it. The cats are adorable, the graphics are fun, and the puzzles are just challenging enough to keep me interested.
Geek to Geek Rating: 5 out of 5