With the popularity of the recent Witch from Mercury anime series, the Gundam franchise is hotter than it has ever been. And of course, after seeing giant robots battle on screen, many fans want to try their hand at building one of their own. That's where Gunpla model kits come in. Pronounced gun-plah because it's a portmanteau of 'Gundam' and 'plastic,' the kits are fun and easy to build but there can still be a few small barriers to entry for newbies. To make things a little easier, I've put together my answers for the most common questions I get from viewers during my Gunpla-building livestreams.
Note: If you'd like advice for getting into the Gundam anime, Geek to Geek has a handy guide on which Gundam series to start with, too.
Disclosure: The links embedded in the rest of this article are affiliate links. We earn a small commission whenever someone buys a product via those links.
Which Gundam Kit Should I Start With?
This used to be a really tough question to answer. In fact, one of our GtG team members struggled with that quite a bit in the past. Thankfully, Bandai has recently put out a new type of kit, especially for newcomers: the entry-grade (EG) series.
First Choice: Entry Grade RX-78
Among this series, the one I'd recommend is the Entry Grade RX-78, which is based on the iconic Gundam from the original 1970s anime; it's the Gundam that most people will recognize. Since this kit sports an entry-grade rating (I'll get more into the grades later), it's easy to build but still produces a nice-looking end result. The other nice thing about the entry-grade RX-78 is the price: you can pick one up at most shops for under $12 (USD).
This entry-grade RX-78 was built by GtG's very own BJ Keeton. It was his first ever Gunpla and it looks great right out of the box.
Option 2: Hello Kitty X Gundam (RX-78, Green Zaku, Red Zaku)
If the RX-78 doesn't appeal to you, but you like cute things, an equally viable first kit would be one from the Hello Kitty x Gundam series. While these kits aren't officially considered "entry-grade" (EG), they are pretty similar in terms of ease of build and clarity of instructions. They also come in 3 flavors (RX-78, green Zaku, and red Zaku), so you'll have more color options than you get with the entry-grade Gundams. The downside is that you'll likely be paying several times more for a Hello Kitty kit than an EG RX-78.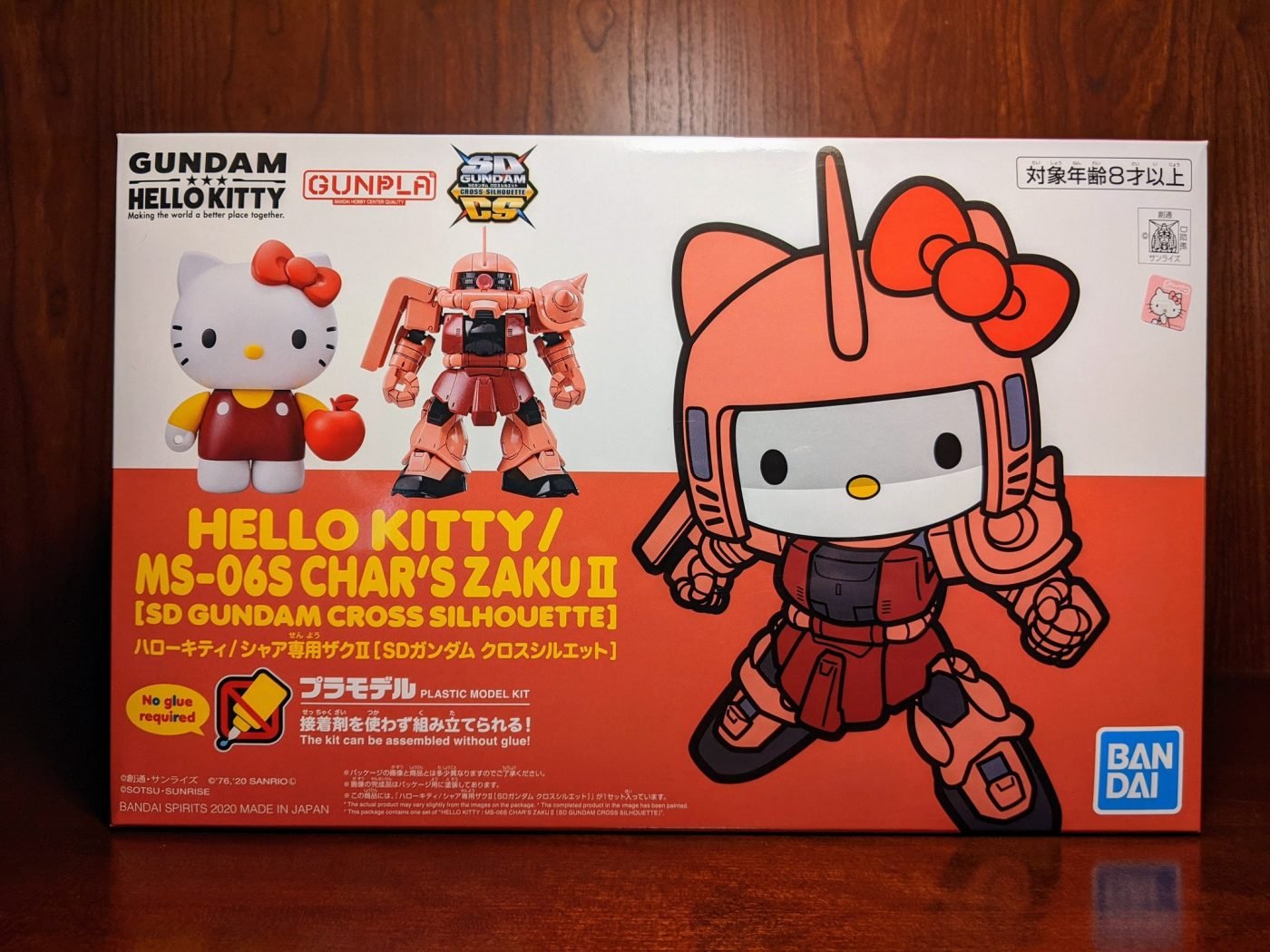 Hello Kitty is ready to commit some war crimes! The cool thing about this kit is that you can either build a separate Hello Kitty and Gundam/Zaku, (left side of the box) or combine them together (right side of the box).
Option 3: High-Grade (HG) Kits After 1999
If building an EG RX-78 or a Hello Kitty crossover kit isn't an option (or if you just don't like those designs), there are still plenty of other options. Gundam/Gunpla kits come marked with a grade that represents their size and level of complexity. The next level of complexity up from EG is HG, or High Grade. These provide a wide variety of design options and are still approachable for newcomers. In fact, HG kits were considered the go-to starter kits before the advent of the EG level. There are several grades above HG, but I don't recommend getting into the hobby with those.
A caveat to starting with an HG kit is that I only recommend starting with ones designed in 1999 or later. Before 1999, the Gunpla grades were not fully standardized, so you can't be sure what exactly you'll get in terms of quality and build difficulty. You can determine the date a kit was designed based on the copyright date on the box. Something else to note is that HG kits may come with instructions that are only in Japanese (regardless of where you buy your Gunpla from). However, you should be able to figure out what to do based on the images in the manual alone.
What Tools Do I Need for Building A Gundam Kit?
Technically, you can get by with building an EG Gunpla with no tools at all. However, I still strongly recommend using a tool to cut out the parts from the mold. The go-to cutting tool has various names (e.g. flush cutter or hobby nippers), but you can pick up one pretty much anywhere. Having one will make your EG build easier and is absolutely essential for any other Gundam kit. There's no need to pick up a fancy one; a basic flush cutter from Amazon or any tool store will only cost a few dollars and is all you need to get started.
If you're going to build any Gunpla other than an EG kit, I recommend the following basic toolset:
Flush cutter – Helpful for cutting out EG parts, essential for cutting out parts for all other kits
Hobby knife – Used for cutting off any nubs left behind when cutting parts from the mold
File – Smooth out rough edges left behind from cutting. Also works great on your fingernails! While you can get by with a file made of other materials, I recommend glass ones because they are cheap and reusable.
Tweezers – Gunpla parts can be tiny to pick up with your bare hands
I picked up each of these tools individually as I needed them, but there are plenty of affordable kits that include all of these things in one package.
Do I Need to Paint Gunpla Kits?
No. Gunpla kits released after 1999 come with all the parts pre-colored. They look good out of the box in unpainted condition thanks to the pigments incorporated into the plastic. Some kits come with a sheet of stickers or decals you can use to easily add extra detail to your Gundam. Of course, you can enhance any Gunpla with the addition of paint.
What Are Easy Things I Can Do To Improve The Look Of My Gunpla?
First off, it's totally valid to just snap together the parts and put your Gunpla on a shelf. However, if you want to dip your toe in the water of enhancing your Gunpla, there are a few things you can do that aren't as involved as painting.
Nub removal and stress mark touch-up
When you cut parts out of the mold, there are usually small nubs of plastic left behind. Trimming these down with a hobby knife and then filing them smooth will give your Gunpla a much cleaner look. If you want to take it a step further, you can even use a marker to mask the discoloration ("stress mark") at the location where you made the cut.
These circled light-colored areas are nubs and stress marks left behind from cutting out the parts. You can reduce the visibility of these by sanding them down and coloring over them with a marker.
Panel-lining
Most Gundams feature grooves, contours, and other small features that are molded into the plastic. You can accentuate these by giving them more contrast with a panel-lining pen. The pens come in various colors, but black will get the job done for most parts. For most Gunpla tools, using cheap or off-brand options works fine. However, for panel lining, I highly recommend using official Gundam-branded markers. The ink on these markers dries slower than regular markers/pens, giving you time to correct mistakes.
The addition of black panel-lining ink improves the contrast of the grooves and fastener holes against the grey plastic of this part.
Topcoat
Technically, top coating is a form of painting but in practice, it can be used as a quick process for making your Gunpla look more like a painted robot and less like a plastic toy. Topcoat is a clear spray paint that you apply as the very last step in your build. If you use a matte topcoat, it removes the plastic-y shine from your parts and also helps mask any scratches and dents you may have put in parts during the build. If you elect to put stickers on a Gunpla or try applying paint to some parts, the topcoat will help blend the stickers and painted areas with the bare plastic surfaces.
In short, a topcoat will make your whole Gundam look more finished and uniform. While there are many high-end specialty topcoats you can buy, I find that Krylon 1311 (a cheap all-purpose topcoat) works just fine.
TL;DR & Closing Thoughts
TL;DR: Go get yourself an Entry Grade RX-78 Gundam kit and a flush cutter and have fun!
While there's a lot of info to take in if you want to, getting into Gunpla doesn't have to be complicated or expensive. Once you overcome the initial hurdle of getting your first kit, you'll be snapping together your own personal robot army in no time!
If this article inspired you to start building Gunpla, be sure to let us know how it went! Also, be sure to leave any questions or comments you might have about Gunpla so that we can incorporate them into a potential future article.