Quick View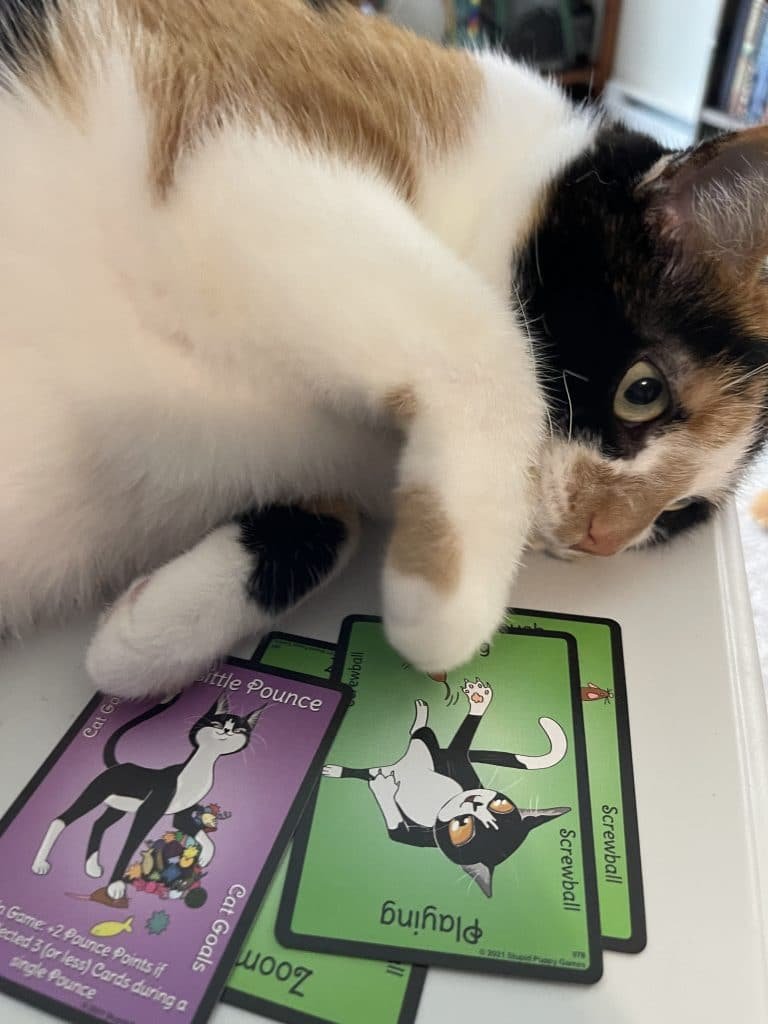 The Game: House of Pounce by Stupid Puppy Games
How Many Players: 2
Age Range: 13+
What Type of Game: Collecting card game
Difficulty/Complexity: Low to moderate
Average Length: 30 minutes
Replayability: High
You should try it if you like: Games such as Koi or Set where you are competing to make sets of 3 cards and sabotage your opponent in the process. Also if you like adorable cats.
What's The Story
In this case, there really isn't a story behind this game. It's just about cute cats doing cute cat things. You can play as either Bailey (the calico cat) or Henry (the black and white tuxedo cat). Collect sets of cards in categories of Screwball, Cuteness, Toughness, or Athletics, and try to "pounce" on the cards that have been added to the "pounce pile" before your opponent does.
What the Gameplay Feels Like
The gameplay for House of Pounce is a lot of fun once you get going.
Essentially you start out the game with 4 Pounce cards which you will want to use very strategically as these are the only ones you get. You play the game by trying to work on making matching sets which, once completed and set aside, will give you points. The trick here however is that you cannot make sets from your hand. Each turn you will be placing a card into the Pounce Pile (in the picture above it is where my husband is currently laying down a card). You each take turns adding to the pounce pile until one of you finally plays a precious Pounce card and takes the pile.
Once you take the Pounce pile, all of those cards will be added to your collection of cards on the table in front of you, and if you can create sets this is the only time you can do it. Sets of cards must have 3 cards of one category (which are also separated nicely by colors). A valid set must be either 3 of the same card (ie. 3 blue Purring cards) or 3 of the same color but all different types (ie. 3 blue cards where one is Purring, one is Big Eyes, and one is Stretching).
You get a bonus point if the set is the same cat in every card also!
There are some other fun mechanics as well, such as "catnip distractions" and Cat Goals which give you little side goals to try to achieve for additional points. However, the main focus is to try to outwit your opponent and get the best cards to complete your sets while keeping them from getting what they need…and only being able to Pounce 4 times in the process.
What I liked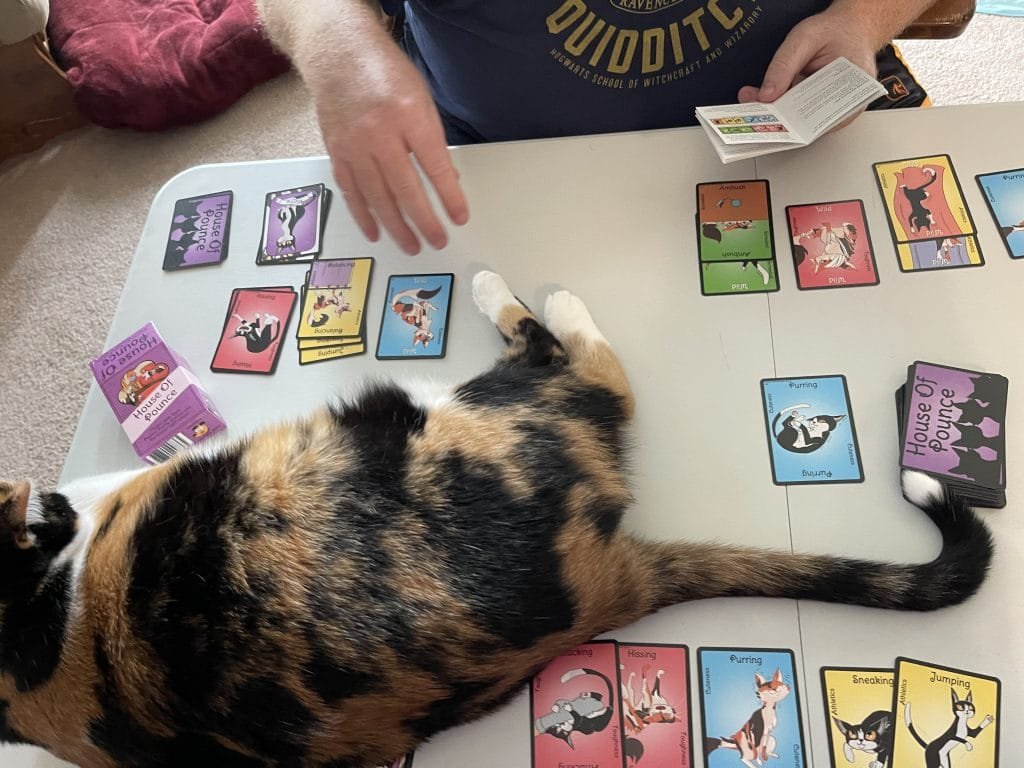 The adorable artwork on these cards is, well, adorable. Especially as my little furry model, Lily, shown in these pictures is also a calico. The cards are also all bright and cheerful which just makes you smile when you are looking at them.
At first glance, we thought that this game would be overly simplistic and would not have a very high replay. Happily, we were wrong. Being limited to only four Pounce cards to use during the game creates a little game of cat and mouse (pun intended) where you are waiting for just one more round before pouncing while hoping that your opponent doesn't pounce and take the cards on their turn.
Due to its size, this will also be a great game for taking on picnics, hiking, camping, etc. It plays quickly and is engaging while also allowing you the time and freedom to just laugh and talk. Or play with your cat whose tail is knocking all the cards on the ground.
What I didn't like
The only flaw I see with this game is that the rules were a little confusing at first. Now that I understand the game, I can see why they are written as they are…however at first reading, we were not grasping some of the concepts. Our first game was played hilariously wrong. After that, we quickly figured it out though, and every game we have played since has been highly enjoyable.
Geek to Geek Rating: 4 out of 5 tail swishes