Quick View
Game: Nina Aquila: Legal Eagle, Season One
Release Date: July 9th, 2021
Price: $8.99 on Steam
Rating: Unrated
Platform: Windows
Geek to Geek Media was provided with a review copy of this title.
For most of video game history, Ace Attorney was the only game in town for courtroom visual novels. However, thanks to the recent explosion in the indie game scene, Phoenix Wright isn't the only fictional lawyer stepping into the virtual courtroom. Enter Nina Aquila: Legal Eagle, an indie courtroom drama that captures much of the feel of Ace Attorney but with a 16-bit RPG presentation.
Opening Statment (What is it about?)
Nina Aquila: Legal Eagle tells the story of upstart defense attorney Nina and her quest to find justice for those she feels have been wrongly accused of heinous crimes. Similar to Ace Attorney, each chapter of the game is a different court case in which Nina must investigate the crime scene and represent her client in court over the span of several days. While the structure is similar to Capcom's courtroom games, the tone and setting are very different. Nina's world is one where geek culture (especially anime fandom) imbues every facet of life. As a result, the court cases cover topics such as arson at a cosplay meetup, foul play at a trading card tournament (think Yu-Gi-Oh or Magic), and illegal drift racing (a la Initial D and The Fast & The Furious).
Supporting Evidence (Pros)
What immediately struck me about this game is how effectively it recreates the feel of an Ace Attorney game using the RPG Maker engine. In particular, the game makes great use of RPG Maker's limited cinematographic capabilities to liven up the more static courtroom scenes with well-timed camera movements and musical transitions. I was also a big fan of the character art and distinct reaction faces for each of the main characters; these really helped bring the courtroom drama to life.
Of course, Nina Aquila is a visual novel, and the strong presentation and creative use of an engine would all fall apart without quality writing. Thankfully, this game's script is very strong. While it's written with a humorous tone, each character feels like a person rather than a vehicle for jokes. Each individual case has an entertaining story on its own with a larger narrative woven throughout. This structure had me feeling engaged while following Nina's character development across the course of the game.

Nina Aquila is a fairly short game (10-15 hours), but that length felt just right for what this game was trying to do. At the end of the game, I felt satisfied with the experience but would still be open to playing more. (Which is fortunate, because this game is tagged as "Season 1".)
Objections (Cons)
Nina Aquila is very clearly an RPG Maker game that was made with a tight budget. This may push away some players. I don't mind RPG Maker games, but some incongruities stood out to me. For example, the main characters have memorable designs but they contrast against the supporting cast of generic RPG Maker sprites.
While Nina Aquila's mini-games are nice for breaking up the gameplay, I often felt they were overutilized. The first few card battle or races were entertaining, but having to do many of them in a row to advance the story felt like a bit of a drag at times. The game features options to make the mini-games as easy as possible but you aren't able to skip them altogether.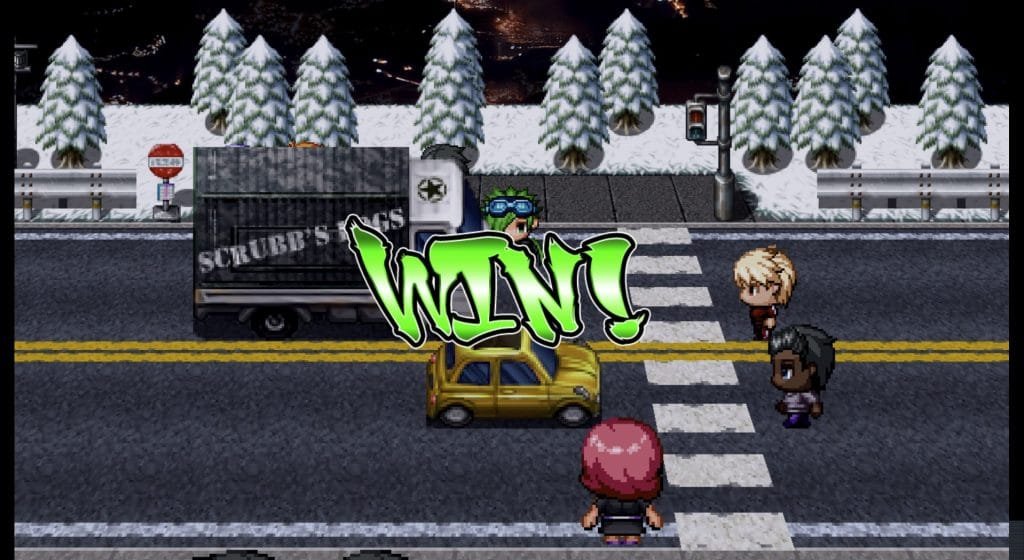 A common criticism of this game's main source of inspiration, Ace Attorney, is that its puzzles can be too abstruse. To me, it felt like Nina Aquila was over-correcting for this; the path forward in most court cases was almost too obvious. I rarely had to think for more than a second or two about which piece of evidence to present. In fact, throughout the whole game, I only got penalized in court once. Balancing this type of game can be tough, but for me personally, I'd like my reasoning skills to be tested a little more. Maybe we'll see that in Season 2.
Final Ruling (Verdict)
Nina Aquila: Legal Eagle offers a nice light snack for Ace Attorney fans between meatier visual novels. For newcomers to the courtroom visual novel subgenre, this game would work well as an introduction given its lower difficulty and shorter length. Overall, don't let this game's simple appearance dissuade you, there's more to it than meets the eye!
Geek to Geek Rating: 4 out of 5 stars