There are a lot of board games that can be pretty intense and lead to hours of focus and strategy and even some table-flipping if you aren't careful. They are all great of course, and I love them! However, sometimes you really need something to help you to find some peace and calm. So, if you are looking for some great board games to relax and chill with, here are our top 10 relaxing board game recommendations to help your inner meeple find that feeling of zen. Or, at least games for you to de-stress with.
1. Zen Garden
Zen Garden is an obvious choice for this list. I mean, ZEN is literally in the name. You can read my full review of it here. Essentially, it is a 2-4 player tile placement game. Beautiful artwork, simple gameplay, and just a fun and relaxing game.
2. Gentle Rain
Gentle Rain is literally the game I pull out when I feel as though I need to calm my mind but I know I am not going to be able to meditate because my brain is just going too dang fast. It is a tile-placement game that is beautiful and relaxing. Keep score or not. Play solo or cooperatively. No stress, no pressure. Just something to occupy your hands and mind while you slow down for a few minutes.
3. Palm Island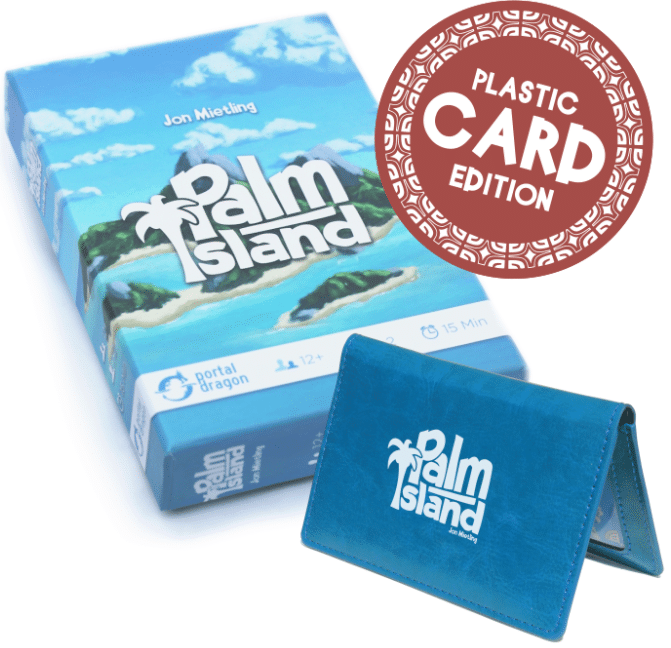 The game Palm Island is one that makes me feel like I should be laying in a hammock on a beach somewhere. It is a SOLO CARD GAME (although it is playable two-player as well) and can be entirely contained in the palm of your hand. No table is needed. I actually love to take this game with me in my purse so I can play it wherever and whenever. Check out my full review here. Bonus fact: It is perfect for taking on the airplane with you.
4. Arboretum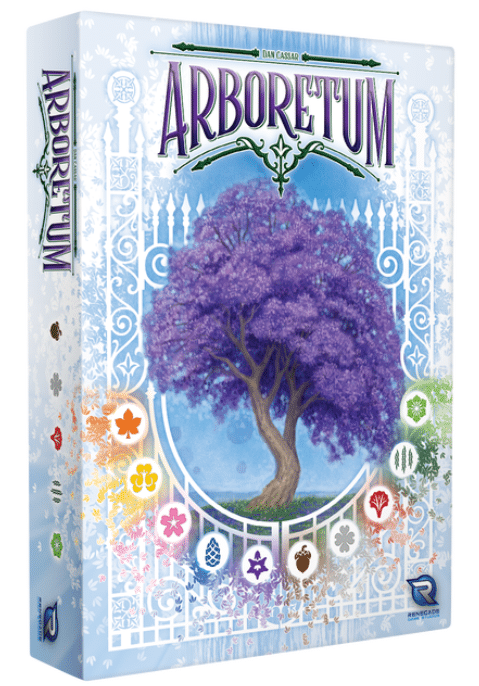 Another card game, Arboretum is a simple and delightful game for 2-4 players. Void of the Geek to Geek Podcast talked about it before, and actually, that is where I became introduced to the game. A straightforward, yet strategic, set collecting and tile-placement game with beautiful artwork and a calm feel. A full review can be found here.
5. Azul
There are so many different versions of Azul out there now, and it's all because this tile-placement game is incredibly fun and relaxing. It's very easy to learn but has a strategic depth to it to make it challenging. The various different versions of the game each offer a different beauty and a serene feel, and there is just something about this game that makes you want to keep playing over and over.
6. Gnoming A Round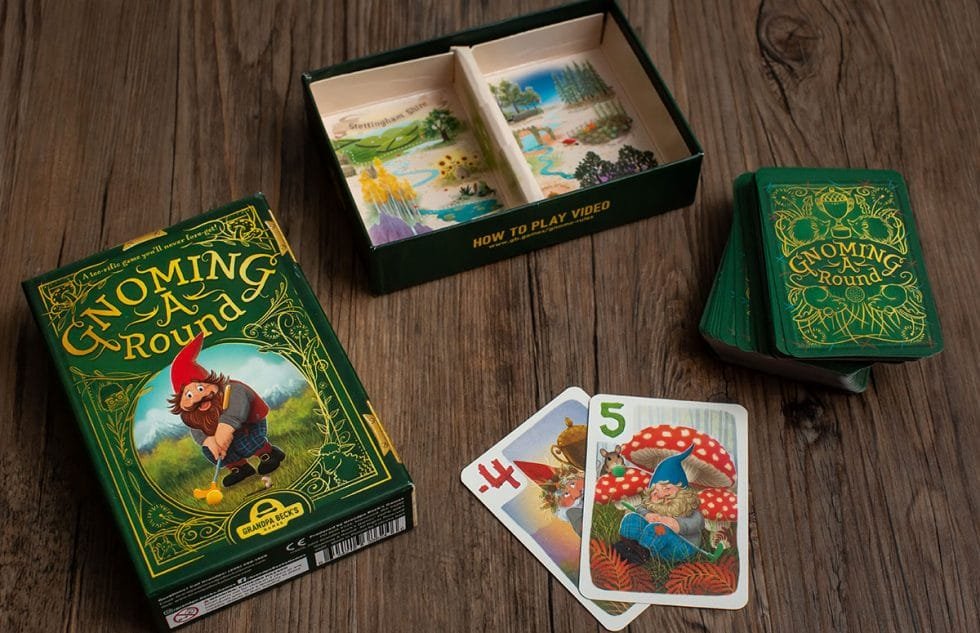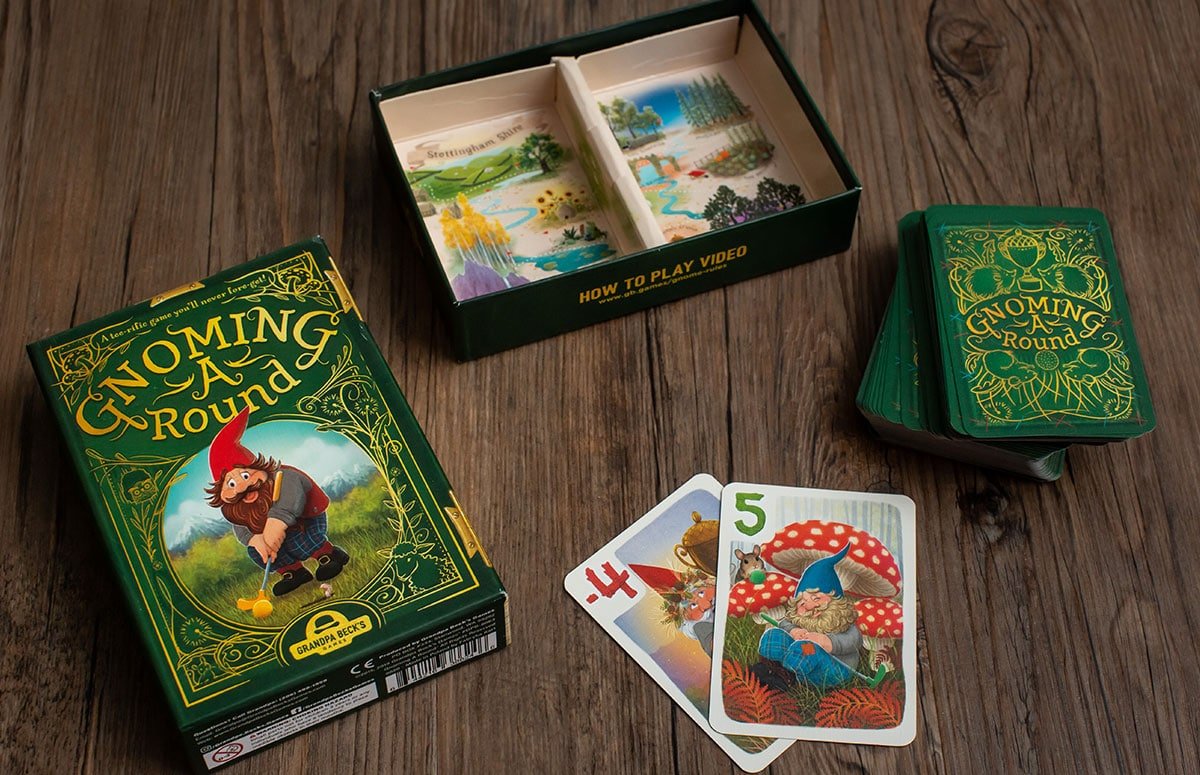 Honestly, I could easily fill this list with nothing but Grandpa Beck's Games. Gnoming A Round is a silly and cute little card game about mini-golf and gnomes. It can be played with anywhere from 2-7 players and is very quick and easy to learn. This is a favorite of mine to bring on little coffee shop dates, as it doesn't take too much room and it is quick to play a round. See my full review of it here!
7. Calico
Simply looking at the cover art for Calico is relaxing. This charming little game is about making the most beautiful quilt, and attracting the most cats to it! All you need to make this a truly hygge experience is to actually have a cuddly quilt and an even cuddlier cat.
8. Parks
Parks is a game designed to make you want to explore all the US National Parks. It is essentially a set collecting game with a beautiful and fun theme. Visit the different parks and take pictures to show off later and see who had the best vacations. Can be played with anywhere from 1-5 players and is quick and fun to learn.
9. Kingdomino
If you've ever played Dominos, Kingdomino is a fun twist on it. Add tiles to your grid, match up like sections, and create the best kingdom you can. In fact, if you are curious about the game but not sure if you want to spend the money (although it is absolutely worth it) Blue Orange Games is so sure you will love it that (at least at the time of this article) they offer a free Print-and-Play version of the game on their website!
10. Patchwork
Patchwork is such a fun, relaxing, and easy-to-play game that I have actually had to repurchase it for myself several times because I keep giving it away to family members after they have tried it and loved it so much. Next time I'm going to treat myself to one of the special variants such as Halloween or Americana. This is another tile placement game which is a calming and fun experience to play.