In honor of "National Drop Everything and Read Day" (D.E.A.R.), I figured this was as good an excuse as any to re-read one of my favorite graphic novel series of all time: Scott Pilgrim!
Movie? Video Game? Comics!
You might be familiar with that name if you're a fan of Michael Cera movies, or retro-style beat 'em up video games, but you might not have read the original comics by writer/artist Bryan Lee O'Malley that started it all – and I'm here to tell you that you absolutely owe it to yourself to do just that.
Originally released in 2004, the first chapter in the Scott Pilgrim saga, titled "Scott Pilgrim's Precious Little Life" opens with the line "Scott Pilgrim is dating a high schooler!" – and right away we meet our 'hero', Scott Pilgrim: a mild-mannered slacker in his early 20's with very little ambition and no direction to speak of, which honestly sounds a lot like myself at that age. Scott's part of a band (the Sex Bob-Ombs) and they kinda suck, but make up for it with determination.
Bryan Lee O'Malley weaves an intricate plot of weird and interesting characters with laugh out loud humor on every other page, nerdy references sprinkled throughout, and some of the most genuinely heartfelt moments in modern comics, in this ultra meta, video game inspired, coming of age story.
The Plot
If you're familiar with the Scott Pilgrim movie or game, you already know the basic plot: Scott falls in love with Ramona Flowers, but must defeat her Seven Evil Ex-Boyfriends Exes in order to date her, and along the way learns a valuable life lesson or three about toxic masculinity. In the graphic novels, each volume (for the most part) focuses on one specific "Evil Ex" and Scott's inevitable battle with each of them.
The first evil ex comes in the form of Matthew Patel. A pirate-cosplaying emo kid armed with fireballs and demon hipster chicks. Ramona explains that they kissed once in 7th grade and barely dated for a week. However, he's determined to fight Scott to the death regardless. One of my absolute favorite running jokes throughout this volume is all the hints leading up to their battle. This includes an e-mail that Scott skims before deleting and a handwritten letter that he doesn't even finish. Their epic anime style fight ends with Patel poofing into a pile of coins – a whopping $2.10 to which Scott complains isn't even enough for the subway.
Evil Ex
One thing that is made way more obvious in the comic though is that Scott himself is basically an Evil Ex himself! For starters, in this volume, Scott is dating a young and somewhat naïve, Knives Chau, when he meets and immediately falls head over heels for Ramona – but totally forgets to break up with Knives. Despite what sounds like a run of the mill soap opera plot, this story is actually insanely engaging, hilarious, and action packed!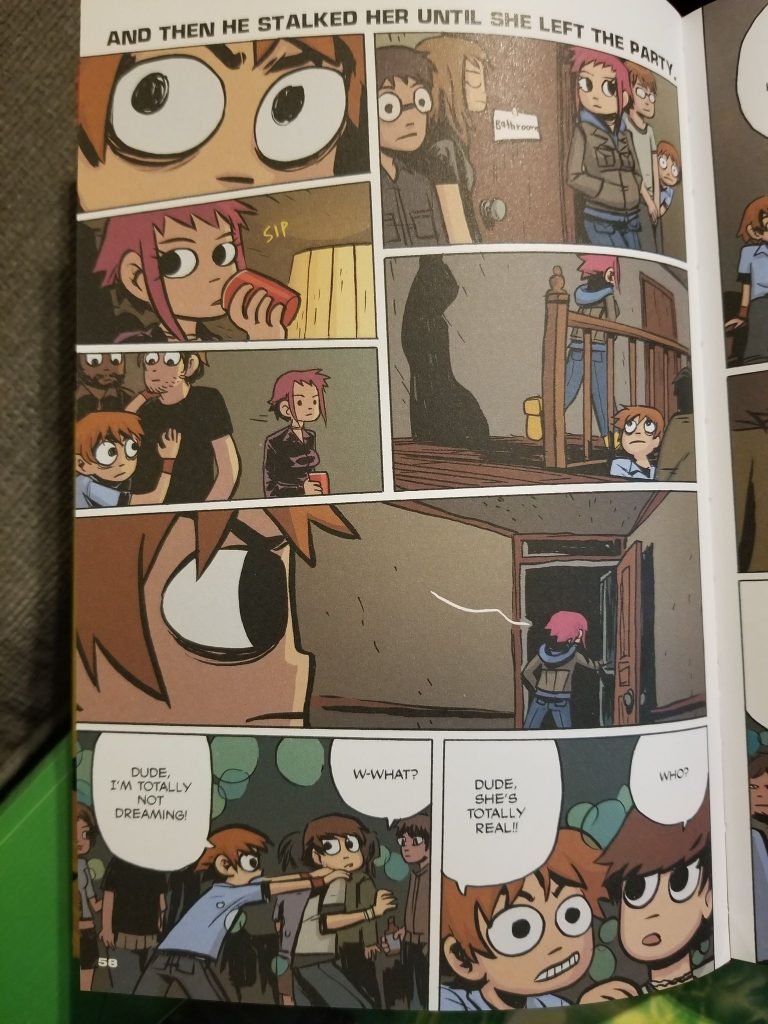 The dialogue throughout is fantastic, especially the awkward scenes between Scott and Ramona, because they feel genuine and sincere. You feel bad for Knives, while also rooting for Scott to hook up with Ramona. Yet shake your head at him for being such a doofus. You also gotta love the references to X-Men and Super Mario Bros 2.
Visually Dynamic
This comic is visually dynamic in the best way. It really uses the sequential art format in new and interesting ways. There's just so many cool creative choices, like the way we "see" the music being played, the clever itemized labels around Scott and Wallace's apartment (showing that Scott is basically a free loading roommate), or just the characters' over-the-top reactions to mundane situations. I would go so far as to say that Bryan Lee O'Malley's work in this series is groundbreaking. I hope that other comic creators take a que from O'Malley and continue to push the boundaries of the medium. It's fun, fast-paced, nostalgic, quirky, extremely well drawn, and chock-full of some of the best snappy dialogue I've ever read.
Ramona: "What kind of tea do you want?"
Scott: "There´s more than one kind of tea?…What do you have?"
Ramona: "Let´s see… Blueberry, Raspberry, Ginseng, Sleepytime, Green Tea, Green Tea with Lemon, Green Tea with Lemon and Honey, Liver Disaster, Ginger with Honey, Ginger Without Honey, Vanilla Almond, White Truffle Coconut, Chamomile, Blueberry Chamomile, Decaf Vanilla Walnut, Constant Comment and Earl Grey."
Scott: -"I.. Uh…What are you having?… Did you make some of those up?"
Comic Vs Movie
If you're a fan of the movie, you may notice that A LOT was ripped directly from this first book, in fact, I'd argue that Edgar Wright's "Scott Pilgrim vs the World" (2010) might be the most faithful comic book adaptation since Zack Snyder's "Watchmen" (2009), because (for the most part) it stays pretty true to the source material, and only condenses things towards the end as needed. If you're a fan of the movie, you absolutely need to read the books. It's like having more of the thing you love. The best analogy I can think of is the difference between Michael Crichton's "Jurassic Park" and Steven Spielberg's "Jurassic Park" – they're both masterpieces in their own right.
Although they were originally released as black and white manga-style trades, I highly recommend the hardcover color editions from Oni Press. They're a bit pricier, but they're high quality. Their use of color is really cool, and they look amazing on the book shelf! Plus, they're packed with tons of extra behind-the-scenes content!
To be continued with Vol 2: "Scott Pilgrim vs the World"!
Erik Slader is an author, podcaster, and full-time nerd. He's the co-author of the "Epic Fails" book series (The Wright Brothers: Nose-Diving Into History, The Age of Exploration: Totally Getting Lost, etc) and the creator of Epik Fails of History, a podcast and blog about the most epic fails… of history. He's also a co-host on 2 Young 4 This Trek: A Star Trek Podcast, a frequent contributor to ComicZombie.net, and an editor on Podcasters Assemble. ErikSlader.com