I was a child of the Mario Era. Just not the Super Mario 64 era.
Super Mario Bros. (yes, the original Super Mario Bros. that we're celebrating the 35th anniversary of this year) came out when I was 3 years old. From that moment, the chubby plumber and I grew up together… with the exception of one empty space in my memory.
The Nintendo 64. That whole console generation is a hole in my gaming career. You see, when the N64 launched in 1996 I was just entering my first year of high school. I was determined to be a cool girl who knew how to do girl things like makeup.
Video games, as much as I loved them, were not included in my definition of being a cool girl
Simultaneously, my older brother, who had so far paved my way in video game knowledge, was moving on to computers as he was in his senior year of high school. Our dad worked in computer networking, we had a computer repair shop running out of our home, and computers were the wave of the future.
So, any gaming that Dad or Todd were doing was all PC-based. My only breaks from my new cool persona was to join them with LAN parties in our house playing Doom, Quake, Diablo, Command & Conquer, Monster Truck Madness, and more… all on PC.
My new cool girl mindset approved of these because I got to play them with all the senior boys that were friends with my brother. Everyone knows the cool freshmen girls hang out with senior boys. While these games were fantastic, and I enjoyed my computer gaming immensely, consoles were not a part of these LAN parties.
So What Was a Girl…*ahem*…A Cool Girl to Do?
Naturally, shun all things N64… including Super Mario 64.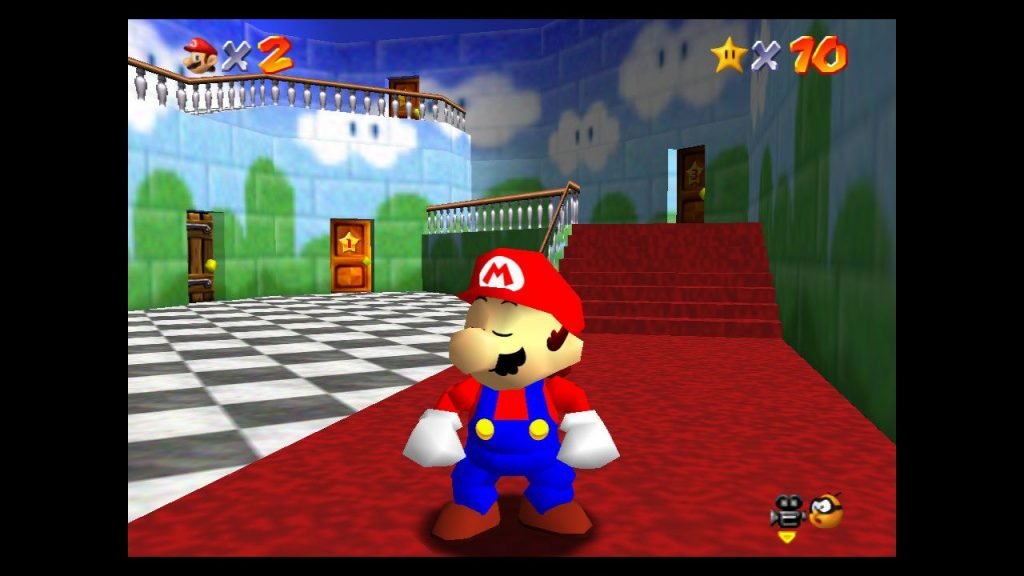 Thankfully, after I finished high school and started college, I picked up console gaming again. I nabbed a the GameCube and all was right again. However, games like Super Mario 64, The Legend of Zelda: Ocarina of Time, Excitebike 64 (I loved the original Excitebike growing up), and even Yoshi's Story have haunted my past ever since as a black hole in the space-time continuum of my gaming development.
Fast Forward a Couple of Years
Well, okay, a couple of decades. September 2020. Finally…I have another chance. Thanks to Super Mario 3D All-Stars.
Along with two of my favorite games (Super Mario Sunshine and Super Mario Galaxy) Nintendo has re-released Super Mario 64 for the Nintendo Switch!! I can finally correct the mistakes of my youth! Well, this one at least.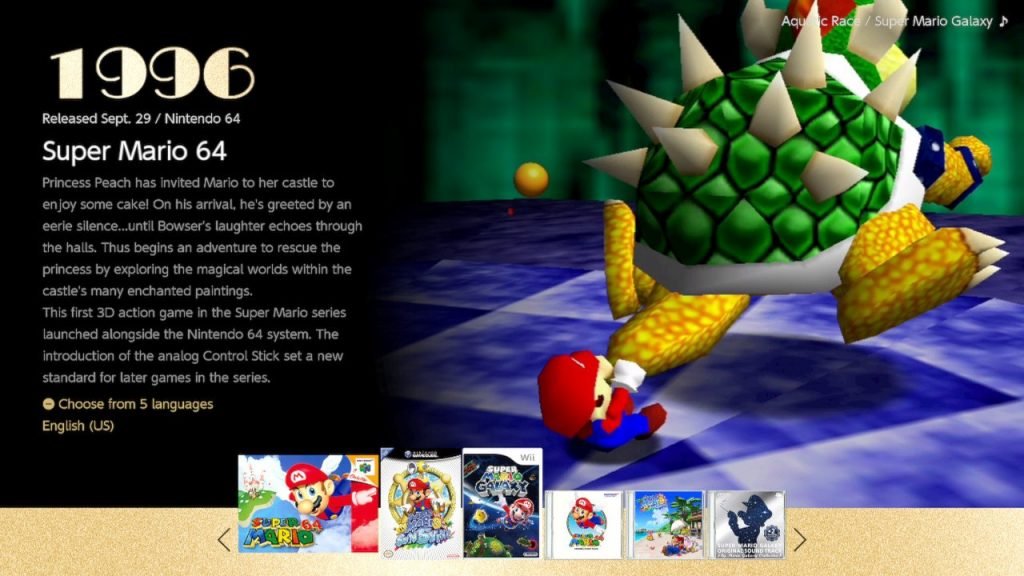 Which leads us to now. Here I am, a woman in my late 30s, with extensive history of playing Mario games… and I'm playing Mario 64 for the first time ever.
And. It. Is. Awesome.
Starting Out with Super Mario 64
I have just started really. I have only collected 14 stars so far, and as you have probably heard by now, the camera is indeed somewhat torturous. The graphics are what you would expect for a cleaned-up version of 1996 graphics quality. But the game itself is fun and full of the classic experiences that have permeated culture ever since: I finally understand that penguin meme, and I finally got to stretch Mario's disembodied head at the opening screen.
Actually, the graphics are giving me a nostalgic feel even though I never played Mario 64. Not because of memories of this game, but because of other games of that time period that I was playing on the computer. The odd, blocky, not-quite 3D graphics of that time period permeated the PC games I was playing such as Doom and Tomb Raider. It's funny how even just the basic art style of a time period can bring back memories and feelings of nostalgia.
I Have a Few Questions About Super Mario 64, Though
Why is Mario apparently as slippery as a greased pig? What exactly are those overalls made of? Satin? Every single time Mario walks into the slightest incline or bump he immediately falls onto his tummy and slides about 50 yards minimum. Did he soak in oil before heading to visit Peach at the castle? Actually… maybe I don't want to know about that after all.
Why does Mario's hat apparently provide some remarkable armor qualities? Is that hat actually a steel helmet? Does it hold magical properties? Makes me really rethink Cappy's role from Super Mario Odyssey.
Why was Lakitu waiting to film Mario's adventure when Mario didn't even know there was an adventure yet? Who is watching Lakitu's live coverage of Mario? And why doesn't he ever help Mario if he has the ability to go everywhere Mario does anyway and he can fly? (Maybe he just hadn't grown the conscience he has in Mario Kart yet.)
I have a long way to go still to finish all this game has to offer, and I am enjoying every minute of it. Well, almost.
One tiny detail is holding back my gaming sessions from turning into all-nighters: motion sickness. Anyone who follows me online or listens to my podcasts is undoubtedly aware of the odd motion sickness that plagues my gaming in certain video games such as Overwatch, Borderlands, Roller Coaster Tycoon, and more. This is the first experience I have had of motion sickness in a Mario game, and while it isn't as serious as some of those other games…it does put a bit of a hamper on my gaming sessions.
While unquestionably caused in this case by Lakitu's janky camera work, getting motion sick when playing one of the greatest games of all time it is disheartening. I still play the game in small sessions. I am determined to finish it. After all, I need to fill in that dark spot of my past with slippery Mario chasing down baby penguins.
Will my thoughts and opinions change as I continue to game? Will my motion sickness get the better of me? Stay tuned for an update here as I move closer to beating the game!
Oh, and whoever was commissioned as the artist for the paintings in Peach's castle did a miraculous job. One might say the depth of composition really provides a profound sense of realism! Sorry, couldn't help myself.
What are your thoughts on the new release of Super Mario 64? Let us know! And if you're looking for more Mario-like fun and hidden depth, check out Flat Kingdom!
---