The Story
Title: The Wizard
Release Date: December 15, 1989
Director: Todd Holland
The Wizard, the 1989 movie that most "'80s kids" associate with the tantalizing unveiling (outside of Japan, at least) of Super Mario Bros. 3, recently turned 30. It didn't set the box office on fire upon its release, but has steadily built a loyal cult audience over the years. The movie is fully drenched in late '80s/early '90s culture (complete with a soundtrack featuring multiple New Kids on the Block and BoDeans songs), which makes it worth reflecting on over three decades later. Is The Wizard worthy of its cult status, or should it have faded away along with arcades years ago?
The Wizard tells the story of two half-brothers named Corey (Fred Savage, fresh off the success of The Wonder Years) and Jimmy (Luke Edwards) and their journey from Utah to California. Jimmy, the younger brother, suffers from a form of PTSD and has been despondent ever since the tragic drowning of his twin sister, only repeaing the word "California" over and over.
When Jimmy's mother and stepfather threaten to institutionalize him, Corey takes Jimmy and runs away, hoping to reach California by hitchhiking. The duo are pursued by Corey's father (Beau Bridges) and older brother (Christian Slater), along with a weasely child-tracking contractor named Putnam, who is hired by Jimmy's mother and stepfather. Much incessant arguing between the adult characters occurs before the movie picks up steam and focuses on the brothers' journey.
If the set-up sounds needlessly complicated, that's because it is. It's also not very original, and is basically a reskin of 1988's Rain Man, although it is never stated that Jimmy has autism. The movie instead chooses to focus on the effects of the trauma Jimmy experienced upon watching his sister die.
I can only imagine that the over-complicated family dynamics were added to obfuscate the similarities to Rain Man, but honestly, people remember this movie for the video games and sense of adventure, not for the average made-for-TV-quality melodrama.
What's the Appeal?
Oh yeah, video games – I almost forgot! The Wizard is chock-full of video game footage, video game references, and dysfunctional families bonding over video games. Some people even say it's a feature-legnth Super Mario Bros. 3 advertisement.
Corey often relates to other characters through the language of video games, and Jimmy is a bona fide gaming savant. Nintendo PlayChoice-10 arcade machines litter the sets of this movie as if they were a staple of everyday life in 1989. If they were, that was nowhere near where I grew up.
You might occasionally spot a non-Nintendo game, but they're few and far between in the world of The Wizard. And why wouldn't it be that way? Nintendo absolutely ruled the video game world at the time, and speaking as an '80s kid myself, their games were all the entertainment most kids needed. Nintendo was used as a synonym for video game just like Google is used today for internet search.
The trio eventually hear about an upcoming video game competition called Video Armageddon that will be held at Universal Studios in California and decide to enter Jimmy in the hopes of him winning the grand prize of "50,000 smack-a-roos." They spend the remainder of the film training Jimmy on every video game they can get a hold of while avoiding Putnam's grasp on their way to California.
Back to the plot again. Corey and Jimmy are joined by a streetwise girl named Haley (Jenny Lewis, who is best known as a singer in the band Rilo Kiley), who realizes that Jimmy's extraordinary video game skills can be used to fleece money out of adults at arcades and bus stops, giving them enough money to make it to California.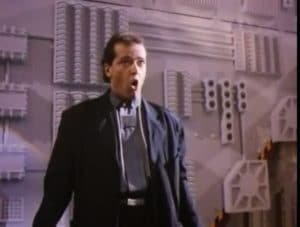 The main thing that a lot of people remember is that once they're in Video Armageddon, the world gets a peek at Super Mario Bros. 3, including a special area where they can get a whistle that takes them to a warp zone. Kids everywhere went nuts. A movie that could teach us how to play Mario 3?! It was insane. And to this day, many of us can remember how we felt when we saw that title screen of a Mario game we had never seen before.
If The Wizard did nothing else, it sold kids across America (and elsewhere, too) thousands upon thousands of copies of Super Mario Bros. 3.
The Characters
There's nothing particularly unique about the events of The Wizard, but it does feature a colorful cast of supporting characters, including:
Sam Woods (Beau Bridges) – AKA "Good Dad," Sam is Jimmy's often sweaty, possibly alcoholic, biological father. His gruff exterior belies his childlike fascination with the NES Teenage Mutant Ninja Turtles game.
Nick Woods (Christian Slater) – Sam's oldest son, who accompanies him on his search for Corey and Jimmy. This character is the closest thing you'll get to hearing Jack Nicholson talk about video games.
Bateman (Sam McMurray) – AKA "Bad Dad," who doesn't even deserve a first name.
Lucas (Jackey Vinson, who you should definitely not search for on Google, trust me on this one) – Jimmy's fated rival and master of 97 NES games. Delivers the classic line, "I love the Power Glove. It's so bad."
Putnam (Will Seltzer) – The man who is hired to track down Jimmy. A manic villain with all the sweaty desperation of a small-town youth minister. Often clashes with Sam while an electric guitar impersonates a banjo.
Video Armageddon Announcer (Steven Grives) – His sweaty intensity is so over-the-top that he takes the title of Sweat Lord for this movie (which features many sweaty adult men) over Sam and Putnam.
Nintendo Gameplay Counselors (probably not a real game counselor) – For when you need to pay someone to tell you to "watch out for those flying fireballs."
Goon (Tobey Maguire) – You read that correctly. This is a very young and very mulleted Maguire's first (uncredited) movie role, as one of Lucas' lackeys.
The Legacy
Going back to the question of whether this film has held up, it really depends on your background. The Wizard is a slam dunk for those who grew up in the '80s or early '90s and played video games, but it might come across as cloying to those without nostalgia for the era. Still, despite some elements that haven't aged well (don't get me started on the running gag of Haley accusing Putnam of touching her inappropriately), The Wizard is a well-meaning family drama that just happens to feature an awful lot of Nintendo games.
If you ever had any fondness for it whatsoever, it's a very fun film to revisit – especially with a few drinks.