Quick View
The Game: Turf War by Gadabout Games
How Many Players: 2
Age Range: 13+
What Type of Game: Deck building, drafting, competitive
Difficulty/Complexity: Easy to Moderate
Average Length: 30 minutes
Replayability: High
You should try it if you like: Competitive games of mischief and strategy
A review copy of Turf War was graciously provided by Gadabout Games
What's The Story
In Turf War you are battling to prove to your neighbors that your lawn is the best on the block. To do this, you are improving your yard and sabotaging your opponent. Plants, features, and ornaments can be used to make your yard pretty (and of high value). Meanwhile, pests and sabotage can be used to destroy the lawn of your enemy.
You and your opponent are trying to convince the Neighbors to side with one of you. Each one of the Neighbors has different tastes and agendas that you have to meet in order to get their approval. One may want you to have three decorations in your yard, while another may just want your money. Eventually, once all the neighbors have been swayed (or bought off!) the game ends and you see who has the most points.
What the Gameplay Feels Like
First and foremost, the bank in this game is brilliant. This is a teeny tiny card game, and they made use of cards for keeping track of money in a fantastic way. With two simple cards, you can track your money. One card counts from 1 to 9 along the side of it and the other card is a piggy bank that, depending on how you have it rotated, will show 0, 10, 20, etc all the way up to 70. Combining the two, you can easily keep track of your money. In the above image, for example, I have 14 gold. So simple, and smart.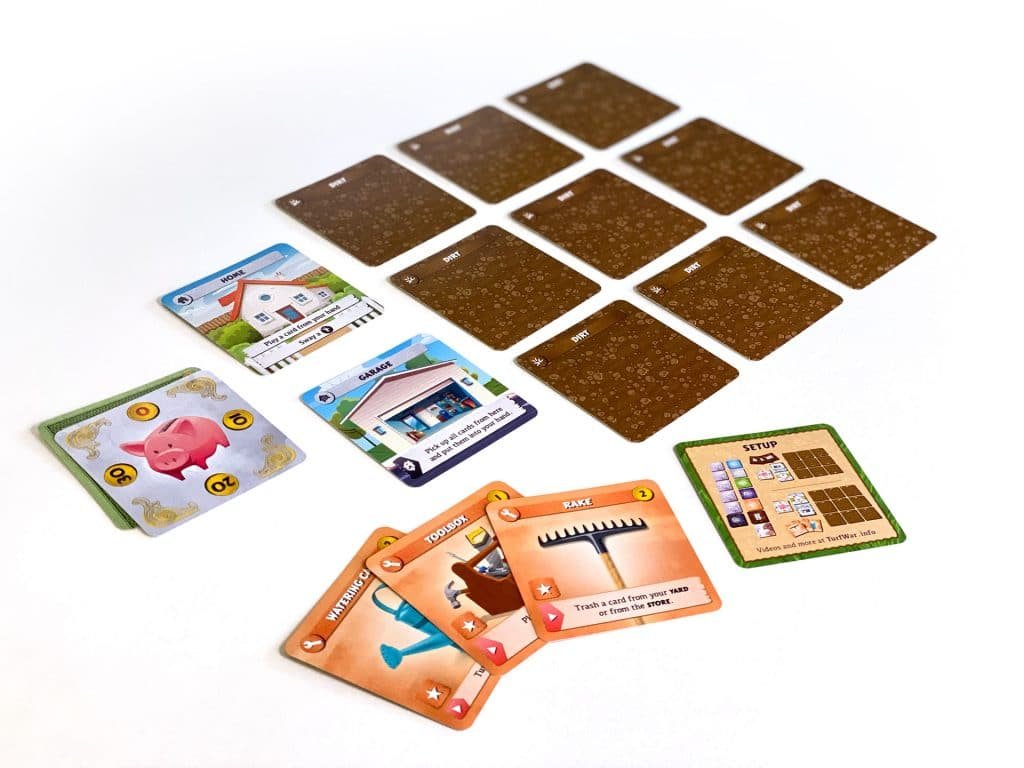 For the gameplay, each player starts with a 3×3 "yard" of dirt. You then improve your yard by watering to get grass, planting flowers, or adding decorations. Some turns you will need to go to work to earn money in order to buy more things for your yard…and unfortunately being away from home gives your opponent a chance to sabotage you!
What I liked
I enjoyed the theme of this game. The game designer really used the theme of trying to have the best yard on the block to create a very fun, interactive game. The gameplay moves quickly and the different means of sabotage can be fun and goofy (stealth drones were my favorite).
The different "quests" of pandering to your Neighbors to sway them to your side also helped to create a lot of fun and gave more direction to the game.
What I didn't like
My only negative is a personal one. With the current atmosphere in my household, we prefer more cooperative games and the tension that can sometimes arise from too much competitiveness has not been a selling point for us lately. However, I realize that this is for our particular situation, and also for this particular stage of our lives. A few years ago or in the future, this may be our favorite game! So, take that for what it's worth.
Overall, Turf War is phenomenal. The artistry is a perfect level of cartoonishness, and the quality of the cards is really well done. I was also surprised at the size…this is a tiny game! Literally tiny. The cards are a mere 2.5 inches by 2.5 inches! Which would make it a great one for taking traveling with you or even just to carry around for unexpected waits.
Rating