With Ms. Marvel debuting on Disney+ this week, a whole new audience of MCU fans will be introduced to feisty teenage superhero Kamala Khan. Kamala's character breaks new ground in many ways: she's the MCU's first Muslim, first Pakistani, and first teenage girl headlining superhero. Seeing a brown girl from Jersey City saving the world is hugely meaningful to audiences who have been waiting to see themselves represented in the MCU, including Iman Vellani, who is playing Ms. Marvel.

But Ms. Marvel's live-action debut represents another milestone, as Kamala is the first Avengers superfan to gain superpowers and eventually team up with the very heroes she idolizes. Sure, Peter Parker also joined the Avengers as a teen, and Hawkeye's Kate Bishop modeled her life on Clint Barton, who had saved her when she was a kid.
But Kamala stands out as an outright fangirl: the type of fan who wears the merch, writes fanfic, and sees the Avengers as perfect mythical figures. This dynamic leads to plenty of shenanigans. But it also opens opportunities for insightful and powerful storytelling.
Timeline for Ms. Marvel
Kamala is 16 years old in the Ms. Marvel series, which appears to be set in 2024/2025. This timeline means that (assuming she wasn't blipped) Kamala was born right around the time that Tony Stark first started flying around in a metal suit, and she was a preschooler during the Battle of New York. The Kamala Khan we'll see on Disney+ has lived her entire life regularly seeing superheroes and villains doing battle on the news. The MCU timeline is now old enough to create a more lived-in setting, where for teens like Kamala, the Avengers are mythologized figures who have always been around.
Fanfic and Fangirling
The opening pages of Ms. Marvel #1 immediately establish two things about Kamala:
First, that her Muslim faith is central to her life (she jokingly smells the "delicious, delicious infidel meat" at the corner market).
Second, that she's an Avengers-obsessed nerd who writes fanfic about her favorite heroes.
She tells her mom that her new fanfic — which features Captain Marvel, Captain America, and Iron Man defending Planet Unicorn from a giant space monster — has "almost 1,000 upvotes on freakingcool.com." Her friends tease her about her obsession, and her parents wish she were more rooted in her real life than in her fantasies.
Kamala Khan's fandom is a core element of her character, informing how she responds to everything in her life. When she is overcome by the Terrigen Mist (which is how she gets her powers in the comics), she immediately starts hallucinating about the Avengers, illustrating how ingrained they are in her psyche.
As Marvel has brought Ms. Marvel to other mediums, her fandom has remained just as central to Kamala's personality. In the Marvel's Avengers video game, the opening scene shows Kamala getting to be a special guest at an Avengers Day celebration, due to a fanfic she had submitted for a competition. And in the animated shorts series Marvel's Avengers: Secret Wars, the first episode starts with Kamala doing yet another class report on superheroes, much to her classmates' and teacher's exasperation.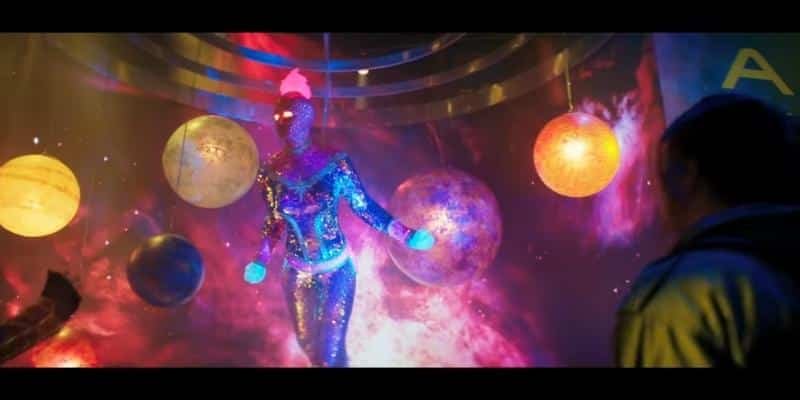 The trailers and footage for Ms. Marvel on Disney+ show the same focus on Kamala's fandom, with her wearing Captain Marvel clothes and costumes, as well as her attending what appears to be a fan event similar to the Avengers Day in the Avengers video game.
Wacky Shenanigans
As you can imagine, when a superhero-obsessed fangirl gets her own powers, plenty of hijinks ensue, as she gets to meet and team up with her idols. Ms. Marvel has one of the sillier, more lighthearted tones among Marvel IPs. She yells "Embiggen!" when she morphs and has Lockjaw the giant teleporting dog assigned to her as a bodyguard in early comics issues.

Some of the franchise's best comedy comes from pairing Kamala with older, more grizzled, and cynical male heroes. The comics series reaches transcendence when teenage superfan Ms. Marvel unexpectedly runs into a recently de-powered Wolverine while on a mission.
Not only does Logan have to deal with Kamala's fangirling ("I totally put you first in my fantasy hero team-up bracket!"), but he also has to depend on her physically. The image of Wolverine getting a piggyback ride from a chipper teen girl is one of the most delightful moments in recent comics history. (Which is likely why Ms. Marvel & Wolverine #1 is coming this August.)
This grumpy old man/optimistic young girl dynamic is a tried-and-true formula throughout pop culture–in fact, we're seeing it play out in Obi-Wan Kenobi right now. Writers used it again for Kamala in the Marvel's Avengers game, in which she spends most of her time with a hesitant Bruce Banner.
Kamala's basic origin story will likely take up all of this first 6-episode season, but with Kamala and the X-Men now both in the MCU, we can keep our fingers crossed for a Wolverine team-up down the road.
Connection to Carol Danvers/Captain Marvel
A core component of Kamala Khan's fandom is her adoration of Carol Danvers, a.k.a. Captain Marvel. When Kamala first gets her powers in Ms. Marvel #1, it is Carol she envisions as she hallucinates, and it is Carol whom she inadvertently transforms into. In the comics, Kamala is a polymorph who can both stretch and transform her body. During her identity crisis brought on by suddenly developing insane powers, she immediately remakes herself in the image of her hero. Initially, she becomes Carol's first alter-ego, Ms. Marvel, and she eventually adopts the mantle permanently.
Crisis of Faith and Fandom
It doesn't take long in the comics for Kamala to meet and be mentored by Carol. Our favorite fangirl is awestruck, of course, but one of the defining aspects of Kamala's story is that the new Ms. Marvel always forges her own path.

And this is where Kamala's status as a superfan superhero makes for great storytelling. We all learned from Troy and Levar Burton that meeting your heroes can be complicated. Kamala has to face her own imposter syndrome while working alongside the Avengers, and she has to figure out what kind of hero she wants to be when she's defending Jersey City on her own.

But the most exciting narrative potential of Kamala's fandom is how she reacts when she believes one of her heroes is wrong.

In the Civil War II comics storyline, Kamala and Carol are on opposite sides of the central conflict: whether the Avengers should stop potential criminals through predictive justice, based on a new Inhuman's premonitions. Carol wants to use the premonitions to prevent crime, but Kamala believes that it is dangerous to attack or arrest people who haven't done anything wrong.

Kamala makes a plan to show Carol that they can't trust the premonitions. When Carol says she has lost all trust in her protege, Kamala stands her ground, even though it feels "Worse than getting punched in the gut. Worse than having my heart broken. Worse than pretty much anything."

Kamala, a teenage girl who has spent her life worshiping Captain Marvel, gathers the strength and the confidence of her convictions to say, "I didn't want this . . . but I have to protect the people of my city. Even . . . even if it means protecting them from you."
This is Why Ms. Marvel Matters
Ms. Marvel is coming to Disney+ in a climate of ideological extremism, where it feels like complex moral considerations have been replaced by a win-at-all-costs team mindset. In other words, it's almost like social and political concerns have become like fandoms, which followers defend no matter what.
Kamala is Captain Marvel's biggest fan, and it would have been easy for her to just trust Carol's leadership and blindly follow her as part of her team. But Kamala, always searching to do what is right, possesses the moral clarity and sense of purpose to fight for what she believes in.
This strength of character, even at the risk of alienating her idols, is why Kamala Khan's fandom matters, and it's why we need her in the MCU.
When Does Ms. Marvel Come Out?
The first episode of Ms. Marvel debuted on Disney + on Wednesday, June 8! Stay tuned to Geek to Geek Media for more articles about Ms. Marvel as the series progresses.