Half Human, Half Quilin, All Awesome
Half-human and half-qilin, Ganyu balances the fine line between mortal and adeptus ways of life. As secretary for the Liyue Qixing, Ganyu's hands are full dealing with the issues of the many merchants and businesses within Liyue. The horn-headed archer's constant yawning and dozing off might lead you to believe that she's lazy, but that couldn't be further from the truth. She diligently carries out her secretarial tasks with the utmost efficiency. Perhaps too much efficiency, as her work ethic often intimidates her fellow Qixing staff members.
Much of Ganyu's Story Quest concerns itself with her feeling unable to fit in with human society. Ganyu quickly makes friends with the Traveler, but her reticence makes it difficult to interact with with common Liyue civilians. After completing a series of trials devised by Cloud Retainer and Xiao, Ganyu accepts her place in the world. She may not be fully human, but she provides a unique perspective to the philosophical examinations of mortality.
Is Ganyu Any Good?
Ganyu might be the best character in the game, and if not that, she is definitely S-Tier. She is most certainly my favorite.
As one of Genshin Impact's many 5-star Cryo users, Ganyu has some stiff competition for a place in players' main party. Eula crushes enemies with ease using her icy claymore and Ayaka elegantly dances about the battlefield, freezing anyone she passes through. Shenhe can freeze clusters of foes.
Ganyu, though? Only Ganyu can decimate a party of foes from a mile away with a single shot. Her archery skills are second-to-none, as are her elemental abilities.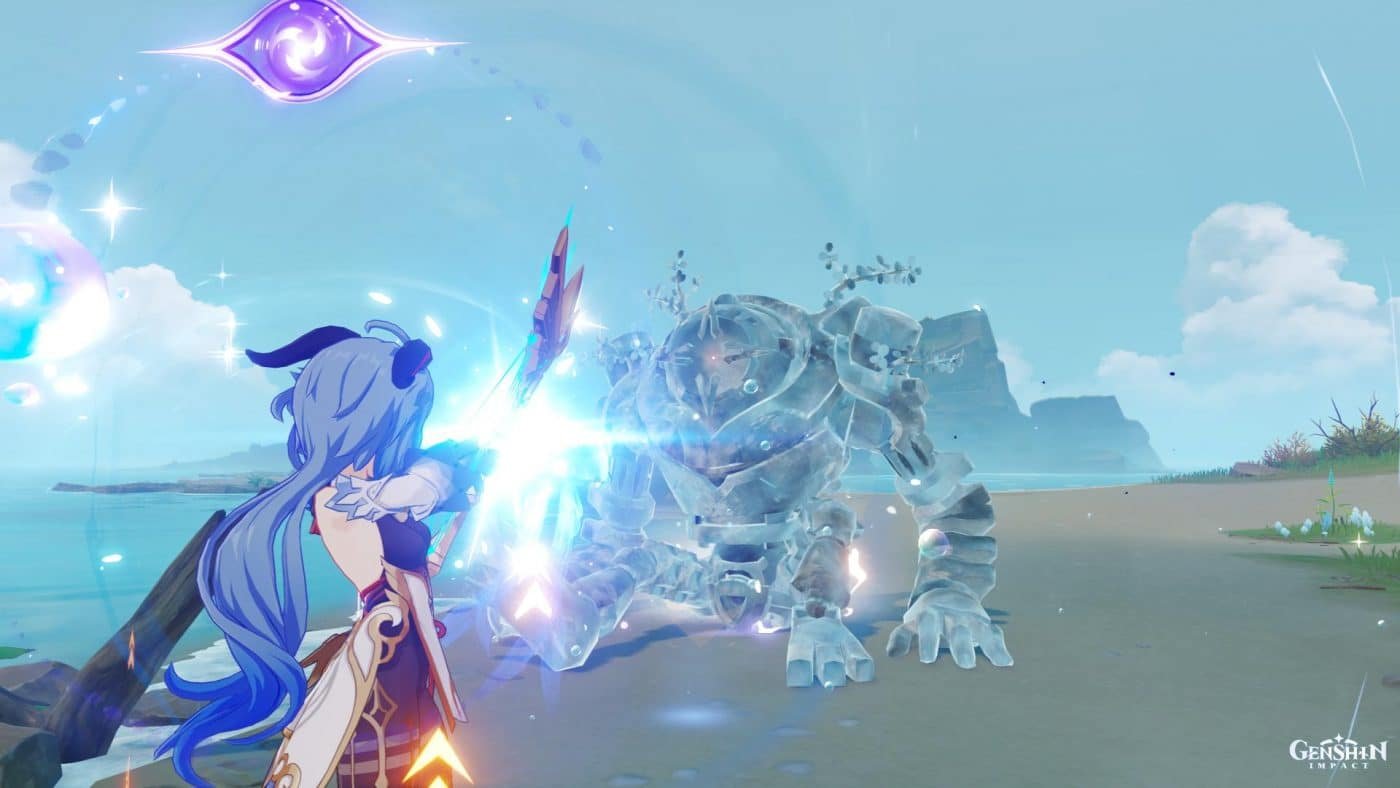 But let's go back to that bow for a moment. Like all archers in Genshin Impact, Ganyu can hold her aim for a devastating charged shot. Aim a little longer, however, and the charged attack will fire a Frostflake Arrow. Frostflake Arrows deal a large amount of Cryo damage and "bloom" upon hitting their target to deal AoE (Area of Effect) Cryo damage to surrounding targets. Ganyu's charged attack shreds through enemies and sets her apart as a dominant damage-dealer.
Ganyu's Elemental Skill and Burst are Great
Her charge attack, Frostflake Arrow, alone makes Ganyu a valuable companion (especially at Talent level 2 where it becomes an AoE Cryo attack). Her additional talents and abilities, however, are what make her truly elite. Using Ganyu's Elemental Skill, Trail of the Qilin, places an ice lotus on the ground before dashing backward. The lotus draws away enemies' attention, allowing you to pick them off from a safe distance. The distraction is also a great opportunity to set up elemental reactions with other characters (such as Melt with Pyro and Crystallize with Geo). After a short period of time, the lotus bursts to cause impressive AoE Cryo damage.
Celestial Shower is Ganyu's Elemental Burst, and it makes her an invaluable asset when surrounded by foes. Ganyu raises a frozen sphere to the sky, summoning a deadly storm of hail that lasts for ~15 seconds. Enemies contained within the circular storm area are continuously pummeled by Cryo damage. Combined with other characters' Elemental Bursts, this can create numerous reactions to quickly dismantle a group of enemies.
What is the Best Ganyu Build and Weapon?
You could make Ganyu a support character by switching her out immediately after using her Elemental Skill or Burst, but why waste that DPS potential? Instead, it's best to focus on equipping her with artifacts that boost Attack %, Critical Damage, and Critical Rate. It can be tough to find artifacts with the desired attributes, but fortunately Ganyu pairs very well with the Wanderer's Troupe artifact set.
Wanderer's Troupe is one of the easiest to come by artifact sets in the game, with drops from many bosses. Having only two pieces of the set equipped increases Elemental Mastery by 80. Not bad at all for improving elemental reactions, but the real draw with this set is the four-piece bonus. With four pieces, charged attack damage is increased by 35% for bow or catalyst users. Given that you'll be using charged shots 99% of the time when attacking with Ganyu, this set is a no-brainer.
As for weapons, the 5-star Amos' Bow was literally made for Ganyu and has its own weapon banner running alongside hers. It increases DMG by 18% and boosts it another 12% for every .01 second an arrow is in flight. Of course, 5-star weapons are incredibly hard to come by, so you might want to consider a 4-star bow instead. One of the best options is the Prototype Crescent bow, which increases weak spot DMG by 36% and increases movement speed. This bow can be crafted at a blacksmith with White Iron, Crystal Chunks, and one Northlander Bow Billet. The Northlander Bow Billet can be purchased at gift shops (such as Liyue for Geo Sigils) or dropped by weekly bosses.
How to Get Ganyu
Have I done enough to convince you that Ganyu is a worthwhile companion for your Traveler? If so, and you want to try to recruit her to your party, her event banner is running right now, and ends February 15, 2022. Wishing on Ganyu's event banner, "Adrift in the Harbor," is the only way to obtain the character. The banner repeats and comes around every so often, but that won't be for around another 6-12 months after it ends. So if you've got the Fates lying around, Ganyu is worth spending them on Wishes.
Ganyu is my personal favorite character in Genshin Impact. I was lucky enough to get her in early 2021, and she has been the cornerstone of my party ever since. In some ways, she's a little too easy to rely on, though appropriate party balance is still needed when fighting Cryo enemies. All her awesomeness doesn't do any good when Immune wallpapers the screen.
Be sure to check out our Free-to-Play Guide to Genshin Impact if you're just starting your journey through Teyvat! And good luck with your Ganyu Wishes! Let us know in the comments how it goes!