Quick View
Game: Wildbus
Release Date: August 26, 2021
Price: $12.99 on Switch, Name Your Price on itch.io
Rating: Teen
Platform: Switch, Windows, Mac
Geek to Geek Media was provided with a review copy of this title.
This game is really weird. Wildbus came out on PC about two years ago as a "Bus Modification Adventure RPG". It is really weird. Wildbus is kind of a beat-em-up game where you play as a bus with a projectile weapon on top and a melee weapon on front. It's a really weird game. You adventure around a 2D apocalyptic world fighting weird enemies and chatting with weirder NPCs in a quest to find "The Land of Light".
Wildbus is a really weird game.
Post-Apocalyptical Bus Adventures
Wildbus comes from the same developer as Strange Field Football and brings over a very similar unique design style. There's a blend of 3D elements with textures designed to look like 2D pixel art that looks beautiful and kind of wrong at the same time. It's almost like the developer has found the opposite of the uncanny valley, the weird spot where a rendered image is so close to real that it's upsetting.
The story is similarly engaging and off-putting. You play as a bus (or maybe the driver of a bus) in a post-apocalyptic world. Your ultimate mission, which is always on-screen as your current objective, is to "search for the land of light". Basically, everything has gone wrong and it's up to you to find the place where maybe, just maybe, everything is right.
Throughout the small, open environment you'll find a series of settlements, each populated with a cast of weird NPCs. There is a ton of unique dialog to be found by chatting to each character, but almost every line is written strangely. At first, I thought maybe this game was poorly translated. As I saw more I realized that the dialog is just as weirdly "off" as everything else about the game seemed to be, in what is, I think, a very intentional way.
Bounty Hunting
The spaces between towns are always made up of a few environmental obstacles and platforming challenges (yes, your bus can jump), and some enemies. There's not a ton of foes, which makes the beat-em-up descriptor not quite feel right, but there's enough that you'll never go far without something to punch or shoot. Each encounter is unique though because you'll fight panda bears and clowns and swimming elephants and a whole bunch of other weird enemies. Each town has a bartender who will send you out on a bounty quest to take out specific foes in the overworld, which basically act as boss battles.
You'll also run across NPCs who are looking for you to help them or just do cool stunts. Your just as likely to get a reward for jumping over some skateboards as you are for helping a bound dragon find their love.
As you meet these weird characters and complete their weird quests, there are a few different rewards you'll unlock. The most basic is cash, which is in turn used at the weapons shop in each town to buy new ranged and melee weapons. You'll also get different skins for your bus, each of which has unique properties, like giving you a speed boost or letting your bus hover. Finally, there are a few NPCs who will jump on board your bus in your quest to find the Land of Light, granting you stat or ability boosts.
Big Vibes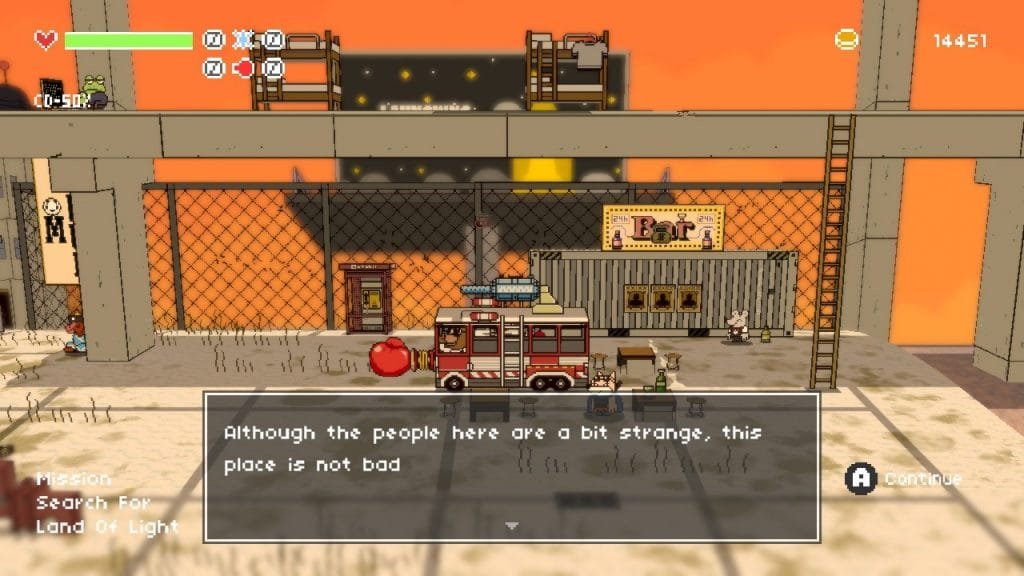 All the weirdness of this game added up to an experience I really liked. The combat, story, and visuals all feel like they are not quite right, but that adds up to a vibe that's engaging and entertaining throughout its two-hour-ish run time.
Perhaps the best example of how well this game is just something to kind of play around with and feel is that there is absolutely no penalty for dying. If you woof it while fighting a basic enemy, come across a boss you don't have a weapon for, or just jump your bus into a lake, you don't lose anything at all. You respawn back at the nearest town, and just get to keep exploring the wasteland.
Wildbus is an action game that also manages to be bizarrely chill and zen-like. If it wasn't all a bit off-kilter I don't think it would coalesce into such a pleasant final package.
Final Thoughts
This has been a weird game for me to review. I don't know that I can say that Wildbus is a great time, but I had a great time with it. The game is weird and surreal and a little janky and absolutely wonderful. It's not a game that you could plop in front of anyone and watch them love, but it's a game that I think a certain sect of video game fans will be absolutely charmed by. Wildbus is a game that goes beyond being a love letter to video games and instead feels like it's somehow gained sentience and is relishing with delight in the fact that is a video game.
Geek to Geek Rating: 4 out 5 surreal stars