Cute video games sometimes get a bad rap. I, for one, adore them though. Sure, I still like the hardcore games too. However, sometimes in this hectic, stressful world, you need to just completely chill out with a cheerful game about bathing capybara.
Quick View
Title: Capybara Spa
Release Date: March 14, 2022
Price: $7.99
Suggested Audience Age: Everyone
Number of Players: 1
Time to Play: It took me 5.5 hours to 100% the game, probably beat in 2-3
Availability: Steam
Recommended for fans of: Lemon Cake (same developer/publisher), Overcooked, and other cozy games

Geek to Geek Media was provided with a review copy of this title
What's The Story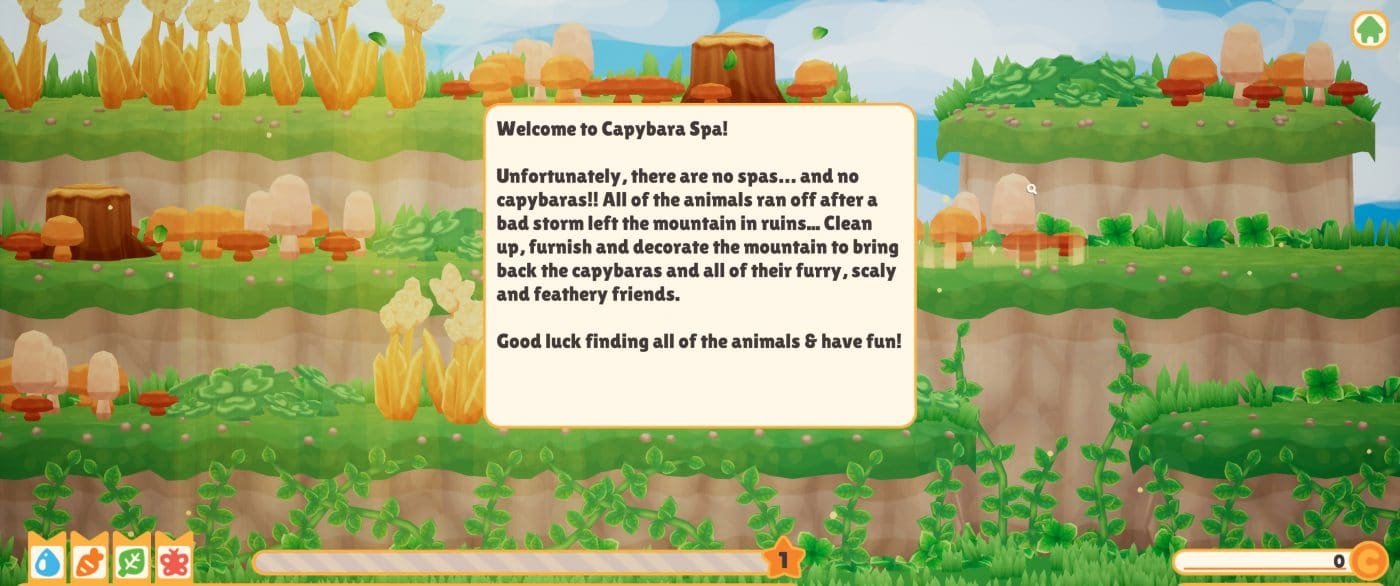 Well, the story is basically what it says in that screenshot! In Capybara Spa you run a spa for animals wandering around the mountainside. However, a storm just came and destroyed everything, leaving the mountain a mess.
Whatever. Who needs an in-depth story? The point is you get to clean up adorable animals and decorate things. That's basically all you need to know here. Capybara is obviously the main animal, along with baby capybaras. As the game progresses you get to also take care of ducks, turtles, frogs, and the most adorable chunky little otters.
To better care for all these critters, you can plant a garden for treats to give them (strawberries, carrots, etc). And, flowers to let them decorate their little heads with! That is so cute watching them wear the different flowers as little hats.
Wow. Yah. So, my giggling over flowers on capybara heads should tell you something about this game. It's hopefully going to make you smile at least though.
What the Gameplay Feels Like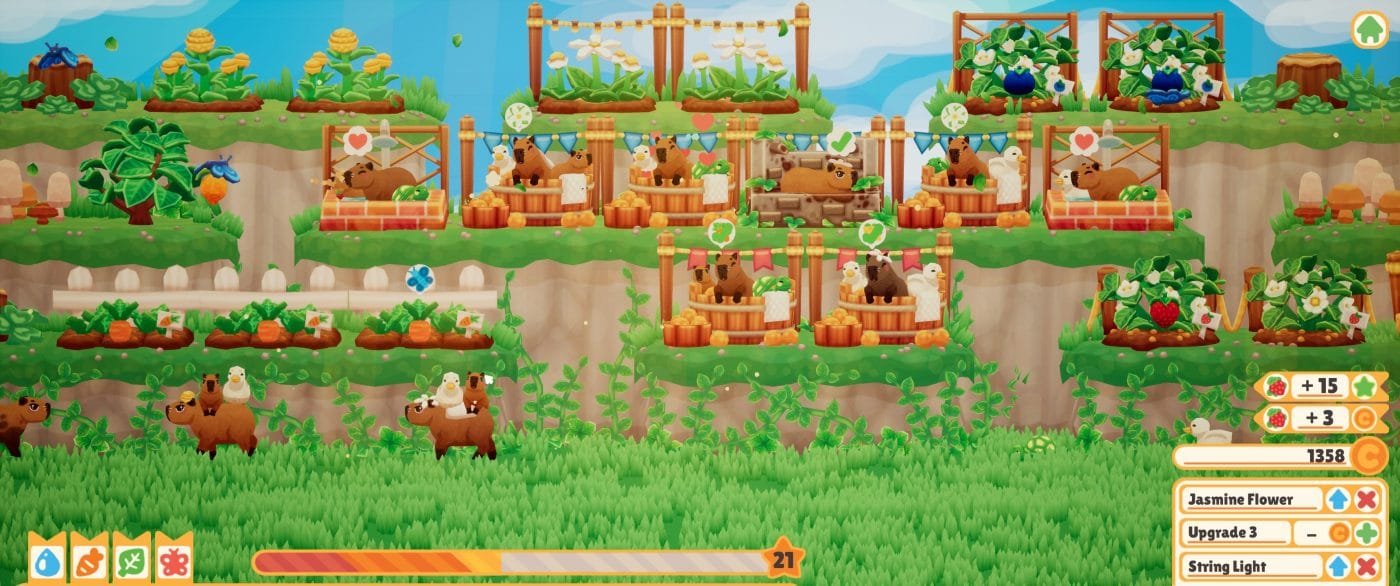 In the quick view above I mentioned that it is for fans of Overcooked. While it's not multiplayer and not as hectic as that game can be, it has some of the same basic mechanics of that genre of game.
Obviously, you build bathtubs or other spa-type equipment for the capybara to bathe in. While they are in the tub they may want a snack or flower in their hair or a warm towel. This is indicated by a little thought bubble over their head. So, you then build a garden with veggies and fruits. You build a flower garden for them to have bright and cheerful flowers. You get a clothesline for towels, a soap maker for soap, and so forth. Then, as the thought bubbles appear over the capybara, you can grab the item and give it to them.
As each capybara (and friends) get clean, you earn money which can then be used to buy upgrades or more plants and etc.
Once your spa begins to grow, it can be time-consuming trying to keep up with everything. This is where your helpers come in! Naturally, these helpers are in the form of ladybugs, bees, and other bugs who can fetch things for the capybara. While not super fast, it can help a lot knowing that the ladybugs will bring that flower to a capybara while you are working on something else.
What I liked
The cuteness. I mean, that's really what made me want to get it. Also, I love the fact that some of my fellow Geek to Geek members (Data Error and Troytlepower) saw the name of this game and immediately tagged me.
What can I say, I like happy.
I have previously loved other games by Cozy Bee Games (see my review for Lemon Cake) so I had no doubts I would love this game. If you like cute, low-stress, and cheerful games…this is perfect.
What I didn't like
At first, I had an issue with being able to click on the animals as they walked by on the bottom of the screen or rocks and weeds that appear down there and can be cleaned up for a little money. Soon, however, I realized that I could use my mouse scroll button to zoom out. So, if you find yourself having this problem…zoom out. The game didn't mention this to me and the default was zoomed pretty far in.
Otherwise, my only negative is how short the game is. For the price, it's good…but if you can get it on sale that's better. You will probably be done with the entire game in an evening.
Geek to Geek Rating: 5 out of 5 flowers on capybara heads
PS- apparently real-life capybara actually love baths. If you want something cute, do an image search for capybara spa and besides this video game, you will see a lot of adorable capybaras.