One of the campaigns in the As The Dice Roll podcast, Cautious Optimism is a GURPS Sci-Fi RPG actual play. If you aren't familiar with GURPS, just think of it as a different way of playing dungeons and dragons. In space. Well, not all GURPS is in space. But the Cautious Optimism sure is.
Wait…ONE of the campaigns in As The Dice Roll?
Yup! If you are a fan of actual play podcasts, As The Dice Roll is awesome in that it is one podcast with several campaigns running simultaneously. Each episode of the podcast that is released will state which campaign that episode is a part of. Every other Friday you will get a new Cautious Optimism episode, but you may get other episodes of the other campaigns dropping on other days as well.
All are awesome. All well worth listening to. Cautious Optimism is definitely my favorite though.
Okay, What is Cautious Optimism?
Using the Generic Universal RolePlaying System (GURPS), the GM Todd weaves a story of sci-fi spacey goodness. Intriguing mysteries, crazy aliens, humor, suspense, and a whole lot of critical fails…Cautious Optimism is great.
Oh? You're wondering why you're looking at a picture of banana bread? That's because the ship, Cautious Optimism, is described as looking like a loaf of banana bread. Take that however you like, but essentially this isn't a ship to be highly coveted. However, Captain Rory Shand loves it after inheriting it from her beloved uncle. Along with her engineer Hank Crawford, Doctor Kayan Brhun, scientist Rico, the possibly-sentient AI Shipcom, and their new pop superstar crewmate Lillianna, the Cautious Optimism somehow manages to not blow up. Much.
So let's take a closer look at our players
Captain Rory Shand
Voiced by our amazing Kelley (host of Mating Habits of the Modern Geek) is Captain Rory Shand. A human, she inherited the Cautious Optimism from her uncle after his death. She knows the ship well and holds many fond memories of flying through the galaxy with her Uncle Peter. Because of this, it holds a lot of sentimentality to her. The ship may not fly well, or sometimes at all, but it is very special.
However, new clues are arising that things may not be what they seem. Is Uncle Peter really dead? Can the guild be trusted? Is there anyone Rory won't shoot? Should she have the rights to a now-famous mixtape???
Engineer Hank Crawford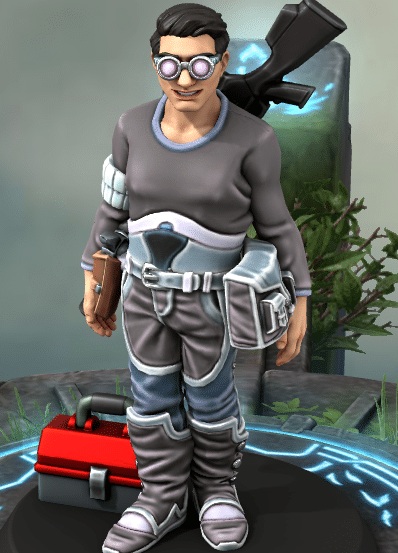 A spaceship that looks like banana bread and has its speakers on the outside of the ship clearly needs a good engineer. Enter Hank Crawford. A human, voiced by Bamashockz (cohost of Farming Simulated and dnd twitch streamer) Hank does his best. Usually, Sometimes, he is successful at not blowing himself up.
Doctor Kayan Brhun
When Hank does blow himself up, he's lucky that the Cautious Optimism also has a doctor on board! Doctor Kayan Brhun, a 4-armed Matorb. Voiced by the ever-amazing Joe (host of Geektitude, and editor of As The Dice Roll) Kayan has one of the most interesting backstories in the show. Matorbs have historically been in slavery and are hunted and looked down on. Kayan is the first of his kind to attend medical school and faces constant racism (species-ism?). How did he escape? How did he medical school? Which hand do you high-five?
Scientist Rico
Always curious, Rico is a Felonian scientist. She is voiced by Raven (cohost of Girls Gone WoW). Rrrrrrrrrrico was found studying the bird people and for some reason made them very anxious. However, she is a huge asset to the Cautious Optimism crew. If only the GM could pronounce her name.
ShipCom
ShipCom is a supercomputer created by a Lorndan scientist and was purchased by Captain Rory. Now it is installed on the Cautious Optimism and trying to put babies of itself on every other ship it sees. Is it sentient? Does it have a soul? What happens when someone hits the big red button? Voiced by GM Todd (cohost of The Nerdberg Review) ShipCom is probably one of the most interesting of characters.
Pop Superstar Lillianna
New to the crew in season 2, Lillianna is from the race of Evon and is a pop superstar with some hidden powers. Voiced by Elinzia (cohost of The Nerdberg Review) she may not seem that smart, but she holds a lot of secrets.
Check out As The Dice Roll today, and then hop on over to our Discord or Slack to let us know your thoughts!