Swords are undeniably cool. It's why we love to see them in our video games and our Dungeons & Dragons sessions. It's why people spend real-world money trying to get better ones in gacha games like Genshin Impact. There's something about a sword that just makes you feel awesome, and the Red Dragon's Battle Sword from Medieval Collectibles is definitely cool
Full disclosure: this sword was provided to me by Medieval Collectibles for review purposes. But, I mean, come on! How could I turn down a free sword that looks this awesome? Of course I said yes!
A Sword For Dragon Slayers
So, quick story. When this sword arrived at my house, my four year-old was around and thoroughly excited because she's a huge fan of D&D, dragons, and JRPGs. I told her I was Austin the Dragon Slayer and the sword was a gift for slaying a dragon, and her eyes lit up. I later told her the truth and have kinda regretted it ever since. But, still, it's really fun having this Red Dragon's Battle Sword around – even if I'm not really Austin the Dragon Slayer.
The blade is red with black edges, and it's made of stainless steel. The actual dragon design on the hilt is made to look like antiqued silver (it's probably really just pewter or stainless steel), and the grip looks like wood (but it's actually just a plastic coating). From afar, there's nothing to really complain about. The sword looks great, and I couldn't keep myself from swinging it all around the house.
There are just a few minor complaints that I have. Personally, a few imperfections don't bother me, but I know some collectors may want to know about them. There were a couple places (most notably seen in the photo above) where glue was sticking out. There were also a few places (like the eyes) where the paint wasn't fully coated. The only problem I really had is that part of the "wooden" grip was a little loose when it arrived. I tightened it, though, and it's just fine now.
Like A Red Dragon's Breath, This Battle Sword Is Hot, Hot, Hot!
There are still a couple things you need to know about the Red Dragon's Battle Sword. It comes with a cool wooden plaque, hooks, screw, and anchor for display. You'll have to install the hooks and everything yourself, but it means the Red Dragon's Battle Sword will look great up on someone's wall.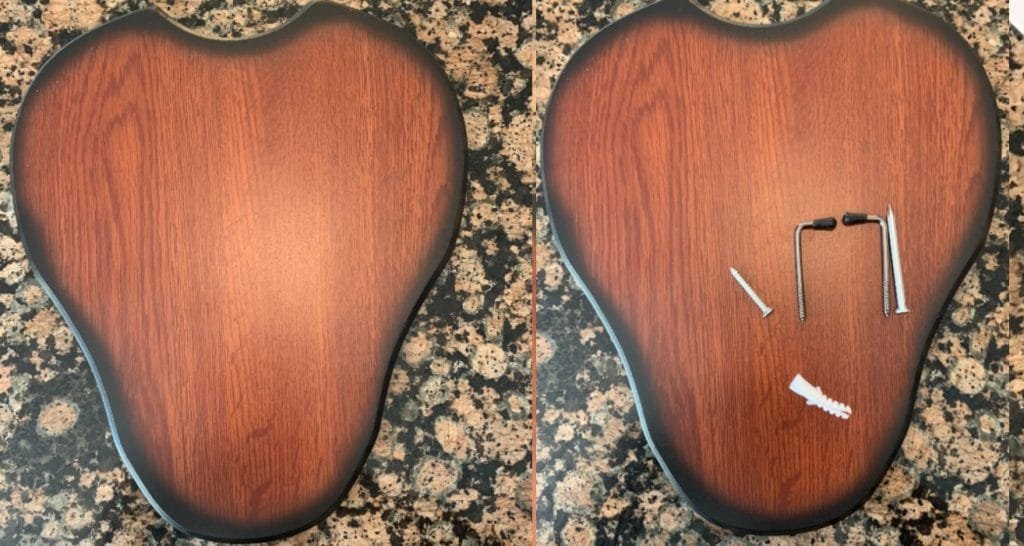 The red gem on the pommel of the Red Dragon's Battle Sword is a really nice touch. In the sunlight, it looks especially awesome.
The weight of this sword is perfect. It's not so lightweight that it feels like some silly toy, but it's also not heavy enough that it makes me question if I need to start bulking up. Fun fact: Once, years ago, I was helping my friend move and I lifted up a claymore on the stairs that was so heavy it nearly dragged me down the stairwell. The Red Dragon's Battle Sword is NOT a heavy, drag-you-down-the-stairs-to-your-death kind of sword. And that makes it great.
Seriously, I can't stress how cool this sword is. I might not be a skilled swordsman, but when I'm swinging this sword around my house, I feel like a hero. And isn't that the important thing?
Where Do I Buy This?
Like I mentioned before, this sword is from Medieval Collectibles. It's priced at $89.99, which seems like a good price for it, but you can save 10% right now as part of the site's January sale by entering the code SNOW.
I've had the sword for a few days now, and I've carried it to my weekly Dungeons & Dragons group (we play online now, so it's really just holding the sword up to the camera), and everyone loved it there. But you know the real reason why I love this sword so much? My daughter asked me if she could have it when she grew up, if she could prove herself to be a brave warrior. And I said yes, of course, and her eyes lit up because she still believes in stuff like dragons. And that kind of thing is priceless.
Pros
The weight is perfect
The design, and especially the hilt, are super cool
It's a quality sword for the price
Cons
A few painting imperfections
A couple places where glue was noticeable
Geek To Geek Rating: 4/5