This week, I just wanted to rank some of the most memorable characters in each mainline Dragon Quest game. That doesn't mean they're necessarily my favorite (although a few of them are). These are also my most memorable characters, the ones who stuck out the most for me, the ones I think about long after I've beaten the games.
Let's get started, shall we?
Dragon Quest: Dragonlord
I suppose I should probably go with the Hero for this one, but he doesn't have much personality. He's got some cool armor and the ladies love to hit on him, but that's about it. For me, the most memorable character is the Dragonlord. And I'm assuming it's not just me that finds him memorable, since he's made appearances in spin-off games and in some manga, like Dragon Quest Monsters+.
Dragon Quest II: Prince of Cannock
Confession: I came really close to just making this dude's picture a coffin.
But that's what makes him so memorable! He dies–A LOT! If you've listened to my podcast or read my thoughts on DQII, then you know this already. And if you've played DQ II before, then you REALLY know it. But a long time after beating the game, it's still fun to crack jokes about this guy dying. And his high mortality rate is one of the most memorable parts of the game. That, and the time he refuses to leave the inn in Beran until you bring him back an Yggdrasil leaf.
Dragon Quest III: Hero
Maybe it's a cop-out to pick the Hero in one of these games, but this guy is iconic. To some, he's known as Loto or Roto, others call him Erdrick. Whatever you call him, he's been the most recognizable hero from the series for, like, thirty years. He's an icon.
Dragon Quest IV: Psaro
This one was actually really difficult. DQ IV is a dream team of memorable characters: Ragnar, Meena, Maya, Kiryl, Alena, Torneko, Borya, and the male/female Hero. Everyone in this game feels unique and interesting. But for me, it was almost a toss up between Alena and Torneko. Both have big personalities, have appeared in several spin-off games, and are super lovable.
However, I ultimately went with Psaro because he's my favorite villain in the entire series, and his story is one of my favorite parts of the game. He's a bad guy with some not-so-bad motives. He's just super mad because humans made his elf girlfriend cry. And in the final fight, he has SEVEN different forms.
Dragon Quest V: Bianca
This was another toughie, and one that is most likely to cause a debate. DQ V is another game in the series that has an all-star line-up when it comes to characters: the Hero, Pankraz, Prince Harry, Bishop Ladja, Sancho, Nera, Bjorn the freakin' Behemoose! The list just goes on and on.
But Bianca is one of my favorite playable DQ characters of all time. She was my favorite character in the first Dragon Quest Heroes (I love classes that use bows), and it's why I chose her as my bride in V. You get to go on a cute, haunted mansion adventure with her as kids, and she's constantly a source of love and support for the Hero in adulthood.
Dragon Quest VI: Carver
Dragon Quest VI has some fairly generic characters, I think, but I still enjoyed the game a ton. I know a lot of people like Terry from this game, but I personally can't stand the guy, and he honestly wasn't that memorable for me. He's a douchey, knock-off Link, and you don't get him until way late in the game. I came really close to putting Ashlynn here, because she seems to have a more developed backstory than the other characters in the game, but she's not the character I think about the most in this game.
Instead, I've got to go with my favorite fighter: Carver. He's a lovable oaf with big biceps and serious carpentry skills (he built that dwarf's cabin in, like, forty-five seconds). The Hero couldn't ask for a better BFF; Carver joins your party at the beginning, and he's a trusty sidekick for the next 60 hours of gameplay. You gotta love him, even if he sometimes gives off a Lenny- from- Of -Mice -and -Men vibe.
Dragon Quest VII: Maribel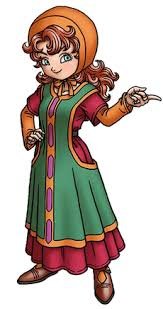 Remember, these characters aren't always my favorite. I'm trying to list the ones that are most MEMORABLE to me. Are we clear on that? Good. Because Maribel isn't my favorite. In fact, she's the opposite.
I hate Maribel. She is my least favorite character in the entire series, which is why she's so freakin' memorable. She's a brat, she's annoying, and she has very few (if any?) redeeming qualities.
Let's not dwell on this one. The less time I spend remembering Maribel, the better.
Dragon Quest VIII: King Trode
I think King Trode is probably memorable for a lot of people who played DQ VIII. He's a bossy, ugly, cursed king with a heart of gold. He's also the source of a lot of comic relief in the game. Whether he's catching Yangus by surprise or running with his arms behind his back like an infant who just learned to walk, Trode keeps you laughing.
He also gives you the alchemy pot for crafting (but I'll try not to hold that against him), and he may even be uglier as a human. Either way, he's easily the most memorable character in the game. It's just a shame you don't get to play as him for very long.
Dragon Quest IX: Stella
Stella is obnoxious, I'll admit. I don't hate her quite as much as Maribel, but she's got an annoying way of talking that sounds like some horrible Hannah Montana-era Disney Channel dialogue. And because this game doesn't give you characters with real names or personalities to play as, the pickings are a little slim when it comes to memorable characters.
Stella runs the Starflight Express and serves as a fairy sidekick to your hero. Basically, she's a slutted-up version of Navi from Ocarina of Time. Sure, Erinn and Patty make appearances in some spin-off games, but Stella is the sassy faerie who puts you in your place. Plus, she drives a train that flies through the sky!
Dragon Quest X: My Tears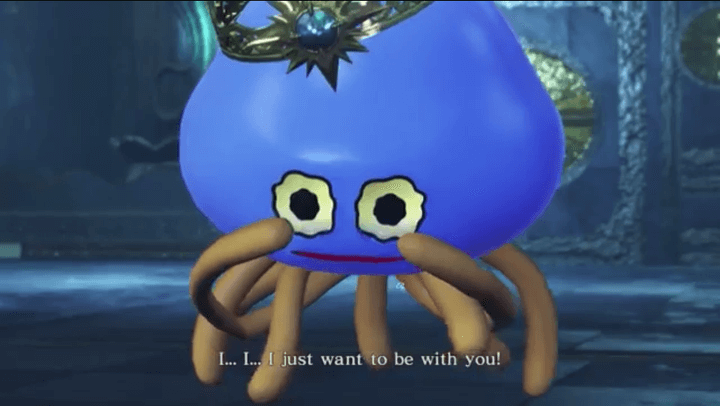 Yes, the most memorable part of DQ X is the tears I've cried because it's been a full decade and WE STILL DON'T HAVE IT IN THE WEST! Please enjoy this photo of Healix weeping in Dragon Quest Heroes instead.
Dragon Quest XI: Sylvando
Full disclosure: Sylvando is my favorite character in this entire series.
Love him or hate him (and I love him, darling!), Sylvando is the standout character of Dragon Quest XI. He's a sarcastic, saucy juggler who owns a ship captained by (let's be honest, here) a gimp. And when he thinks the world is ending, he launches a parade of dancing, fancy men to cheer everyone up. In addition to being comic relief, Sylvando has a depth and complexity that we often don't see in JRPGs. He's also launched approximately 10,000 gifs and memes.
What Do You Think?
That's it for this week. What do you think?
Was there a character you thought was more memorable than the ones I listed? Got a favorite character I did't mention? Let me know in the comments, or tell me on Twitter!