Update: We got a ton of announcements on DQ Celebration Day, and we did a whole DQFM episode and post about the announcements for the coming year! Check out all the cool Adventures of Dai stuff we're getting!
2019 was an excellent year for Dragon Quest. We got English releases of the Monsters + manga, the Dragon Quest Your Story movie and DQ Walk released in Japan (and they got new DQ X content, too), and we saw Dragon Quest Builders 2 and Dragon Quest XI S release within a few months of each other. If you were into the classic games, we also got re-releases of DQ 1-3 on Switch! Man, what a time to be a Dragon Quest fan!
I was already readying myself to be disappointed in 2020. I mean, how could Dragon Quest top this past year? We got soooooo much stuff.
Yet here we are. It's barely the beginning of the year, and we already have a ton of stuff to look forward to in 2020 (some of it's rumored, but a lot is confirmed!). Here's some of the stuff I'm most looking forward to when it comes to Dragon Quest in 2020:
Dragon Quest Your Story on Netflix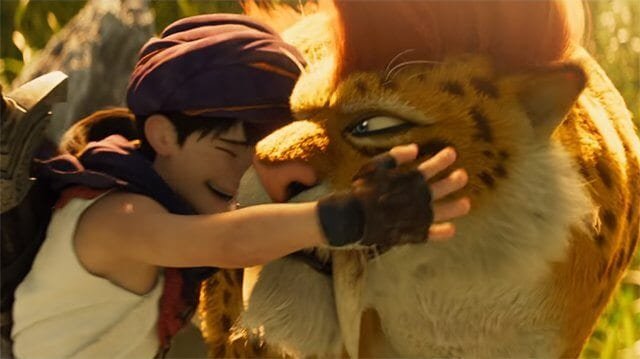 At the time I'm writing this we don't have a release date, but Netflix has listed Dragon Quest Your Story as a Netflix original movie on its streaming service. You can even go ahead and set a reminder so it appears in your List as soon as it becomes available.
I'm excited about this because it means we'll be getting the movie in English in at least some capacity. Right now, I assume it's Japanese audio with English subtitles, but we'll have to wait for more details to know for sure.
Edit: We do a full episode on DQFM for Your Story since it was released after this post was originally created.
Dragon Quest of the Stars
This past fall, we got a promo video and an announcement that Dragon Quest of the Stars (a mobile RPG) would be coming to the West in 2020! Some people were even lucky enough to get into the closed beta (not me, because I live in the U.S.). The game looks great, and even though I'm not a huge fan of mobile games, I can't wait to play the crap out of this in 2020.
Adventures of Dai Anime and Game
Although I haven't seen anything about an English release, we got a small teaser for the new anime, which is coming in Fall 2020. In case you haven't seen it yet, you can watch the video right here:
We're also getting a game based on the anime, which is honestly what I'm even more excited about. I haven't seen a release date for the game yet, but I'm hoping (maybe foolishly) that it's coming out alongside the new anime in the fall.
A New Dragon Quest Monsters Game?
I put a question mark after the end here because since the game was announced way back at the end of 2018, we haven't had much of anything concerning news or updates. Still, the Akira Toriyama drawings we've seen of Erik and Mia as kids look awesome, and a new Dragon Quest Monsters game would be perfectly at home on the Nintendo Switch (and hopefully at home in the West, too).
Dragon Quest XII Reveals
We've known Dragon Quest XII was in pre-production, but we didn't have any concrete news until recently, when Yuji Horii himself confirmed that the newest mainline DQ game had started production earlier in 2019. And while I'm convinced we won't see the finished product until at least 2022, I think we could (hopefully) see a few reveals and teases this year:
Hero reveal–I think there's a good chance we'll see our main character at some point in 2020. We saw the reveal from XI in 2015, and the game came out in Japan in 2017. So if we're getting XII in the next two or three years, I think we can reasonably hope to see our newest hero sometime soon.
Title reveal–English titles are different from their direct Japanese translations, but I think there's a good chance we'll know at least the Japanese title by the end of 2020.
Teaser–I may be stretching on this one, but I think there's a slim chance we might get a teaser (a very small one, at least) by the year's end. Even if it's something as simple as seeing our new hero riding on a horse through untamed countryside.
Some Surprises
I also expect quite a few surprises this year. It seems that Dragon Quest is making a huge effort in the West, and I think some surprise announcements will happen in 2020. Here are a few that I think are most likely:
Dragon Quest Walk–The mobile game is a hit, monsters have started appearing in the West finally, and after the popularity of Pokemon Go, I think there's a really good chance we'll see DQ Walk in English by the end of the year.
More manga–I'm not so sure the Monsters+ manga broke any records here in the States (despite my attempts to get everyone to buy it on both this blog and on the Dragon Quest FM podcast), but with the renewed interest in Dai, I'm hoping we get some new English printings of other DQ manga.
Dragon Quest Heroes 3–Is this game ever gonna happen? Who knows. I wrote an entire article on why we need it a couple months ago, and I'd love to see it happen. It'd be a great way to bridge the popularity of XI with the hype of XII's release. I'm a bit skeptical that we'll get it in 2020, but I think an announcement trailer is a great possibility.
Anything Else?
See something I left off or forgot about? Want to mention something you're hoping to see in 2020? Let me know in the comments or hit me up on here on Twitter.