Quick View
Game: Evertried
Release Date: October 21, 2021
Price: $19.99
Rating: Everyone 10+
Platform: Switch, Playstation, Xbox, PC
Geek to Geek Media was provided with a review copy of this title.
I've had a bit of a complicated response to the last few "tactical games with roguelike elements" that I've tried. Fort Triumph had an interface that was a bit hard to read and work with, which left me cold. Ruin Raiders played great, but the rogue elements made starting a new run feel bland.
Evertried had been on my radar for a while, but I almost passed it up because I was feeling a bit burned out. Now that I've spent a bit of time with it, I am so glad that I didn't skip it!
Navigating the Afterlife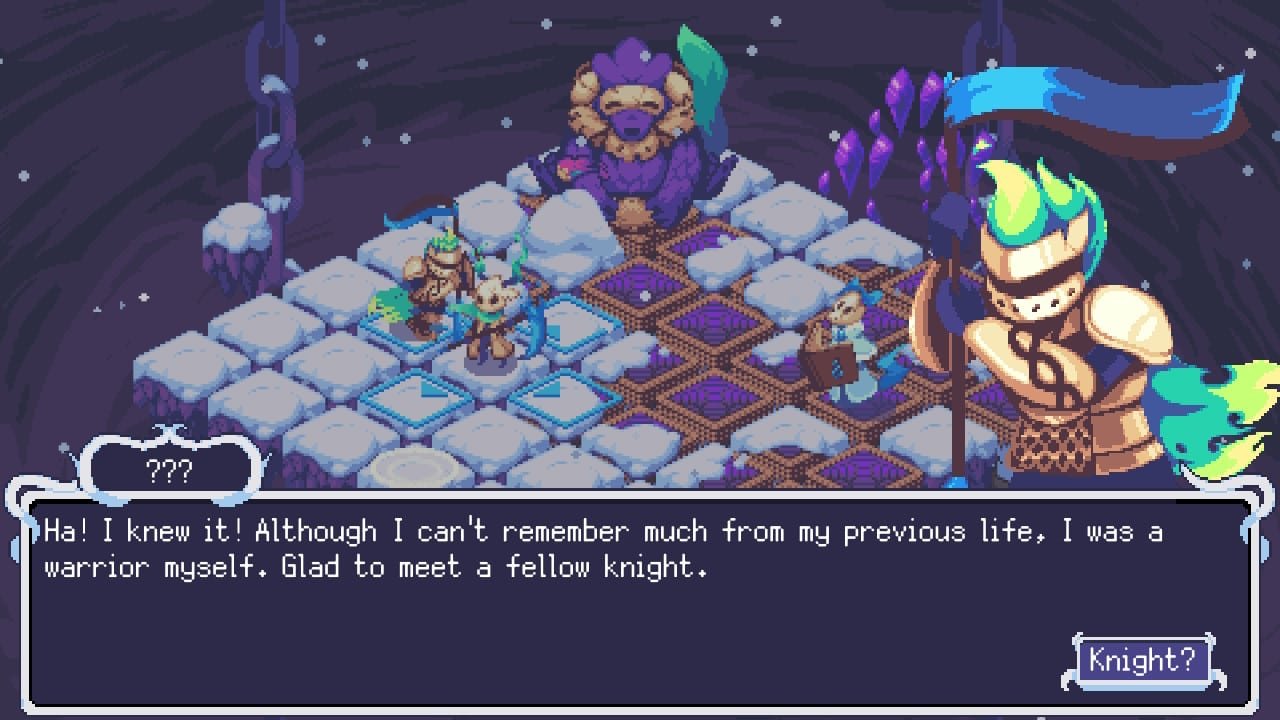 The basic story of Evertried is that you play as the disembodied soul of a warrior in an ambiguous afterlife, battling towards your eternal reward. The setup isn't totally different from A Long Way Down, but the gameplay feels super fresh.
Each of the 50 floors you have to ascend to beat the game is made up of a seven-by-seven grid of tiles. Levels can be populated with enemies, traps, and hazards, and the whole game works on a back-and-forth turn-based system. You don't have any action points in Evertried, you just do a thing and then all of the rest of the level does its thing.
Say the level starts with you one square away from an enemy. You can step straight towards them, but then on their turn, they'd be able to attack you. Instead, you may want to move latterly or dash to jump two squares away.
At the start, moving, dashing, and attacking are really your only options. Using just those three abilities you have to maneuver your way around these areas in order to avoid getting hit and take out all of your enemies.
The Lay of the Land
Environmental awareness is super critical because it's not just the moving enemies that can impact you. Stepping onto a tile that looks just a bit different from the rest may freeze your character, letting all of your enemies move twice. Or you may end up in the sights of an automated turret.
If you play cleverly, you can use those hazards to your advantage. Luring an enemy onto a frozen tile lets you get a free attack on them. Getting them in front of an automatic turret, well… I think the advantages there are obvious.
Shopping for Upgrades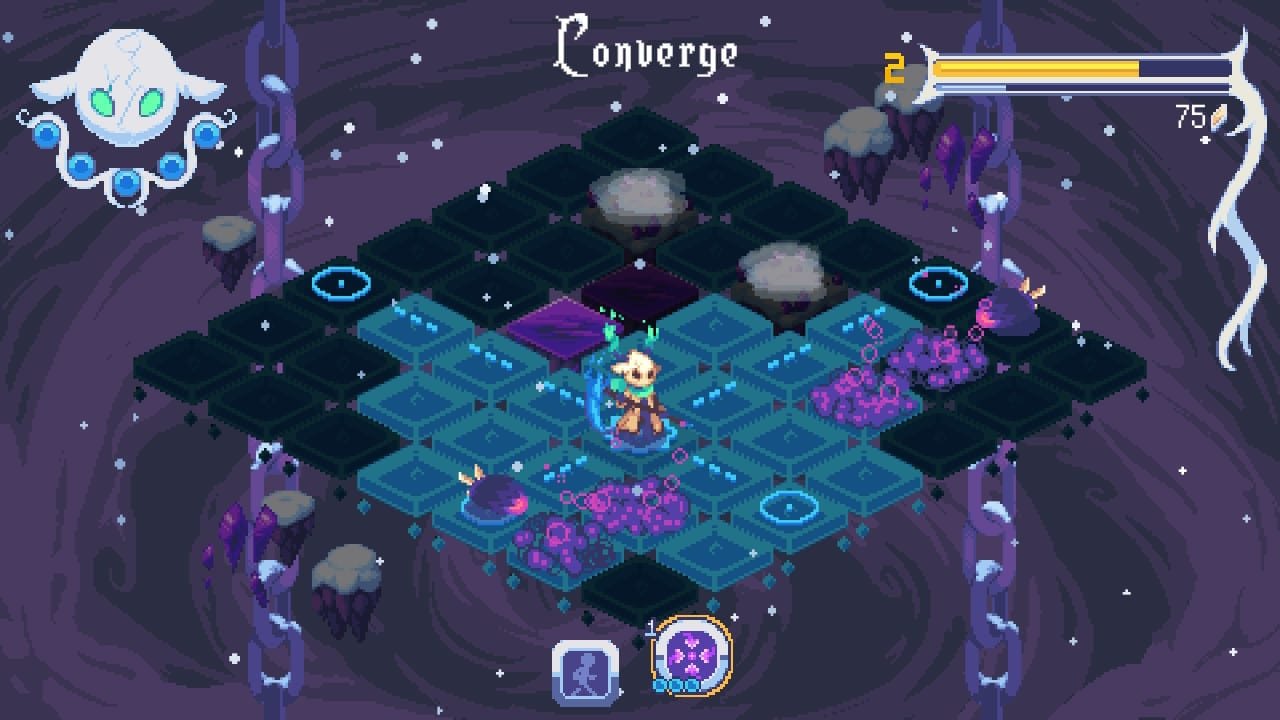 After you've successfully cleared a few floors, you'll find yourself in a shop. At this point, two options for customizing your character build become available.
Skills are new actions that you can equip to give you more options on your turn. They can add elements like walls or turrets to the board or give you ways of moving your opponents around. The key is that they are active, and you choose when and where to use them.
Modifiers, on the other hand, are passive abilities that tweak your gameplay. One of the first I latched on to heals you after every few kills. Another will make your attacks stronger after using the dash ability. Each of these twists how you should strategize just a bit, so keeping in mind what you've got equipped is essential.
Fast or Slow?
In general, the gameplay of Evertried lets you progress at your own pace. There's nothing specifically stopping you from sitting on a tile and pondering your next move, carefully analyzing every option available to you. However, acting quickly is advantageous. There's a constantly depleting focus gauge in the corner of your screen, which builds up again as you strike down your enemies. Keeping this gauge full earns you more rewards per battle and influences some of the skills and modifiers you unlock later on.
Having the ability to play it safe makes entering a new area really interesting. Each of the five "worlds" you'll go through has its own enemies and hazards, so your first time or two should be all about learning how to survive in that world. Once you've got a feel for the environment down, the game becomes a fast-paced action game where you try to blow through the floors as quickly as you can to reap the most rewards!
Final Thoughts
I'm not terribly deep into Evertried yet, but I've loved every minute with it. The gameplay is quick and snappy, the art is gorgeous, and the rogue elements feel really good here. There is progress that carries over from run to run with the Skills, which level up as you use them, but until you get to a shop you are really starting from zero. That bothered me a lot in Ruin Raiders, but the challenge to try to get through levels as quickly as possible to keep your Focus gauge full makes starting a fresh run of Evertried a lot of fun.
In a lot of rogue-like games, dying at the end of a run makes me feel like shutting the game off and switching to something less punishing. In Evertried, I keep telling myself "just one more run", and then trying over and over and over again.