Ghostbusters, as a franchise, is pretty well-respected as a comedy staple. I'm a fan of the original movies, the cartoon, and Answer the Call, and I'm rapidly becoming a fan of the game, Ghostbusters: The Video Game, which is FREE this week on the Epic Games Store, starting October 29th.
Is Ghostbusters A Horror Franchise?
I was born at that perfect time where I grew up knowing the Ghostbusters as a cartoon first and a movie second. The Real Ghostbusters is a show I remember as part of the regular after school rotation that I always loved. Eventually, either my dad or my older brother must have noticed me watching the cartoon and said, "Hey, did you know this was a movie first?" Thus, little Troytle was introduced to horror cinema.
Yes, I'm calling the Ghostbusters movies horror films. Remember, I was a little kid who was used to the bright colors of the cartoon. By comparison, Ghostbusters was a legitimately scary movie, and Ghostbusters II even more so. Vigo still creeps me out now! I'm pretty sure that I didn't like those movies when I first saw them, but years later I revisited them and realized that they really aren't very scary at all. Instead, they use moments of tension to surprise the viewer – you know, like a comedy.
First Impressions of Ghostbusters: The Video Game
Fast forward to this spoopy season, and I picked up Ghostbusters: The Video Game on the Nintendo Switch. This game was originally released in 2009, and serves as a sequel to the movies. I'm not too far into it yet, but I'm liking it a lot so far. It does a great job of capturing a lot of the things that made those original movies work. The cast generally does a great job (though Bill Murray sounds like he was phoning things in a bit). The writing is full of little jokes and references that keep things pretty fun as you work your way through corridor and arena third-person shooter segments.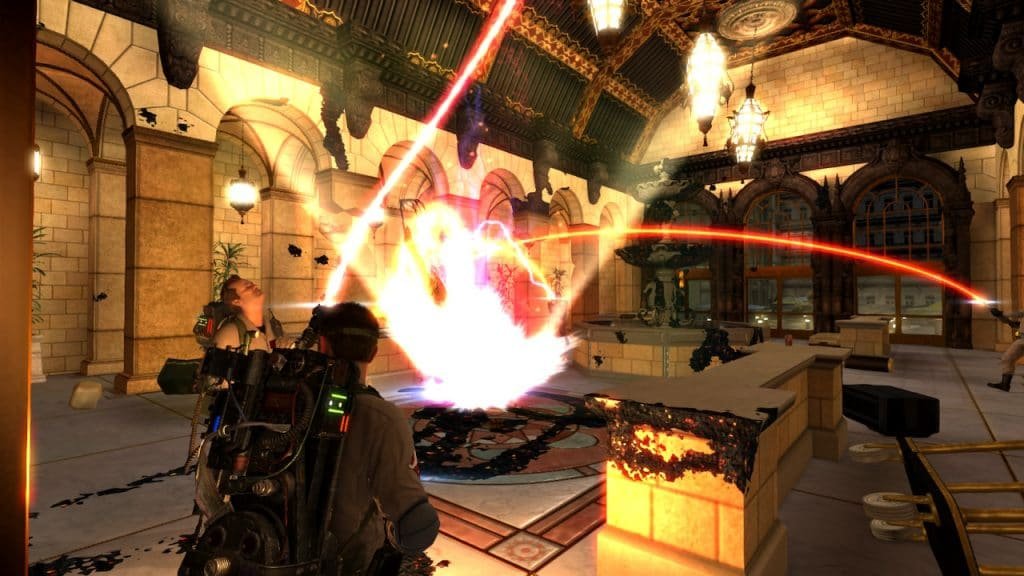 The action is surprisingly strong. The Ghostbusters formula of "zap a ghost for a while then position it over a trap" translates surprisingly well to a video game. This is especially true if you've got any experience with the NES Ghostbusters as a point of comparison. The gameplay stays fresh thanks to a solid variety of environments, enemies, and weapons.
One Little Detail Makes Things Scary
I've been most surprised by how one gameplay detail manages to build sequences that are legitimately spooky. You may remember from the Ghostbusters movies that the specters the team tracks down aren't always readily visible. Instead, they need to be tracked down using a P.K.E. Meter. The game brings this same tech in with a twist: Whenever you activate your P.K.E. Meter your character (the most boring, generic, average-white-dude silent protagonist ever) pulls goggles over his eyes, and the game shifts to a first-person view through green-tinted goggles.
You can't shoot in this mode, which immediately makes you feel exposed. On top of that, switching from third-person to a cropped first-person view makes things feel claustrophobic and creepy in a way that takes me back to seeing Ghostbusters for the very first time. Suddenly, goofy action gets replaced with a sense of dread, right up until a ghost builds themselves a golem out of books and you can get back to blowing stuff up and laughing at dumb jokes.
I'm really digging the goofs, the spoops, and the action in Ghostbusters: The Video Game. It's not as scary as games like Phasmophobia or Maid of Sker, which makes it perfect for me. If you're looking for something to do indoors this Halloween, you could do a lot worse than picking this up, especially since it's free for PC from the Epic Games Store right now.