Quick View
Game: Going Under
Release Date: September 24, 20202
Price: $19.99
Rating: Teen
Platform: Switch, Playstation, Xbox, Windows
Geek to Geek Media was provided with a review copy of this title.
Going Under's chunky, Cartoon Network-Esque visuals caught my eye when it was first announced. Looking closer at it, the run-based, third-person action looked like a ton of fun. Throw in some fun writing about the inevitable crushing dystopia of a capitalist-utopia, and this game seemed destined to dig its hooks into me.
Unfortunately, it also released a week after Hades.
I've finally come back around to trying out Going Under, and I'm really digging it. The style, action, and story all work really well on their own, and in comparison to that other run-based action rogue-lite brawler that overshadowed it.
Unpaid Interns Got it Bad
Rather than a world populated by gorgeous gods, Going Under is set in a world where capitalism has truly taken over every aspect of life. You play as an intern at a meal replacement startup called Fizzle that is literally built on top of other failed entrepreneurial enterprises. Rather than working in marketing as your character expected, you get sent to the lower levels of the building in order to fight your way through randomly generated offices filled with mutated workers.
There are three different companies you visit beneath your office. Each run is comprised of exploring three floors of one of these startups, with unique enemies and traps in each one. I like this a lot because each environment feels pretty distinct, and each run is really pretty short. This works better for pick-up-and-play on the Switch than a lot of other rogue-like games I've played. It's really easy to do one quick run while my kiddo is eating breakfast.
Dungeon Delving
Within a run, your gameplay gets tweaked based on the weapons and powerups you collect as you go. The boons you get in Going Under don't change things nearly as much as those in Hades, but they can still shape your strategy as you go. On one run I got an ability that would cause any obstacle I ducked under to explode, so I started to dodge, dip, duck, dive, and dodge a lot more than I normally would.
The bigger shifts from moment to moment come from the weapons. The businesses you explore are chock-full of computers, swords, t-shirt cannons, pickaxes, inflatable eggplants, and all sorts of stuff that you can use to bash your enemies to pieces. Any given item will only last you through a few encounters since the weapons are even more fragile than a bokoblin spear. Thankfully, you can carry and swap between three weapons at a time, so you can strategize which ones to use on minions and which to save for the boss at the end of each run.
Between runs, you end up back in the Fizzle offices. Here you can unlock new upgrades that'll appear in your runs, and chat with your coworkers to learn more about them and the world around you. This isn't as compelling as the storytelling in Hades, but I don't think it wants to be. Going Under leans much more on dry, sarcastic comedy than anything else, and it does that well.
More Below the Surface
My first few hours with Going Under were perfectly enjoyable but didn't make a huge impression on me. The conversations I had with my coworkers were all entertaining enough, but most of them felt like pretty thin caricatures. Each new item or perk I found was fun to experiment with, but most enemies were easy enough that I didn't have to think too hard. The boss fights were a nice change of pace, but they had patterns I was able to get past on my second or third try.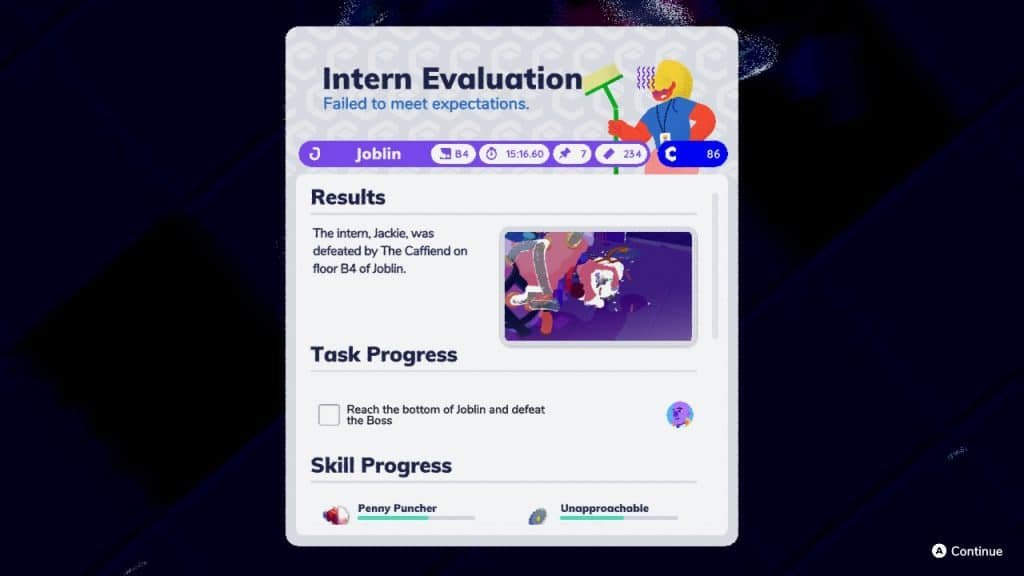 Just when I thought I was probably getting close to finishing up the game, there was a shift in the story. Suddenly everything about the game got way more interesting. The gameplay became more engaging. The story was more compelling. The characters started revealing more about themselves.
Just when I thought I was ready to put this game down, it dug it's hooks in hard!
Final Thoughts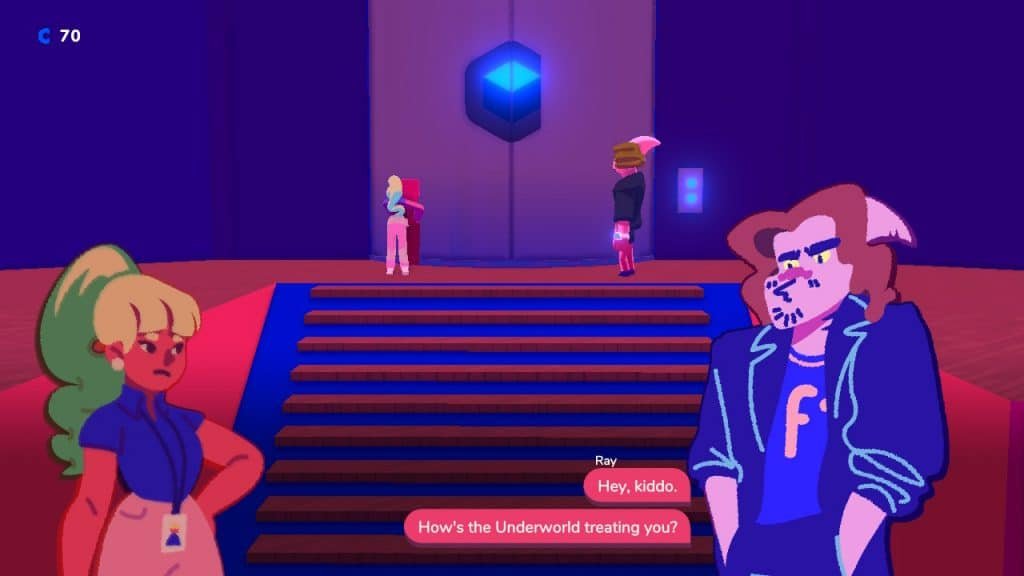 I really, really like Going Under a lot. I really dig that it works with shorter runs and gameplay that is constantly changing thanks to weapon durability and that it never feels like it's just trying to do what other games in the genre already have. It doesn't feel nearly as polished or balanced as Hades does, but its unique style makes a janky camera or wonky physics feel like they are part of the fun.
Dandy Ace should still be making its way to Switch for folks who want a game that's closer to mimicking Hades' formula. For me, though, Going Under has handily taken over the "play a run or two or four of a roguelike" slot in my active backlog list, and I suspect it'll be there for a while.
Geek to Geek Rating: 4.5 out of 5 Highly Caffeinated Stars