Launching alongside the initial Inazuma update for Genshin Impact, Kamisato Ayaka became an instant fan favorite. Her kind personality and ability to shred through enemy defenses left an indelible impression on players, and newer players will have a chance to recruit her for the first time since mid-2021. Let's discuss Kamisato Ayaka and why the five-star Cryo princess is such a big deal!
Who Is Kamisato Ayaka?
As "princess" of the Kamisato Clan, Kamisato Ayaka is burdened with much responsibility. Ayaka's obligations border on being overwhelming, but she meets them with grace and dignity. Being able to do so consistently has made her a beloved figure to the people of Inazuma, who venerate Ayaka and her older brother, Kamisato Ayato. Ayaka finds herself in the awkward position of opposing the Raiden Shogun's Vision Hunt Decree while attempting to maintain balance between the nobility of Inazuma. Ayaka's story chapter focuses on her desire for a normal life – something she is able to experience briefly while journeying with the Traveler.
Kamisato Ayaka's Talents & Abilities
Kamisato Ayaka is a sword-wielding Cryo character, and her ability to deal damage rivals even Ganyu's. Even outside of combat, however, her Cryo-infused dash helps her to quickly travel over water, similar to Mona. The dash also afflicts enemies with Cryo status and restores some of Ayaka's stamina when she "jumps" out of it. The dash is mostly convenient, though, while her combat abilities are crucial to challenges such as the Spiral Abyss.
Kamisato Ayaka's Elemental Skill, "Hyouka" summons a ring of ice that erupts from the earth to cause AoE Cryo damage. The skill is effective enough on its own, but especially devastating when paired with other Elements. Douse a group of enemies with Hydro, steer Ayaka between them all, and use Hyouka to freeze any enemy that isn't instantly killed by it.
Using her Elemental Burst, "Soumetsu," Kamisato Ayaka uses her fan to create a horizontal cyclone of ice. The whirling shards of ice shred through enemies before exploding with AoE damage. Soumetsu can decimate the HP of even the spongiest of foes if you can keep them in the cone of effect.
Ayaka's Best Weapon and Build
As with most other post-launch characters, Kamisato Ayaka has her own signature five-star weapon. The Mistsplitter Reforged sword gains three "stack" levels that boost Elemental damage depending on Ayaka's actions. Attack enemies normally to receive shorter stack durations or use an Elemental Burst for a longer stack. The stack variances complement Ayaka's talents, making her a consistent threat on the battlefield. Mistsplitter Reforged also innately increases Ayaka's Critical Damage stat.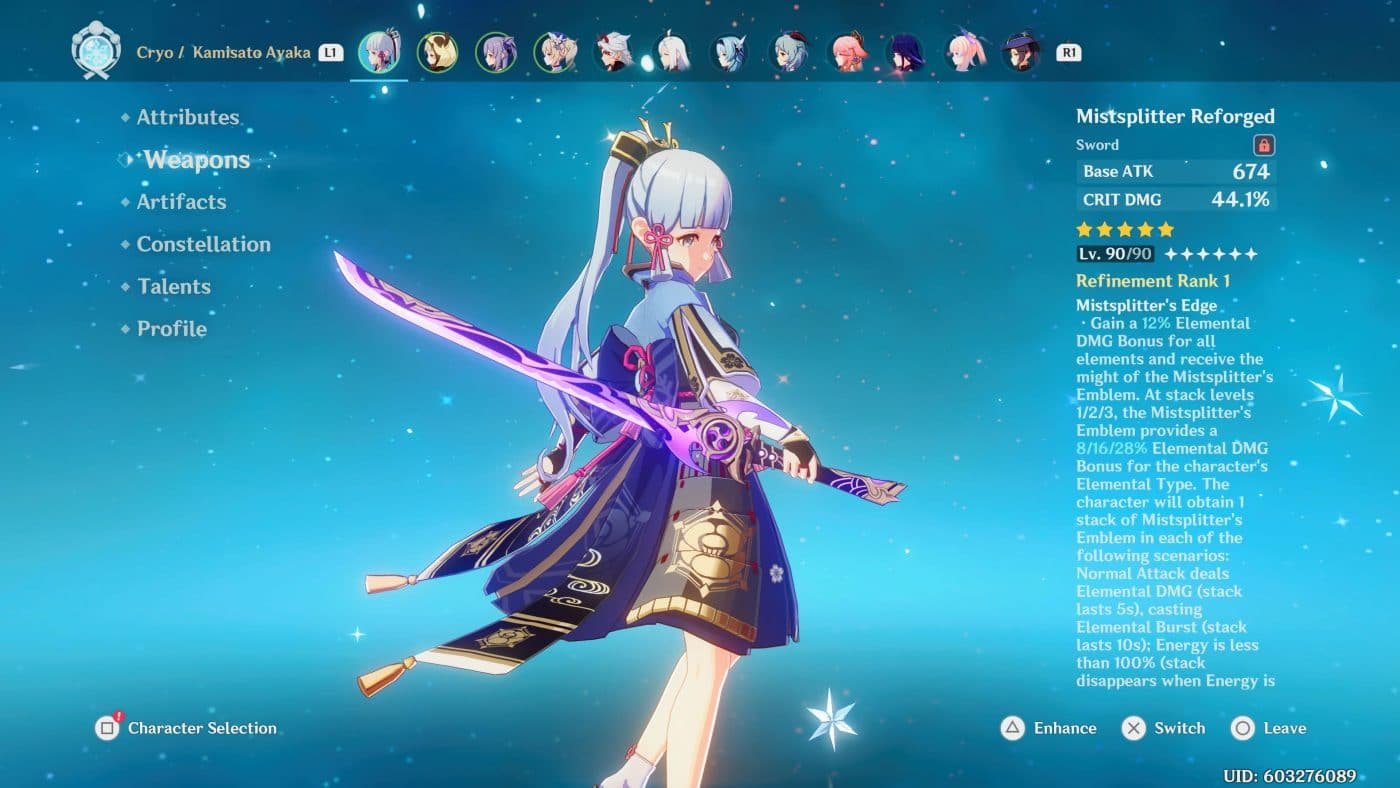 Ayaka has several viable "free-to-play" weapon choices as well. You can receive the four-star Amenoma Kageuchi sword as a World Quest reward upon completing The Farmer's Treasure. With Amenoma Kageuchi equipped, Ayaka's base Attack stat increases and she is able to generate up to three Succession Seeds by using her Elemental Skill. After using her Elemental Burst, the seeds are consumed to provide more energy. Appropriate to the quest the sword comes from, it's a great energy-farming weapon!
As for Artifacts, the Blizzard Strayer set is the best option for Ayaka. A two-piece set boosts Cryo DMG by 15%, while a four-piece set boosts CRIT Rate if enemies are affected by Cryo or Frozen. This set bonus makes Blizzard Strayer especially useful if Ayaka has Mistsplitter Reforged, as she will have high Crit Rate and DMG. Even without her signature sword, however, the artifact set boosts her already-impressive ability to deal Cryo damage. If using a weapon other than Mistsplitter Reforged, it's a good idea to focus on Crit DMG-boosting artifacts.
How to Recruit Ayaka
The Heron's Court event banner which features Kamisato Ayaka returns from April 19th until May 10th. April 19th also sees the return of Mistsplitter Reforged in the weapon banner. This is likely the only opportunity to get either Ayaka or Mistsplitter Reforged in 2022, so get your wishes ready!