Baal, Beelzebub, Ei, or Raiden Shogun? Which is It?
As the character with the most Genshin Impact story significance since 2021's Inazuma update, Raiden Shogun has received a lot of attention. Even if you don't play Genshin Impact, you've likely seen the image of her suggestively pulling an electric katana from her chest plastered on many advertisements. Despite the questionable fan service, Raiden Shogun is one of the more fleshed-out and tragic characters in the game.
Early story trailers teased the name Baal for the Inazuma Electro Archon, and confusion has lingered ever since. Even in the very specific context of the Traveler's story, the steadfast ruler of Inazuma is known by several names. Further revelations add even more confusion with the names Beelzebub and Ei. It's difficult to get into the mystery behind Raiden Shogun's multiple names and titles without spoiling the entirety of the Inazuma storyline, so we'll just refer to her as Raiden Shogun here.
Raiden Shogun is initially presented as a villain, but the Traveler helps to resolve the misunderstandings that led to her enacting the Vision Hunt Decree. Not before a fierce battle or two between the shogun's troops and a rebel army occur, of course. Her followers loyally support her goal of achieving infinite euthymia, no matter the cost. Oh, and you might want to look up euthymia on Wikipedia, seriously. On the other side of the conflict, Kokomi Sangonomiya's rebel troops work to restore hope to those with confiscated visions.
Is Raiden Shogun Any Good?
In a word, yes. The polearm-wielding Archon lives up to her divine status with a repertoire of combat abilities that allow her to be the backbone of a party. She effectively cuts down enemies with her polearm-turned-katana while providing support to greatly enhance other characters. Raiden Shogun will make anyone instantly understand the effectiveness of elemental reactions in Genshin Impact.
Electro – Raiden Shogun's natural element – creates powerful elemental reactions when combined with other characters' abilities. Personally, I like to pair Raiden Shogun with Cryo characters so that the Superconduct effect triggers frequently. Superconduct causes Area of Effect (AoE) damage and reduces enemies' physical resistance for 12 seconds. This can be devastating when applied by a powerhouse damage-dealing Cryo user like Eula. Another fun strategy is pairing Raiden Shogun up with a Hydro character to continuously electrocute enemies.
Electrifying Talents and Abilities
Raiden Shogun's Elemental Skill is called Transcendence: Baleful Omen, and it creates an "Eye of Stormy Judgment" that affects nearby party members. When a character assisted by the Eye deals damage to an enemy, a "coordinated attack" by the Eye afflicts AoE Electro damage to the enemy. This ability is particularly useful if you have multiple characters that can leave elemental effects behind.
Raiden Shogun's Elemental Burst, Musou Shinsetsu, is a bit more complicated. You might notice a pretty purple ring hovering over your characters' heads when Raiden Shogun is in the party. This is her "Chakra Desiderata," and it accumulates Resolve stacks in the form of nodes. Collect Resolve stacks by using Elemental Bursts or collecting elemental orbs to make Raiden Shogun's burst more effective. Even better – the higher Raiden Shogun's Energy Recharge stat, the more powerful her Elemental Burst.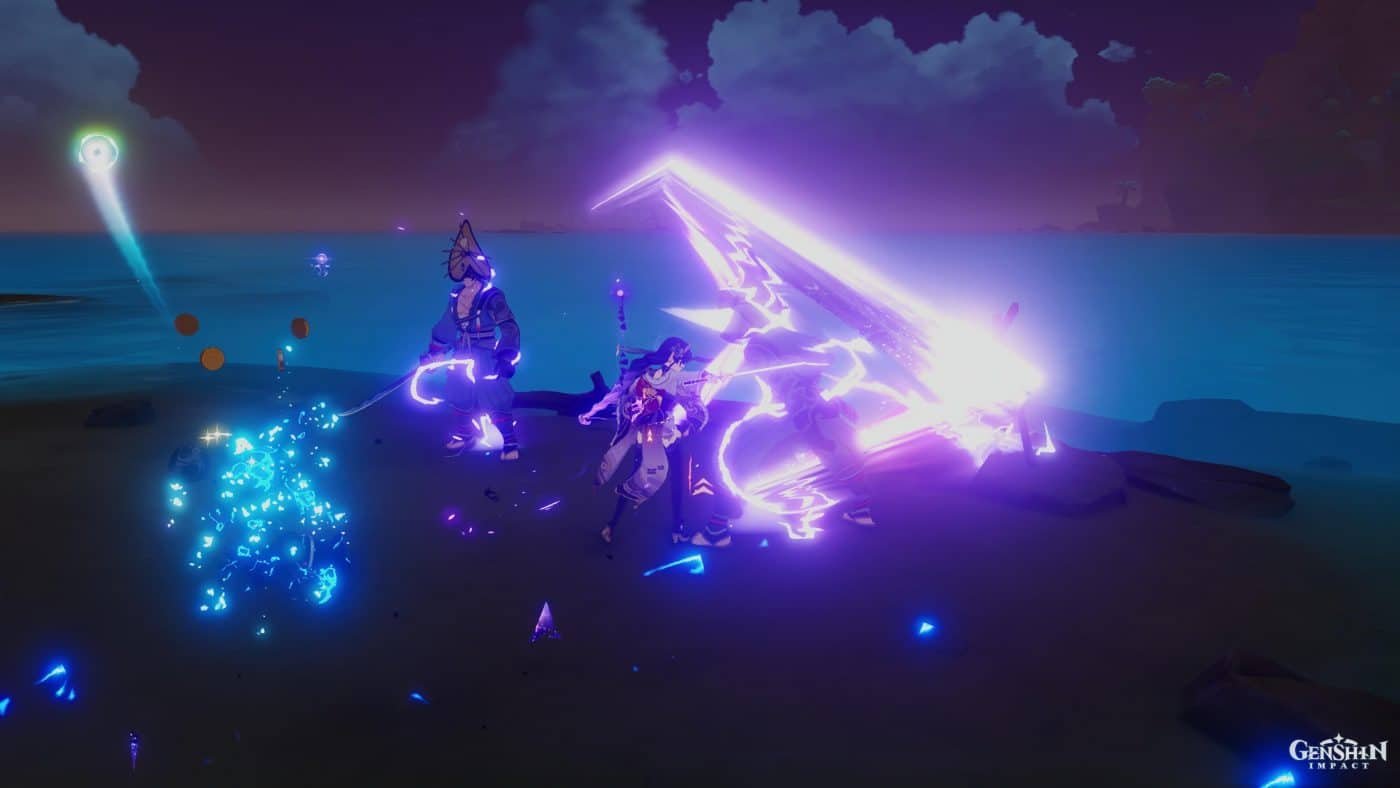 What is the Best Raiden Shogun Weapon and Build?
Raiden Shogun's signature 5-star weapon is Engulfing Lightning. Its secondary stat is Energy Recharge, which, as we already covered, makes her Burst even better. On top of that, Engulfing Lightning boosts her Attack further depending on her Energy Recharge stat. While equipped, Energy Recharge is boosted for a brief period after a Burst is used. It's a fittingly cyclical flow from Energy Recharge to Attack, and back to Energy Recharge.
No Weapon Banner luck? No problem! After fishing for a few dozen koi and angelfish, pay Kujirai Momiji a visit near the waypoint west of Inazuma City. You can trade the fish for a 4-star polearm weapon called The Catch. You can then trade more fish with the NPC for materials to refine The Catch all the way to level 5. The Catch increases the DMG and Crit Rate of Elemental Bursts and also has a secondary Energy Recharge stat.
Raiden Shogun can easily handle the role of main DPS (damage per second) on a team, but she might be even better as Sub-DPS. In the Sub-DPS role, she can use her Elemental Skill to make the main DPS character more effective. All the while, Resolve stacks will build up to allow for a more powerful Elemental Burst when Raiden Shogun is brought back in. The 4-piece Emblem of Severed Fate artifact set makes the Burst more powerful depending on the Energy Recharge stat. This makes it a perfect fit for Raiden Shogun's talents and abilities.
How to Recruit the Electro Archon
If you missed out on Raiden Shogun the first time her banner ran, you're in luck! The current banner, Reign of Serenity, offers Raiden Shogun as the featured 5-star character and lasts until March 29th. She's well worth the Primogems, so go hog wild and you might even be able to earn a Constellation or two to boost her abilities! If your luck is on fire, or you already have Raiden Shogun, you can also use Primogems to wish for Engulfing Lightning. The banner for Raiden Shogun's best weapon is also available until March 29th.
Is Raiden Shogun the best character to hail from Inazuma? Let us know, and be sure to check out our Genshin Impact Beginner's Guide if you're new to the game. If you're playing casually and trying not to spend any real money, we also have a Free-to-Play guide to help you efficiently earn Primogems.