I've barely scratched the surface of the scary aspects of Dredge, but even as a perpetual scardey-cat, I'm excited to see what's lurking in the depths.
Quick View
Geek to Geek Media was provided with a review copy of this title.
Dredge has been floating around for a while now and is finally coming to release. The core gameplay is a pretty simple fishing management game, but there's an unsettling vibe floating below the surface that suggests the game will become something much more later on.
I've spent a few hours with the game, and so far it's been about 95% sailing around in my boat playing minigames to catch fish and 5% WHAT THE ACTUAL **** IS THAT OH NO OH NO OH NO!
Animal Crossing Vibes
Outside of an opening cutscene that suggests something terrible, the introduction of Dredge mostly reminds me of Animal Crossing but about fishing and through a Tim Burton lens. You play a character who heads out to a series of islands to take up a job as a fisherman. After your own boat undergoes an unfortunate accident, the mayor of the main town gives you a loaner trawler and sets you out to catch fish to pay off your debt.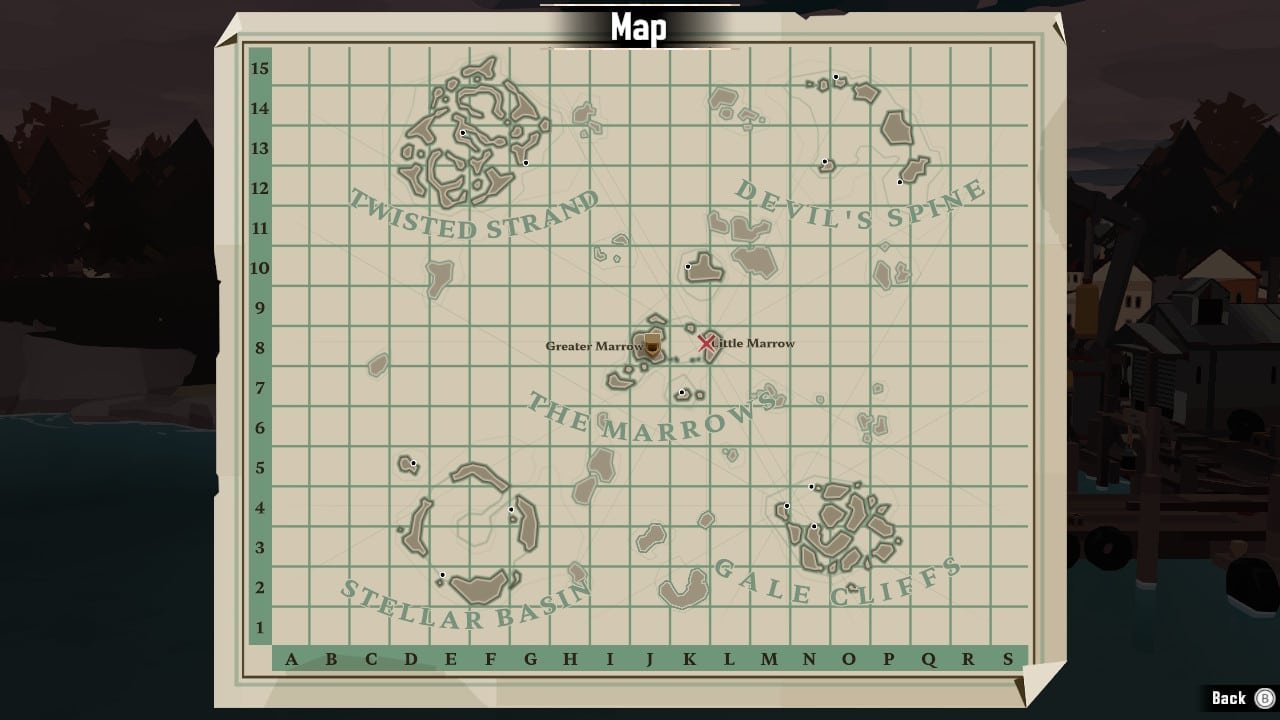 Each day you set out into the water and look for pods of fish. When you stop at one you enter a minigame, which is usually some variant of "tap the button when the marker is in the green spot". There's a nice variety of that basic premise so fishing isn't always exactly the same, but for a fishing game, it is a pretty basic mechanic. Doing well at the minigame means you catch fish faster, while failing means – as far as I've seen so far – that you still catch the fish, it just takes some extra time.
Once you've caught a fish, you drop it into your cargo hold, which is portrayed as a series of blocks. Basically, you temporarily go into the Resident Evil 4 attaché case management game, but with fish.
With a full hull you head back to town, sell off your fish, buy upgrades for your boat, and then sleep until morning.
Dreaded Darkness
Or, at least, you probably should sleep until morning… but you can also head back out into the water at night. There are some fish you'll only find at night, and pretty quickly the game pushes you to find some of them for a side quest. Of course, Dredge is also a horror game, so there are other things that go bump in the night.
I haven't seen much yet, but I have met an NPC who is clearly looking for something occult or otherworldly in the waters. He has me dredge the depths for shipwrecks and has pointed me towards strange glowing lights that appear at night.
I'm not sure where this is all heading, but so far I've seen a few things at night that have absolutely terrified me. My ship has taken damage, which basically disables random squares of your cargo hold, but I haven't sunk. I don't know if that's a risk, but it absolutely feels like it is.
Final Thoughts
I don't know what all is lurking in the waters of Dredge, and even if I did I wouldn't want to tell you. I typically think of any game that showcases fishing as a chill vibes sort of experience, and a lot of Dredge fits into that perfectly. But that is not what this game is. There is clearly something darker and more sinister here, and I have no idea what it's going to end up being, but it absolutely has me hooked.
I don't typically like horror games and I'm honestly not a fan of open water in general, but I'm going to keep poking away at Dredge until I better understand what the heck is going on, and I think you should too.
This game is captivating.
Geek to Geek Rating: 4 out of 5
Check out Troy's live first impressions of the game on the TroytlePower Presents: The Power Play-Throughs Podcast, with TroytlePower, or by clicking play below.