Quick View of Kill It With Fire
Release Date: August 13, 2020 for PC, March 4, 2020 for Consoles
Price: $14.99
Rating: T (Teen)
Platform: Nintendo Switch, Playstation 4, Xbox One, Android, Windows
A game key for Kill It With Fire was provided by tinyBuild Games.
Kill It With Fire (or with a frying pan or C4 or a shotgun or…)
I'm not the biggest fan of spiders. My wife has a legitimate fear of them, whereas for me I mostly only get ooked out when I see one skittering across the room. With that in mind, I was a little hesitant when the first thing I saw in Kill It With Fire on the Nintendo Switch was how lovingly the arachnid on the title screen was animated. This game did creep me out a bit at first, but a great design choice that I'll talk about later meant that even my wife could handle playing it (barely).
If you have a phobia of spiders and aren't interested in participating in some virtual exposure therapy, you probably don't need to read any further to know that this game is not for you.
Find Spiders and Then Kill Them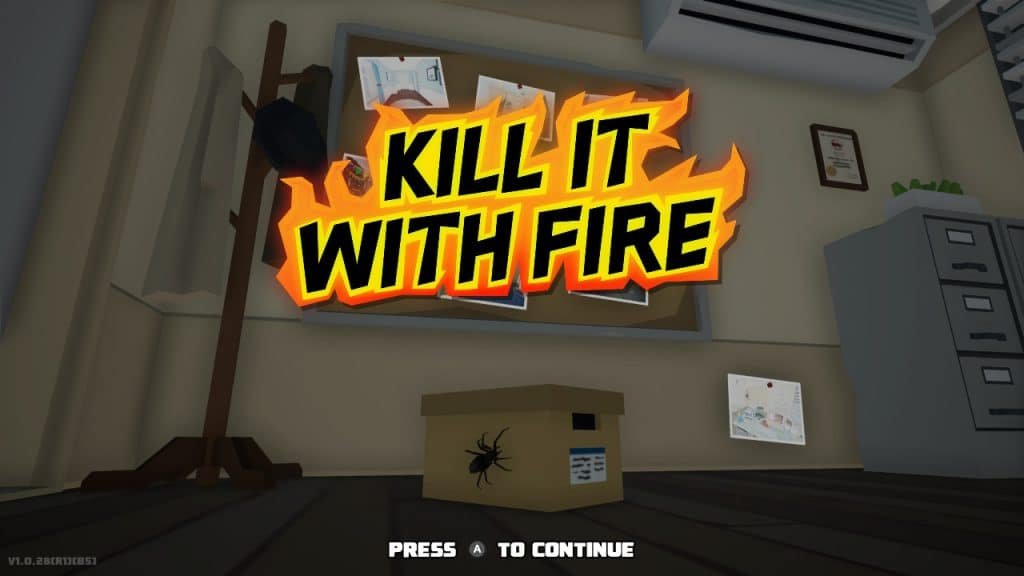 The basic premise of Kill It With Fire really could not be more straightforward. You are dropped into a small environment where you move around like a First-Person Shooter looking for spiders to murder. Sometimes the little buggers are out in the open, but more often you find them by interacting with the environment.
You can open cabinet doors to check under the bathroom sink, take books off of bookshelves, and rotate boxes you've held in front of you to see if there's a spider hidden on the other side. The physics in the game can be a little wonky, but picking things up and throwing them across the room became part of the fun for me before I finished the first level.
There are two game design elements that really made me tense right off the bat. First of all, your character moves slowly. Much slower than the FPS style presentation makes you think they should. When a spider goes running across the floor in front of you it can be tough to follow them. The movement speed really amps up the horror vibe of being stuck in a space with a bunch of spiders.
What really solidifies that feeling, though, is that you can hear the spiders chittering when you get close to them. Yeah, they make noise. And let me tell you, hearing a spider might be even worse than seeing one. Thankfully, there is a separate volume slider for "Spiders" in the game's audio menu. If the game gets too intense, turning that down can really help.
Find Weapons and Then Use Them To Kill Spiders
At first the only item you've got on hand is a clipboard showing your objectives within the level. Thankfully, clipboards are just as effective at smushing spiders as they are at holding paper. Within the first level you can find a can of hair spray with a lighter you can use to set things ablaze and, if you complete enough of the level's hidden objectives, a revolver.
Throughout the game's 9 levels you'll find all sorts of weaponry in your fight against arachnids. My personal favorite way to clear a room was to spread some C4 charges around and then remote detonate them to take out as many arachnids at once as possible. And, in a pinch, there's nothing wrong with using a gas can to cover everything in fuel and then throwing a molotov cocktail into the room and listening to the hidden spiders squeal.
These extermination techniques sound pretty hazardous. Thankfully, the designers of this game made the brilliant choice to make the player invulnerable. You can never be hurt in this game, either by your own arsenal or by the arachnids you are hunting. There is one variety of spider you'll come across who can temporarily obscure your vision with a wad of webbing, but that is the worst thing that can actually happen to you.
…other than seeing dozens of spiders running across the room. That may only be psychologically harmful, but it's still something. And to the player, not the character. Because…ooky.
Finding Stuff To Do Other Than Killing Spiders (With Fire and C4)
Along with weapons, you'll find a few other hidden items in each level of this game. Batteries are upgrade points for your Spider Tracking gadget, while computer chips make those upgrades available. There are also upgrades to your character in the form of presents. There's also a boom box in each level that starts a timed event, usually a challenge to kill a certain number of spiders with some sort of equipment restriction.
To complete everything the game has to offer, you'll also need to find and complete objectives hidden in each level. At first, these are pretty simple, asking you to do things like open doors that you probably would anyway. Later on, the challenges can drift closer to the realm of a puzzle game, like one particular challenge that requires that you find some bonsai tree sculptures and match them up with their full-size counterparts.
While extermination is at the forefront of this game, it pretty quickly became a side activity for me. Murdering spiders is fun, sure, but completing objectives and looking for new and more ridiculous weapons was what pulled me through the whole game.
Final Thoughts on Kill It With Fire
This game is another of those quick, compact experiences that I love. It knows exactly what it is, it explores its premise over a handful of levels, and never feels like it overstays its welcome. Each level is well made and has plenty of hidden nooks and crannies to explore for those who want to see and do it all. At its core, this is a silly, lighthearted game about letting you eliminate spiders in the most ridiculous ways possible, and it absolutely achieves what it sets out to do.
Geek To Geek Score: 4 out of 5
You can watch TroytlePower's live first impressions of Kill It With Fire on his YouTube Channel or listen on his podcast.