Silenced: The House offers a gruesome horror story with detailed artwork and an eerie soundtrack. Unfortunately, the translation is plagued with errors.
Quick View
Title: Silenced: The House
Release Date: October 27, 2022
Price: $4.99
Suggested Audience Age: 17+
Availability: PS4, PS5 (Reviewed), Xbox, Switch
Recommended for fans of: Corpse Party, Yurukill
Geek to Geek Media was provided with a review copy of this title.
In 2018, Silenced: The House was developed and released by Graven Visual Novels for Steam in North America. The Russian visual novel focused on delivering a succinct horror experience at an affordable price. Four years later, publisher Sometimes You has brought the game to modern consoles with some subtle enhancements.
What is Silenced: The House About?
Silenced: The House wastes no time setting up its story. Narrated by a teen girl named Ashley Night (or is it Knight? Both spellings are used) who, along with five friends, visits an abandoned old house in the woods, ostensibly to celebrate one of their birthdays. The unruly teens trade barbs and show how generally awful they are at any given opportunity. Once in the house, Ashley convinces the others to attempt an occult ritual, but little do they know that Ashley is setting them up as sacrifices to a demonic force.
The premise is refreshingly simple, and I admire the decision to be transparent about Ashley's intentions. Our anti-hero mocks and belittles her companions outwardly while fantasizing about their demises through internal dialogue. Adorned in a strangely cute animal hoodie, Ashley is guided by a being only known as "Her" to deliver her friends to insatiable supernatural entities. I won't ruin any other story elements, as the game is rather short, taking 1-2 hours to see everything. Additionally, helpful features such as the ability to fast-forward through text (to get to branching decisions), story logs, and dozens of save slots make it easy to see all of the endings.
Cursed Text
While I like the overall story in Silenced: The House, the translation from Russian to English is a major problem. The translation is, in a word, poor. Myriad grammatical errors are present, tenses change mid-sentence, and long-winded metaphors become elaborate guessing games. I lost count of the number of times I had to re-read a line to make sense of it, and sometimes I would just have to give up and move on.
Even with the understanding that this game was not originally written in English, it is difficult to recommend a visual novel that can be so difficult to read at times. Some of the translation issues do lend a sort of campy appeal, but it likely won't be enough for more discerning fans of the genre. I'd be curious to hear a native Russian speaker's opinion of the game's writing in its original language, as it's likely a profoundly superior experience.
Visuals and Audio
It's important for a visual novel to distinguish itself from others, and this is one of Silenced: The House's greatest strengths. A sepia tone is applied to every visual frame, giving the game an antiquated quality. The only exception is when blood is present. The game is fairly gruesome, with numerous brutal death sequences, and the bright crimson splashing on-screen contrasts with the sepia backgrounds wonderfully. Detailed artwork adds to the horror, and all of the game's art can be viewed in a gallery. Menus take the archaic style a step further, with fonts and borders that look straight out of a silent film.
The audio is equally impressive, with a variety of dark tracks that aid the gruesome vibe. Calmer moments are accompanied by haunting piano tunes that sound more than a little reminiscent of Corpse Party. Death sequences, meanwhile, get the filthy guitar riffs they deserve to hammer home whatever misfortune or dismemberment is being shown on-screen. Sound effects are few and far between, but are crisply recorded and made more effective with the PS5 DualSense controller's haptic feedback.
Final Thoughts on Silenced: The House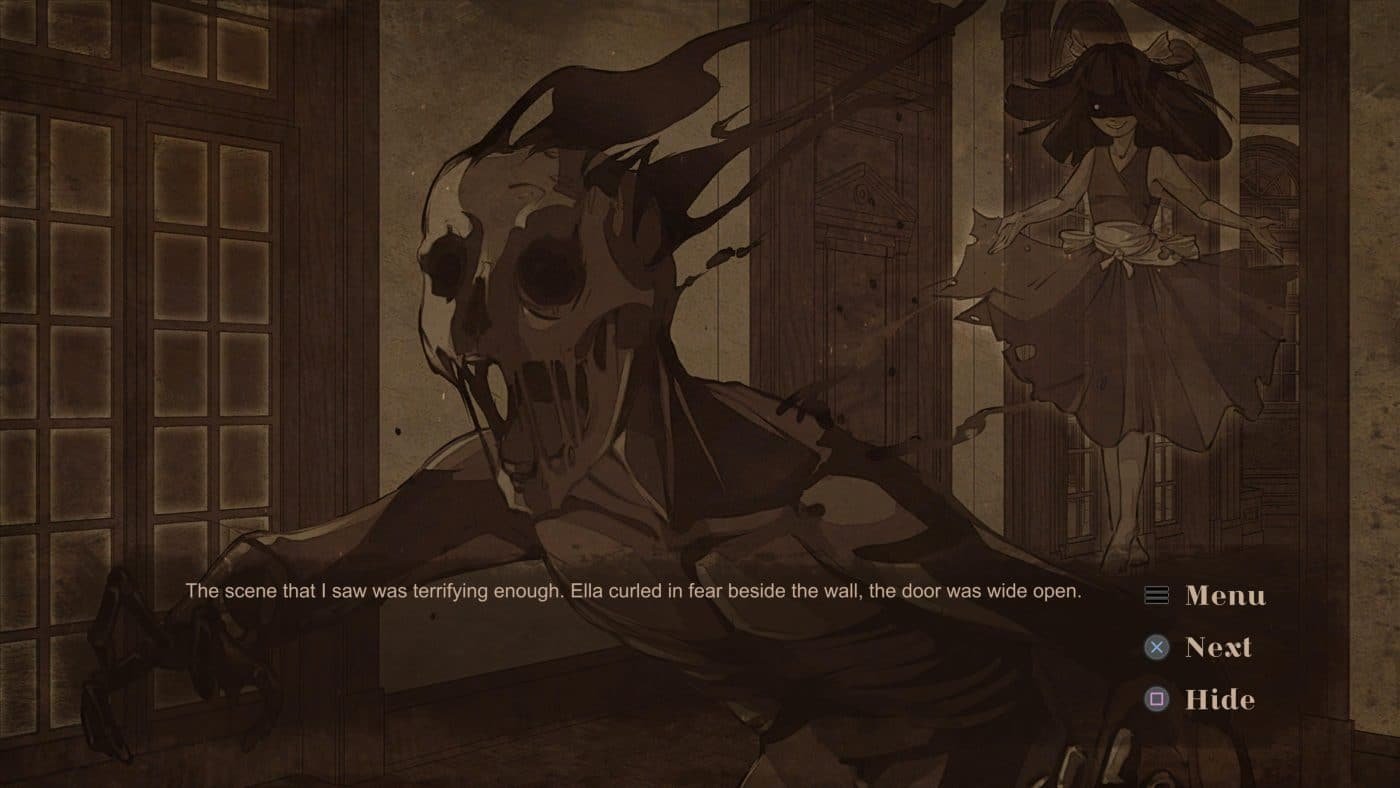 Silenced: The House is a difficult game to review. On one hand, the game offers an atmospheric, blood-drenched horror experience. On the other, the poor translation and an abundance of grammatical errors make the story difficult to follow. Ultimately, the issues with the writing just barely outweigh the strengths (this is a visual novel, after all). There's definitely an audience for this style of game – especially given the budget price – but numerous caveats might kill most recommendations.
Geek to Geek Rating: 2.5 out of 5