Yurukill features a bizarre genre mashup that is uneven, yet compelling. After finishing the first chapter, I'm keen to come back for more.
Quick View
Title: Yurukill: The Calumniation Games
Release Date: Jul 8, 2022
Price: $39.99
Suggested Audience Age: Teen 13+
Recommended for fans of: Visual novels, shmups, genre mash-ups
Geek to Geek Media was provided with a review copy of this title.
I initially started playing Yurukill as part of my Shmuptember Journal article series. However, it soon became clear that the scope of this game far exceeded any shmup or shmup-adjacent game I've covered as a games writer. Yurukill provides a story-focused experience that combines gameplay elements from a variety of genres. So far, I've only had the opportunity to spend a few hours with it and experience the first chapter. In that short span of time, there was a lot to cover, so let's get right into it.
Yurukill the Visual Novel
First and foremost, Yurukill is a visual novel. The story revolves around a group of prisoners who are mysteriously transported from prison to Yurukill Land. This remote island serves as the venue of a death game in which the winner is promised to be freed from prison and have their criminal record expunged. Each prisoner is joined by a partner known as an "executioner"; these folks are innocent people who volunteered to participate in the game in exchange for having a wish granted. (Up to the point I've played, what these wishes are and how they are granted has not yet been explained).
In order to protect the executioners from their prisoner teammates, each prisoner is fitted with a collar that will kill its wearer instantly at the push of a button from the executioner. Much of the tension of the story involves the uncomfortable partnership that exists between prisoners and executioners in service of their shared goals.
The game's first chapter focuses on Sengoku, a man serving time for a horrific mass murder that he insists he did not commit. His executioner, Rina, is a young woman who is disgusted by her assigned partner's alleged crimes; she often struggles with forfeiting her shot at winning the game and simply executing Sengoku on the spot. Up until the point I've played, the back and forth between Sengoku trying to persuade Rina of his innocence, and her inner conflict about the situation drives much of the drama.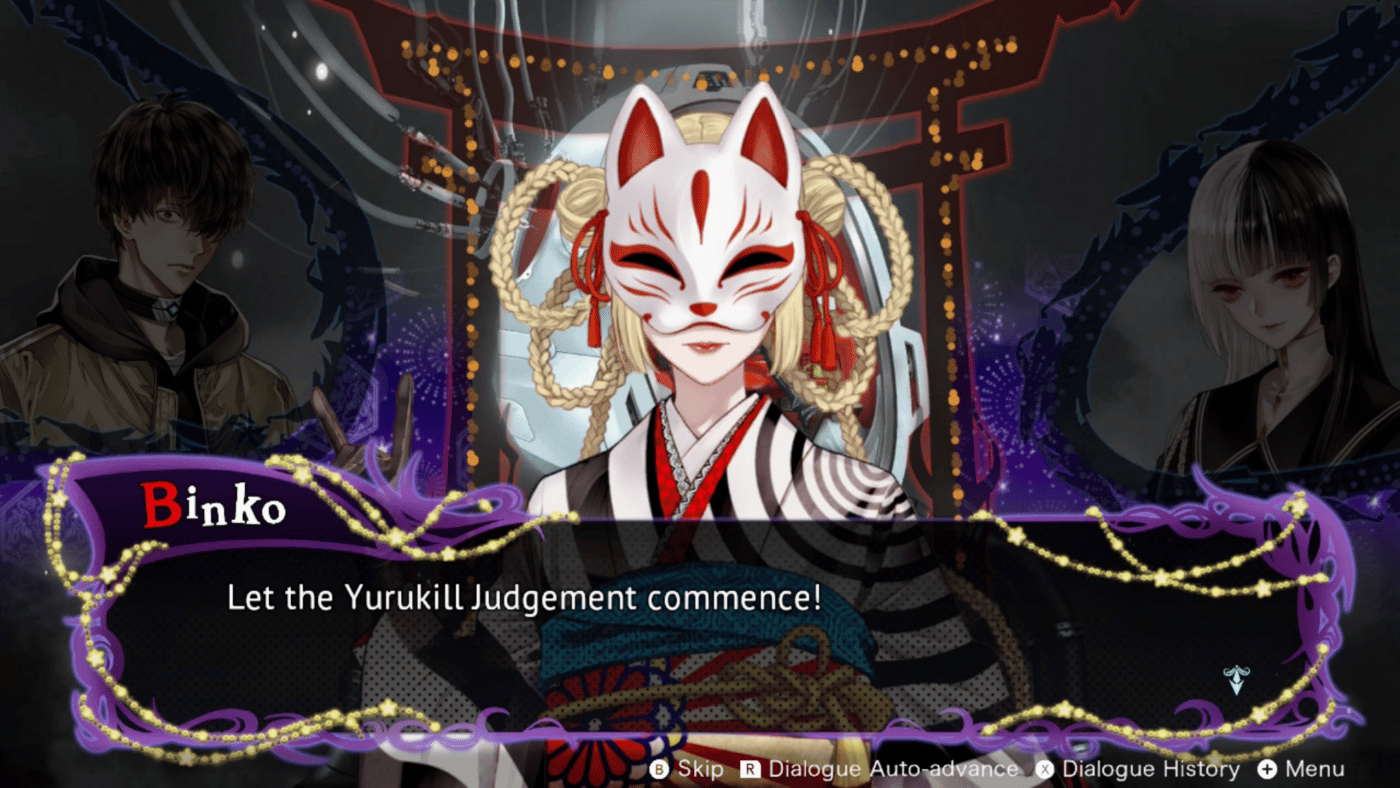 Yurukill the Point-and-Click Adventure Game
After playing through the opening visual novel parts of the story, I was wondering how the death game parts would play. My expectation was that they would take the form of a shmup. After all, the shmup parts are prominently featured in Yurukill's marketing materials. Much to my surprise, the bulk of the gameplay in chapter 1 is something much more slow-paced: a point-and-click adventure. After the initial setup of the death game, Sengoku and Rina are thrust into a series of deadly escape rooms in a burning building. Solving the puzzles in each room unlocks another door bringing them one step closer to safety.
Each room plays like the investigation portion of an Ace Attorney game. The room is displayed as a mostly still image and by clicking on objects in the room you gather clues and find puzzles to solve. I found the puzzles to be fairly straightforward, but the game offers an optional hint system just in case. Perhaps the puzzles get tough later on and the game's developers wanted to make sure you don't get completely stuck.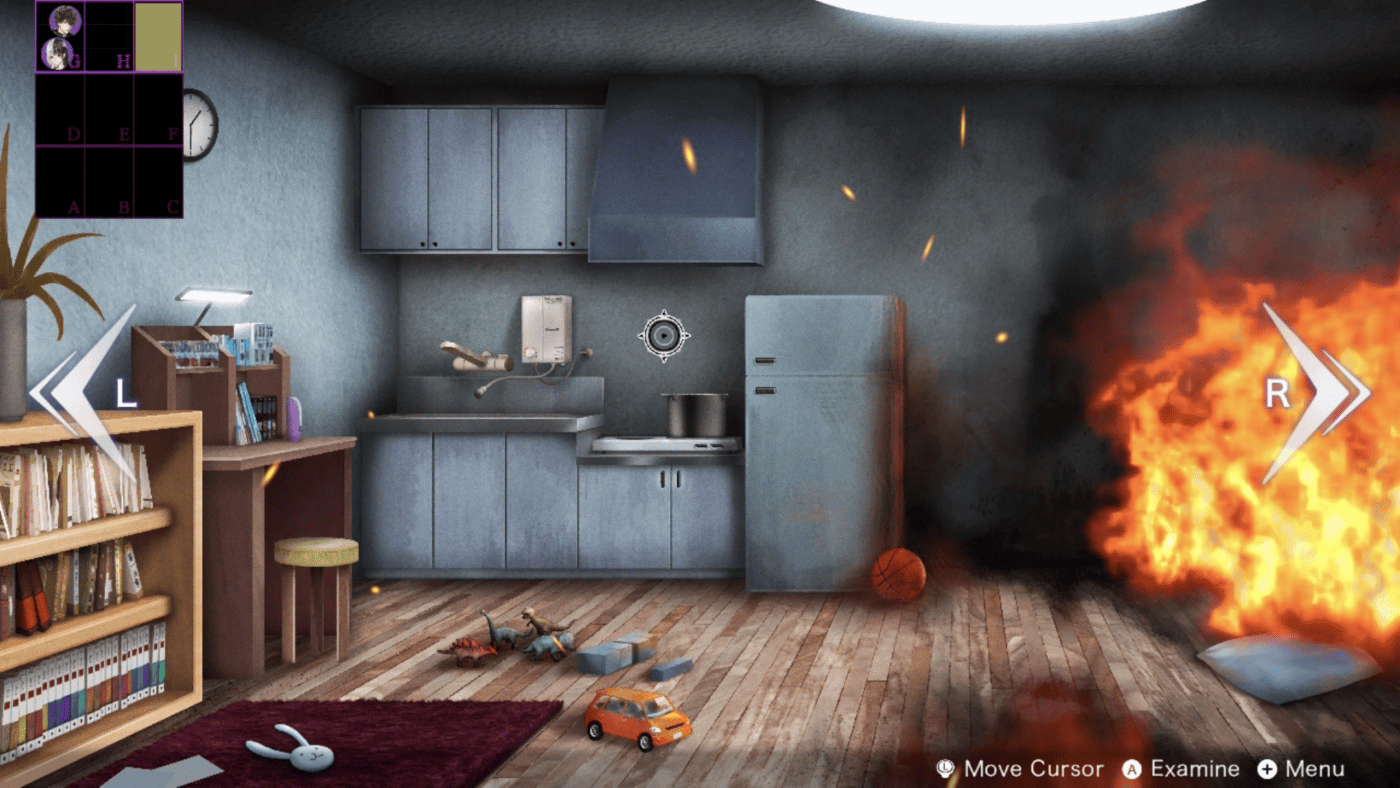 Yurukill the Shmup
The shoot 'em up action of Yurukill doesn't come into play until near the end of chapter 1. The way it was integrated into the story was not at all what I was expecting. The shmup battle isn't a physical battle between death game contestants, but a virtual and psychological one between Sengoku and Rina. With the pair hooked up to a VR machine, Sengoku's progress through the shmup stages represents his progress in persuading Rina of his innocence. Achieving milestones within the shmup allows Sengoku another opportunity to present evidence to support his position. In other words, it's kind of like a trial in Ace Attorney, except you have to play some Galaga before you can challenge a witness's statement.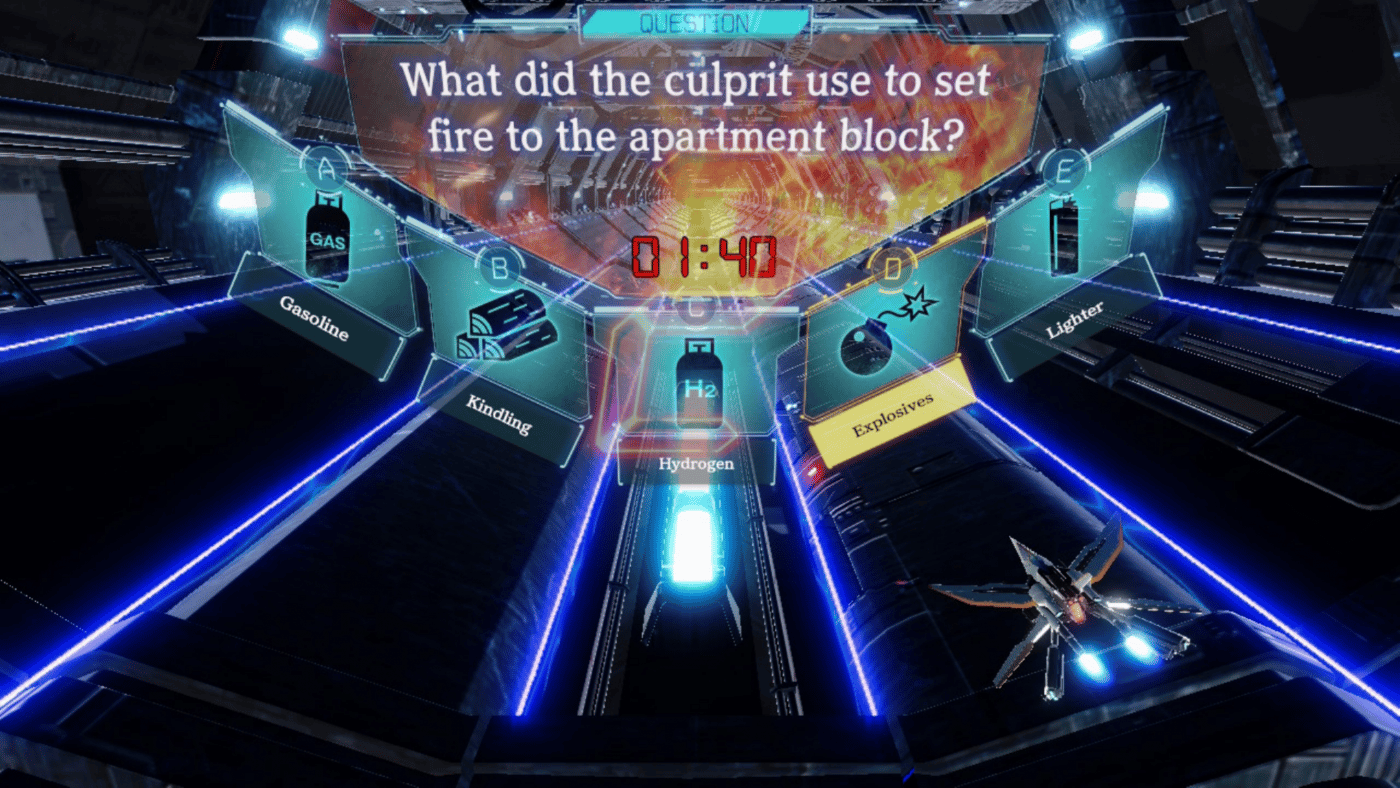 As far as shmups go, this one has particularly bizarre framing, but I like it. The shmup gameplay itself is a pretty traditional vertically scrolling shooter. Other than a few special attacks to charge up, it's pretty basic stuff and also not too difficult. It's complemented by nice graphics and a rocking soundtrack, so even though it makes up a small part of the gameplay, it still feels high-quality. Yurukill allows you to play the shmup parts on their own via Arcade Mode for times when you're not feeling a story-driven experience as well.
Outlook
Overall, I found Yurukill's premise and combination of genres to be quite compelling. The writing, however, felt a little off at times. The main thing was that the characters excessively explain things. If you're paying attention to the story, you will likely figure things out long before the game seems to expect you to. That being said, some of this is due to the exposition-heavy nature of the opening act. The further I got into the game proper, the better things got. After finishing chapter 1, I'm definitely excited to return to this bizarre genre mash-up later to see where its story goes and what it does with its grabbag of gameplay styles.