It seems like once a season now, Steam throws a little convention of their own: the Steam Game Festival. Right now, they're featuring a wealth of new game demos on their storefront from every genre across the spectrum. What's more, they have a streaming schedule jam-packed with developers showing off their prized titles and answering players' questions. What better time than now to find a new and upcoming game to get excited about – especially those that might otherwise fly under your radar?
We can scarcely begin to scratch the surface of it all here, of course. But just in case the many storefront listings look too intimidating – or if you want a more personal way of discovering new titles – we've found a few that we think have something special to them.
---
Our first set of games are ones that I've personally found delightful:
A Space for the Unbound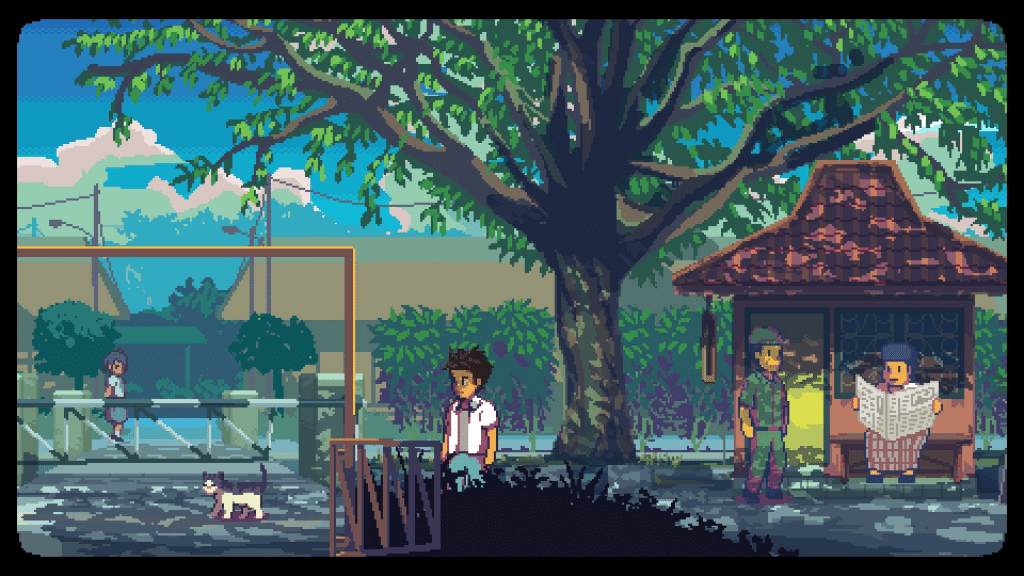 You may have already seen this game – it was featured in Steam's promotional videos for the event. Having played it, that comes as no surprise!
From Indonesian developer Mokijen, A Space for the Unbound lovingly conveys a specific sense of nostalgia, and one that Western players may be less familiar with. That just makes it even easier to see the developers' passion for conveying a distinct sense of time and place. From the stunning pixel art to its charming characters, I can't help but stop to linger in every scene. Toss in a few story hooks that promise more beneath its surface, and this project has my rapt attention.
A Space for the Unbound may move at a slower pace, but that gives its events a satisfying weight; even inside of half an hour, I can tell that's an intentional piece of how their story will play out. While I feel like The Unbound has yet to show its hand, for now I find joy in the fact that I can pet every one of the numerous cats in town. They even make satisfyingly-bassy purring noises, which is exactly the level of detail that I care about.
Find the Steam Game Festival demo here.
Chicory: A Colorful Tale
Chicory: A Colorful Tale is, oddly enough, a very manilla-white game out-of-the-box. That doesn't mean it looks bland, though – far from it. Rather, it seems to take artistic inspiration from Paper Mario, with a simple-but-clear art style and playful dialogue.
The moment-to-moment gameplay in Chicory revolves around environmental puzzles – fiddling with objects to open paths in a specific order. What makes it special is your signature tool, a paintbrush that doubles as… well, a paintbrush. With it, you can color just about any surface in the game – including the characters themselves. A wider palette even opens up alongside your wardrobe as treasure-chest rewards, letting you splash a new look on old areas. It's a simple idea, but still feels satisfyingly fresh and effective!
It's also one of the few demos to boast co-op play, in case you have someone around to play with. Plus, even at this early stage, it features accessibility options like an "eyestrain helper", highly-readable fonts, and much more. Chicory clearly wants you to have the best time you can, and we love that level of positivity.
A special shout-out to Siren on our Discord server for bringing this charming demo to our attention!
Find the Steam Game Festival demo here.
See the developers' livestream here.
---
Loop Hero
I'm not normally a fan of Rogue-like titles; being certain to lose your progress just doesn't feel so appealing to me. Loop Hero, on the other hand, had me coming back for more rounds than I'd planned on.
Of all things, Loop Hero is also something of an idle game. Your character always keeps marching on and automatically attacking, ever onward. It's your job to cultivate the path marches through and gear he equips, making the most of randomly-dealt items. As things pile up, it can quickly get hectic trying to balance how you place boons and enemy to avoid deadly enemy pile-ups. Then, right when it gets to be too much, you can reset the whole map and cash in your spoils – if you can survive the remaining path back to camp.
Loop Hero absolutely caught me in the "one more round" mentality, and I'm already itching to get back to it. Loop Hero comes out March 4th, so you won't even have to wait long to get caught in another loop. And another, and another….
Find the Steam Game Festival demo here.
---
Our second trio of Festival demos comes from CapsuleJay, one of our resident streamers on Twitch. Here were some of his favorites, in his own words:
22 Racing Series
Futuristic racers like Wipeout and F-Zero are a type of game we regrettably don't see much anymore. 22 Racing Series strives to fill that gap while putting its own spin on the genre with what it calls "real-time strategy" racing.
Not only are you aiming to have your car cross the finish line in first place, but also to help your teammates (be they A.I. or other players) by using support items to help them out and taking control of territory by maintaining a lead on certain key sections of the track. On top of that, you can adjust your vehicle's performance characteristics mid-race!
It's a lot to keep track of, so my ability to fully get my head around 22 Racing during my short time with the demo was limited. Even then, the driving felt tight, and the neon-future aesthetic looked gorgeous! As a fan of arcade-style racing, I'll definitely be keeping my eye on this one.
Find the Steam Game Festival demo here.
Whisker Squadron
If Star Fox has shown us that foxes, frogs, and rabbits can fly space ships, then why are cats left behind on terra firma? Whisker Squadron seeks to address this disservice to the internet's favorite mammals with its all-feline cast of star fighter pilots.
The game looks and plays very similarly to the original Star Fox on SNES, but with one key twist: it's a Rogue-like. With procedurally-generated levels and only one life to complete your mission, I found this game as fun as it was difficult. Despite the procedural generation, I was impressed to find that each level had a distinct aesthetic and felt cohesive; almost enough to pass as bespoke design!
The demo allows you to attempt one-life runs at the campaign's missions, but I'm hoping the full version will offer some options to make it a little more forgiving for those of us who aren't flying aces. Overall, if you're a fan of Star Fox, be sure to give Whisker Squadron a look!
Find the Steam Game Festival demo here.
Steel Assault
Do you miss the "buff dude" era of action games when Hasselhoff and Schwzanneger lookalikes graced the cover of half of the NES and Genesis boxes in your local rental store? Well, if so, Steel Assault has got you covered!
I was initially drawn to this game by animated gifs, of all things, that I saw posted online, sporting some of the richest-looking pixel art environments I've ever seen in a 2D platformer. Seeing them for myself in the demo of Steel Assault did not disappoint! The gameplay reminds me of a blend of Contra and Bionic Commando; effective grappling hook use is key to traversing the environment, and maintaining situational awareness to manage enemies that can attack from any direction is essential to staying alive.
The demo is comprised of a single level that offers a good sampling of the type of gameplay you can expect from this type of game: a fast-paced ride on a gunboat at the start of the mission, running and gunning your way through a dystopian future cityscape, and a battle with aerial drones while suspended from a helicopter. Appropriately, all of these scenes are set to a hard, driving rock soundtrack that propels you to fight for survival. If you've been yearning for challenging retro action and '80s aesthetics, put this demo on the top of your list for the Steam festival!
Find the Steam Game Festival demo here.
This game was brought to my attention by fellow Twitch streamer Stapecape. You can find his channel here.
---
From arcade-y racers and aerial combat games to visuals that treat the eye, the Steam Game Festival has something to please just about everyone. The Steam Games Festival for February 2021 runs until February 9th. Some demos are likely to go back "into the vault" after then, so be sure to check them out over the next couple of days!
Hopefully one of these will have you excited to tune in to their ongoing development. Or is yours one of the many that we didn't have the space to cover here? If so, sound out in the comments or to our Twitter!