What's it About?
If you are a long-time fan of the Harvest Moon and Story of Seasons games, you may already be familiar with this game. Story of Seasons: Friends of Mineral Town is actually a remake of the 2003 game Harvest Moon: Friends of Mineral Town which released on the Game Boy Advance. Because of the Harvest Moon version's overwhelming popularity (it is the favorite in the series for many people), it earned itself a remake!
(And if you're confused by the naming between Harvest Moon and Story of Seasons, you're not alone. There have been lawsuits regarding ownership of the trademark, which made the original devs of the Harvest Moon games publish under Story of Seasons when they lost rights to that name. So…clear as mud?)
If you have not played a Harvest Moon or Story of Seasons game, Friends of Mineral Town is a great jumping off point into the series. This farming and life simulation game is sweet, relaxing, and just plain fun. The characters you meet are charming and allow for some heartwarming interactions. The farming allows for simple goals and motivation without a lot of stress. You can purchase seeds from the general store or from the adorable boy down by the dock who sells flower seeds using a cardboard box as his "counter".
There are animals to take care of with chubby little cartoony bodies. You can mine for ore to upgrade your tools, pick flowers and berries, or even fish in the ocean or rivers. The worst that can happen to you is you get too overly fatigued while mining some rocks. Even that can be countered as you learn to cook recipes that you can eat to regain your stamina!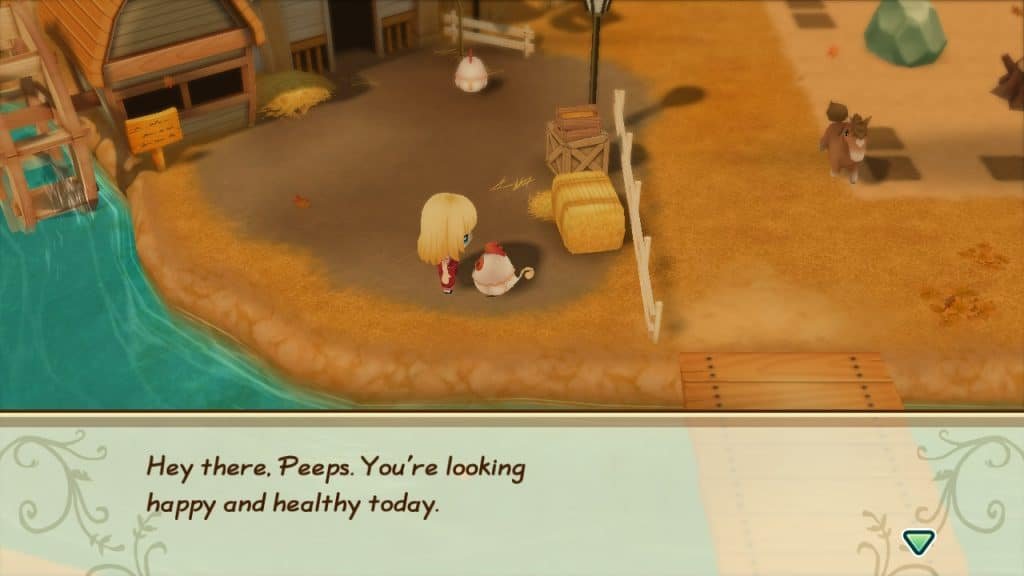 Another engaging aspect to the game is the ability to romance an NPC to date and eventually marry. With everyone in the game, you can offer gifts and talk to them regularly to level up your relationship with them. This comes in handy as your friends will give you things such as recipes and deepen the story of the game with conversation.
Certain characters will have a heart show next to their name, suggesting that you could continue the relationship past friendship. In a sweet and straightforward manner of showing your romantic interest, you give the party you are interested in a "Sunsweet" flower and, if they like you enough, you start dating! Oh, how we all wish real life relationships could be that straightforward.
In my game, I am dating the Doctor. And yes, that is partly because his name is "the Doctor" and it reminds me of Doctor Who.
Let's not forget the Nature Sprites! These cute little magical sprites are levelled up the same as the other villagers by giving them gifts and talking with them. Once you have reached friend level with them, you can play little mini-games and then even ask them to help you on your farm.
Hint: All sprites in Story of Season games seem to love Flour for some reason. This game is no different. While you can of course give the sprites different gifts, the easiest thing to do is purchase a lot of Wheat Flour at the General Store and wrap it for them.
Compared to the more current versions of Story of Seasons, this game does feel a bit underwhelming. The content is noticeably less than we are used to from games like Trio of Towns. There aren't as many events held and what they have are not all that spectacular. The dialogue doesn't change all that frequently. However, those are small downsides to an otherwise charming game.
The Good
Any Story of Seasons game is going to be hard-pressed to get any form of negative review from me… so I may be a tad biased simply due to my overall love of the series. Story of Seasons: Friends of Mineral Town may be a remake of an older game and not have quite as many bells and whistles, but that does not make it any less wonderful in my eyes, especially knowing its history.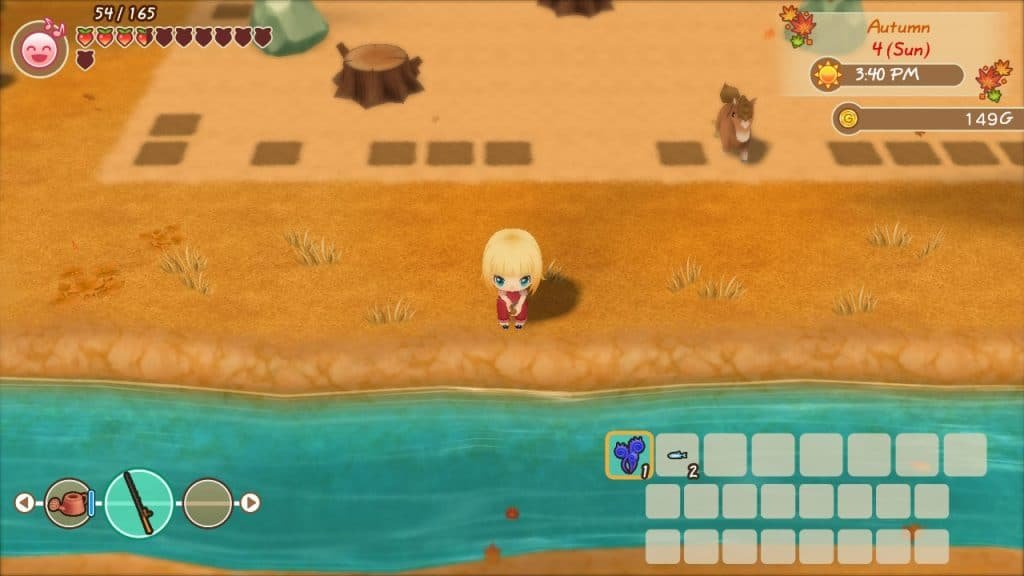 What I love about Story of Seasons games is still all here. These games are a relaxing escape from the hectic world (especially in 2020) where you can enjoy cute cartoony friends and animals. You can get lost in the farming and trying to get the highest level of crops. Or focus on upgrading your tools to the highest quality and having to mine for the ores required to do that. Try to focus on relationships with friends in town. Build up your collection of livestock and spend your time taking care of them. You can even have a pet!
The Bad
This game is a remake (from back when the series was still called Harvest Moon and made by this developer, if your recall the sordid tale earlier). While it is great, and I would recommend everyone try it out if they have not… it does offer slightly less than the more recent Story of Seasons games have given us. A new Story of Seasons game is on the horizon (Story of Seasons: Pioneers of Olive Town). So, it does seem as a bit of a placeholder for the time being. Albeit, an enjoyable one.
Final Thoughts
Anyone looking for a relaxing and cheerful game should give this game a look. If you did play the original, you may also enjoy this game. Take a walk down memory lane!
Geek to Geek Rating: 4/5
---