Sometimes you need a good, wholesome game for a holiday. Whether it's Costume Quest for Halloween or Chocolate Makes You Happy: St. Patrick's Day for, well, St. Patrick's Day. Obviously, Christmas is no different. In fact, I think even more people love to have Christmas holiday games to play which help them get into the festive mood! Last week, Milkbag Games released their fun new adventure just in time for Christmas; SantaCraft. You must help Santa save Christmas!
The Story
In SantaCraft you get to play as Santa. The game opens following a massive snowstorm which destroyed all of the buildings at the North Pole. The reindeer are missing. The elves are gone. For some reason Santa's clothes are missing in the snow, and he is down to his heart speckled boxers. Santa has to build everything back up from nothing by shoveling the snow, chopping down gingerbread trees, mining chocolate rocks, and more. Of course, some friendly Abominable Snowmen (with adorable names and personalities) and other helpful creatures are there to support you… for a price.
The Game
This game is a simple take on the Minecraft style of collecting resources and building tools and goods. Of course, these tools are much different from Minecraft in that they include chocolate shovels and candy cane hammers. It's a quick game, with the average playtime being about an hour. Even after beating the game itself, you can continue to play and decorate your new Santa's Village with craftable items such as streetlamps, snowmen, pathways, and fun stores (Candy Shop!).
In fact, after completion of the main game, you also gain access to some fun "retrovision" goggles that change up the look and feel of the game to a more retro vibe.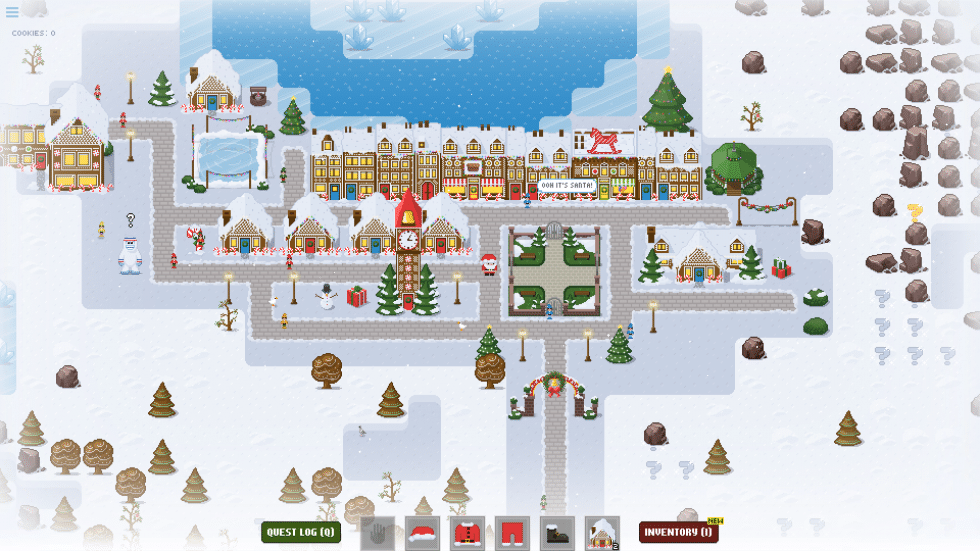 You have five tools you learn to make and use. The tools do have a durability to them, meaning they can break down… and they do quite frequently. However, this really isn't much of a problem as the items you need to craft new tools are easily collected as you go along. Some tools are better at certain jobs than others, and some won't work for certain things at all (just try chopping a gingerbread tree with a fishing pole).
Speaking of fishing, when you fish in this game don't expect to get any Carp or Bass… no, you will fish up saltwater taffy! Which is actually a useful crafting item. Why can't it be that way in real life, huh? I'd go fishing way more!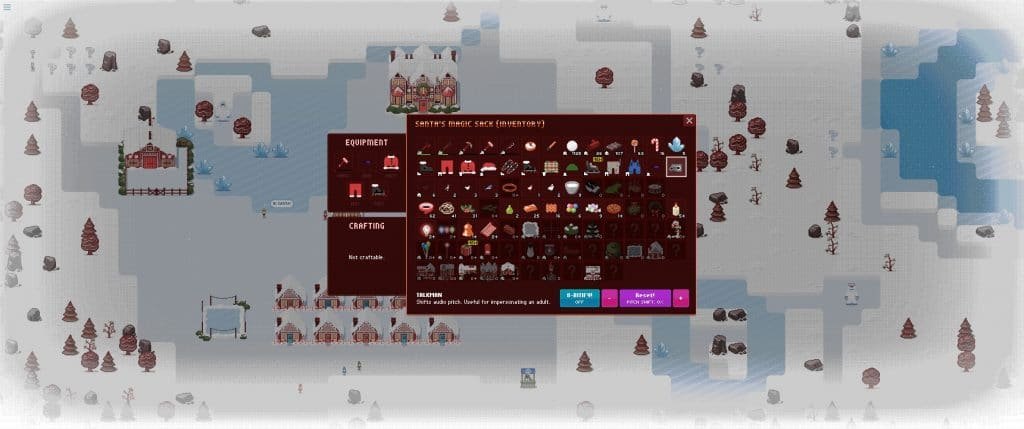 The Artistry
The visuals are bright and well made. They have a pixelated quality that is charming for this game and further enhances the childlike feeling to it. At first glance, the graphics appear to be quite simple. However, when you look closer you can see that there is actually quite a bit of detail for a pixelated game. Just because it's pixel art doesn't mean that it's simple. You can get a lot of detail in those dots and specks.
Whether you are looking at the Lollipop pickaxe with it's colorful patterns or any of the buildings you can create, the art style is great and very well designed.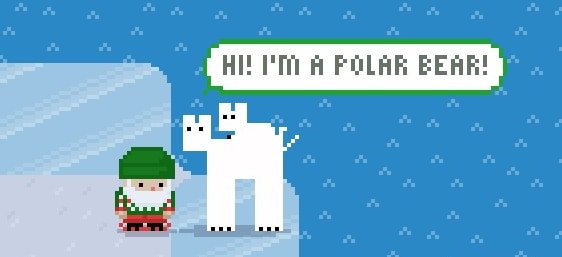 I saw this creature, and I absolutely had to know more about it. Apparently, this polar bear was drawn by an 8-year-old named Nevis. Which is absolutely adorable, I love it! It did leave me happily wondering who Nevis is though! But whoever he is, he rocked this polar bear.
The Humor!
Beyond anything else however, it is the humor in SantaCraft that sells it for me. There are lots of Easter Eggs, puns, and subtle jokes spattered throughout the game. Several of the main quests of the game follow the traditional Christmas carol of The Twelve Days of Christmas. Each of the Abominable Snowmen require you to bring them something from the song before they will return your missing reindeer. You need to bring a pear to one of them, 2 doves to another, and so forth. The Abominable Snowmen themselves are creative puns on their names; the Adorable Snowman, the Incroyable Snowman, the Abombinabull Snowman, and so forth. Complete with personalities to match.
The Good
The humor is delightful
Simple enough to be a family game
Very festive to put you in the holiday mood!
The Bad
I wish there were more of it!
Final Thoughts
I am one of those people who enjoys having holiday gaming traditions. As I have said before, I play Costume Quest 1 & 2 every Halloween. After discovering SantaCraft, I can honestly say that this game will go into my annual rotation. SantaCraft is a light and relaxing game with a huge amount of festive charm. Turn on the sound to listen to the peaceful soundtrack as you find Santa's pants and save Christmas. (Or listen to some geeky Christmas music. That will work, too!)
Geek to Geek Rating: 5/5
Quick View:
Release Date: 12/15/2020
Price: $4.99
Rating: 5/5
Platform: PC (Steam)
---