Let me start with this Spider Man: No Way Home is a good Comic Movie. Genuinely good. Superhero films will always be a niche genre, and they aren't always good. But they were fun, and they had a lot of potential.
Back in the '90s, I was talking to a friend about Batman and Robin. We were talking about the movie we just seen and how miserable we were at how it had been adapted. With all its faults though, my brain did latch onto one line. When Clooney says, "Superman works alone." That one line had images of a new Superman crossing over to this universe. Maybe we'd see a DC Universe of movies, all tied together. Maybe even a Justice League movie. Just imagine!
That five-second, throw-away line quipped to a totally miscast Robin was literally the only thought-provoking part about Batman and Robin. The rest of the movie was a mess, and I'm thankful to not be able to recall many other facts or images of the movie.
The MCU Changed Everything,
Fast forward over a decade and comic book/superhero films are everywhere. So much so that the phrase "genre fatigue" is something you hear a lot. And I think that in a way Marvel Studios knows that. It's not a coincidence that they've wrapped up their overall movie universe with Avengers: Endgame. (Hear me out for a second.)
I know that the storyline is ongoing and it's still there (and will continue to turn out hit after hit), but it's almost like they're planning for the possible dry spell and trying to find ways to weather it. We're seeing a lot more one-off/standalone films meant to re-establish a canvas that they can use for future phases. Using new tv shows and a few films, Marvel has basically recycled their entire line-up of content.
Falcon is Captain America now and it feels natural, Wanda has become Scarlet Witch, Strange is now the de-facto head of the MCU in a lot of ways, and Loki seems to be making a heroic turn (albeit a little quickly for some viewers).
Heck, there's even the DCEU/Snyder-verse/whatever it is that I foresaw way back when Batman was fighting neon thugs in alleyways.
And So We Get to Spider-Man: No Way Home
The non-spoiler (beyond what's in the trailers) review would be this: it's obvious they made this movie with the option of it giving a definitive, satisfying ending to Tom Holland's tenure as the wall-crawler. While at the same time, they look back at Sony's spider-films to accomplish this. With that goal in mind, they succeeded. The movie is good.
It's not Endgame good as some attest…but it is good. It accomplishes what it meant to. To pay homage to what came before and enable Tom Holland's Spider-Man to be able to either be a part of the MCU moving forward…or not. (Sony and Marvel were still unsure as to the future of Spider-Man movies while they were filming. It wasn't until the movie was finished that they came together to agree on making more.)
This movie is not perfect, and there are glaring flaws. The pacing in the first act is sub-par, and it makes me feel like the movie really doesn't really begin until Peter goes to the Sanctum Sanctorum to work with Strange. Once he does, however, the next bit is an incredible ride with both nostalgic and interesting takes on characters we've seen. There are some real emotional beats to the entire movie, and it ends in a somewhat satisfying way. With echoes of a fairly controversial print story arc I'll discuss later on (because…spoilers).
That ends the non-spoiler discussion. This be your warning.
The Hero's Journey (Again…Spoilers Ahead)
Let's get the biggest non-spoiler spoiler out of the way. Of course, Tobey Maquire and Andrew Garfield are in this movie. It was almost sky written after the success of Into the Spider-Verse that Sony would try to catch that lightning in a live-action way and there's no way the MCU brass would fight that option. It makes sense from every logical standpoint since it appears the MCU is going to embrace the multiverse during the next few MCU Phases.
The tease of the former villains from all those movies made it almost Star Trek Into Darkness levels of crazy that Sony even tried to be cagey on this. While the movie is incredibly successful, I can't help feeling they'd have gotten even more people in the theatres had they tipped everyone off to Tobey and Andrew's presence. Also, I feel they missed an opportunity with not grabbing Nicholas Hammond (if you know, you know).
What's new with you Petey?
Seeing these two versions mixed with Holland's Peter Parker provided some of the best emotional beats you'll see in a Spider-Man film. There were some huge moments in this movie, and Holland was doing quite a bit of work carrying it and executing it very well. However, each Peter had a small story arc they got to play out. Since we'd not seen these characters since their last respective movies, the filmmakers give us a glimpse of what the previous movies have done to these guys in the time since.
Maguire's Peter appears happy and healthy, and he mentions he's with his MJ. Garfield's version is obviously still haunted by his failure to save Gwen at the end of Amazing 2, and it shows in every way. In a lot of ways, Garfield's a better actor than Maguire. He emotes so much through what he doesn't say, and how he says things while Maguire appears to be capable of one speed. That's not a knock against him. He's spectacular as Peter. It's just that he has a more limited range. Luckily, Peter Parker fit that range.
But Garfield has many gears and can go at different speeds, and I can't help feeling that if he had been tapped to be the MCU Spider-Man, and having the freedom of not having to "carry" a film himself would have allowed for much more dynamic performance and no doubt made him a very popular choice for fan-favorite Spider-Man.
That said…Tom Holland Is Spider-Man
With all that said, Holland's Spider-Man is incredible. He's a young actor, but somehow has managed to hold his own against serious, A-Listers like RDJ, Samuel L. Jackson, and now Benedict Cumberbatch. The comfort Cumberbatch and Holland had with each other came through on the screen and allowed for a lot of play. Likewise, Holland's familiarity with the role, and the fact he's played it more than any other actor allowed for him to spread his wings creatively. That freedom comes across on screen. I really hope we get to see more of Tom Holland as this character.
A Hero is Only as Good as Their Villain
And then there are the villains of the film. The studio pulled one antagonist from each of the previous (Sony) Spider-Man films and brought them to the MCU.
From Maguire's Spider-Man trilogy, they took Willem Dafoe as Green Goblin, Alfred Molina as Otto Octavius, and Thomas Haden Church as Sandman. From the Amazing universe, Rhys Ifans as the Lizard and Jamie Foxx as Electro hopped dimensions.
Through each of them, the movie really takes shape and acts as a prism showing Peter Parker's incredible grace through multiple variations of the character. All of them are "victims" of science in some way, and when Holland's Peter realizes that each one of the villains is doomed to die when they return to their home, he sets out on somehow fixing their issues so that they don't have to die.
When you consider that literally three out of five of these actors are Oscar Nominees and that the other two are highly regarded and respected in the field, the real draw of these movies comes out clear.
Is Aunt May a character we don't need alive anymore?
The performances in Spider-Man: No Way Home are all amazing. Most notably however is Marisa Tomei (another Oscar alum) whose portrayal of Aunt May managed to change the minds of many who were skeptical at her casting. As an old-school Spidey reader (I still cry whenever I read Issue #400 that kicked off the dreaded"Clone Saga"), I always viewed Aunt May as the matronly one-foot-in-the-grave spinster aunt of Peter.
To have this younger (and yes, hotter) version of Aunt May who is still vibrant and engaged changed how I viewed the role, and I've noticed in both Spider-Man video games and other media that they've taken to de-aging her a bit. I'm sure it's in response to the incredible spin Tomei puts on the character. Her version of Aunt May had to find out Peter was under Spidey's mask, and the way she did so in Homecoming is still classic.
I found myself really liking Aunt May, and yet I don't remember them ever mentioning Uncle Ben. Then when she says the epic "with great power, there must also come great responsibility" line, I realize why. In this universe, there is no Uncle Ben. May fills that role in the MCU. When she said it, comic fans in the audience knew what was coming. Despite May saying that she was ok, any Spider-Man knows that those words almost certainly come before major tragedy in Peter's life. And when Aunt May fell seconds later, I was moved. And later, when Holland starts the line, and Maguire finishes it, that was one of the most powerful scenes in the movie. It was pivotal to the movie's emotional success. And they nailed it.
Mulligan for Garfield's Parker.
The other major poignant moment in No Way Home had to be when Andrew Garfield's Peter saved the MCU's MJ. The falling-and-has-to-be-saved is a Spidey staple in large part because of the death of Gwen Stacy in the 70s. Raimi toyed with the trope in his first Spider-Man movie, and Webb basically copied it directly in Amazing 2.
We all knew, especially after Garfield brought up his still being distraught over being unable to save Gwen in his universe, that eventually Zendaya would fall from a building at some point. (And if you love The Greatest Showman like I do, you'll wonder then if Zac Effron will come flying in on a trapeze asking if they could "Rewrite the Stars." Spoiler alert: he did not.) That the MCU used this well-known trope to give Garfield a pseudo-mulligan was a crucial development for his character. And let me tell you, I was here for it.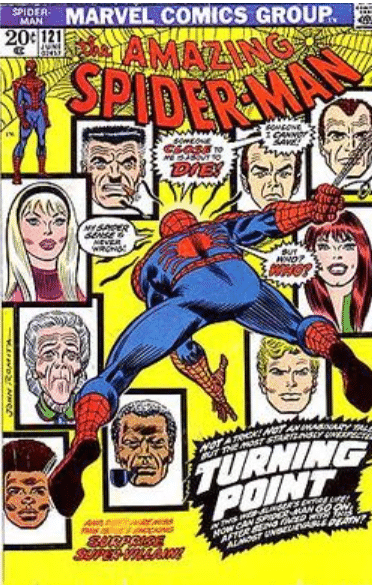 So…Is There a Way Home?
The ending left me a little conflicted. I hated the "Brand New Day" storyline as a comics fan. It felt like a cheat on the part of the writers to get Peter out of a corner. It's glaring because they wrote him into it. And the only way out of it was deus ex machina.
All told, I liked the idea that if this were actually going to be the last we see of Spider-Man in the MCU, we could be comforted to know that this version mattered. A lot. And so did all the others. That is the gift this movie gives us. The idea that the money we spent on movie tickets, DVDs, Blu-Rays, and comics over the past 20 years mattered. That somewhere out there, these stories are continuing. It feels good to know that if this is the last we see of Holland's portrayal of Spider-Man (which it won't be according to most reports), then this movie would have made sure we knew that our time here wasn't wasted.
Spider-Man: No Way Home is not Avengers: Endgame. However, I don't think it was trying to be. I think they wanted to take Spider-Man to a new normal. His next movie I'm sure will undo some of the ending. Perhaps in some spectacular way and I'm here for it. Whether they bring in Gwen Stacy to the MCU or (please please please) Felicia Hardy/Black Cat, that would be awesome. I'm interested in seeing how losing all of his mentors brings Peter Parker to a new era.
For the first time in the MCU, we (hopefully) get to see Peter be a normal person, not as an Avenger or having to save the universe. Just a guy. Just a…friendly-neighborhood Spider-Man. And he's earned it.
I'd give this movie 8 out of 10 webheads.