Headland looks a lot like a generic Zelda-clone made for mobile devices, which makes a lot of sense since it's a game that started on Android and iOS with a lot of Zelda inspiration. The mobile game is now transitioning to the Nintendo Switch, where it has to stack up against a whole lot of fantastic Zelda and Zelda-like games.
I've just finished up playing through the game's short story and had a pretty wonderful time with it. Headland isn't groundbreaking, but it's totally pleasant through its few hours of gameplay.
Quick View
Game: Headland
Release Date: January 13, 2022 (Switch version)
Price: $19.99 (Switch version)
Rating: Everyone
Platform: Switch, iOS, Android, PC
Geek to Geek Media was provided with a review copy of this title.
Imagine a Zelda Collectathon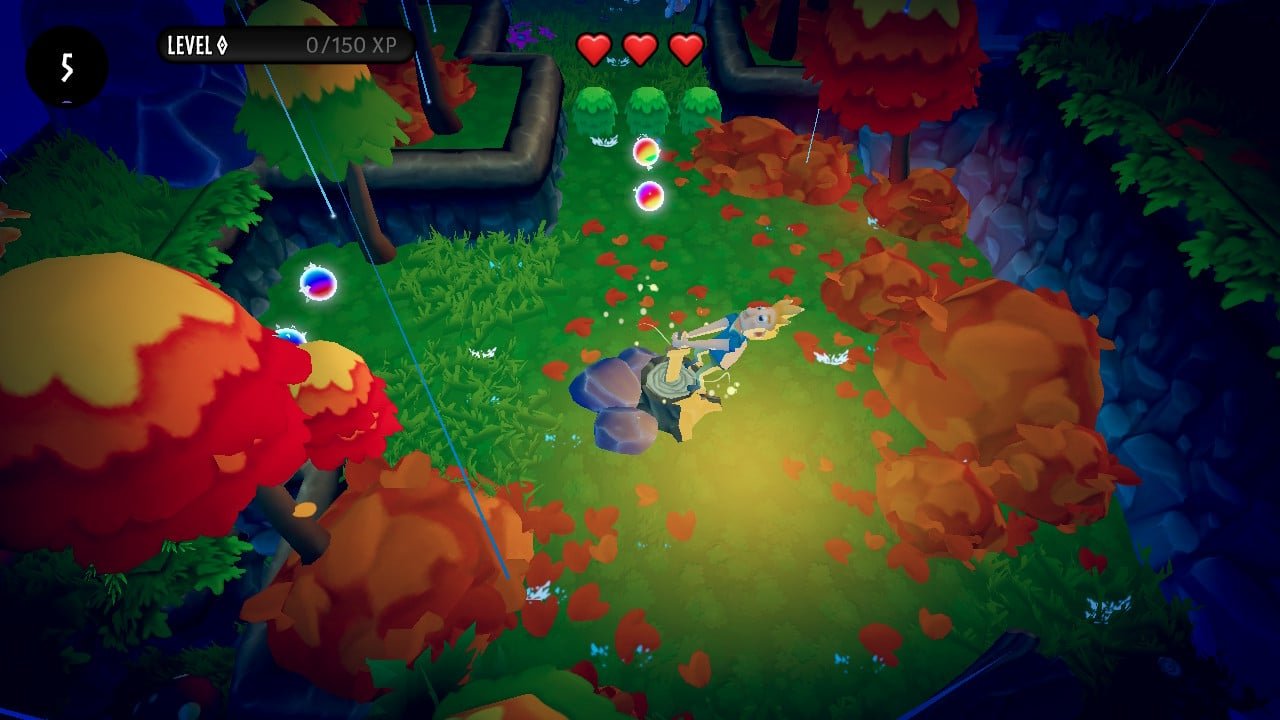 There's a lot about Headland that reminds me of Oceanhorn. Just like that game, it's essentially a 2D, top-down game with a bit of camera tilt to create a pleasant amount of visual depth, matched with basic sword combat with almost no depth. However, what's missing from Headland in that comparison or any Zelda comparisons is dungeons and puzzles.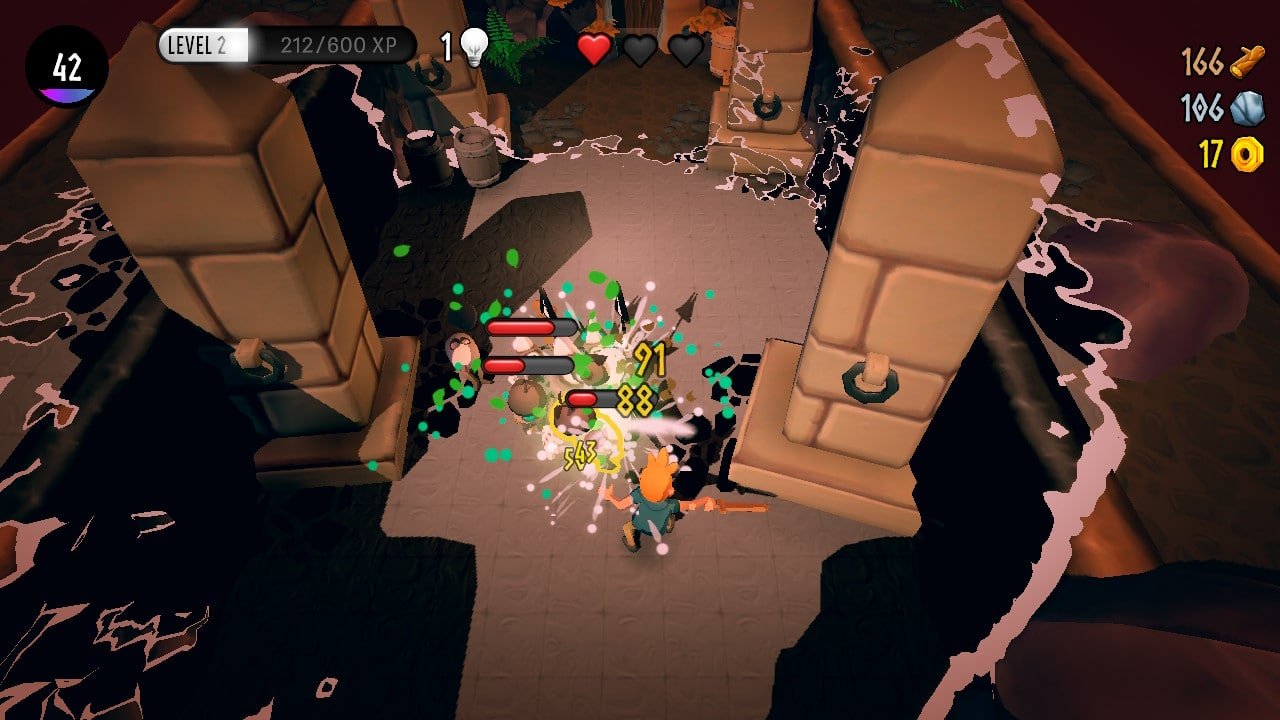 All that you do in Headland is hack-and-or-slash enemies as you make your way through fairly linear environments. There are a few places with multiple directions to go or keys to find, but the exploration elements feel way more akin to a Mario game than anything that's in the adventure genre.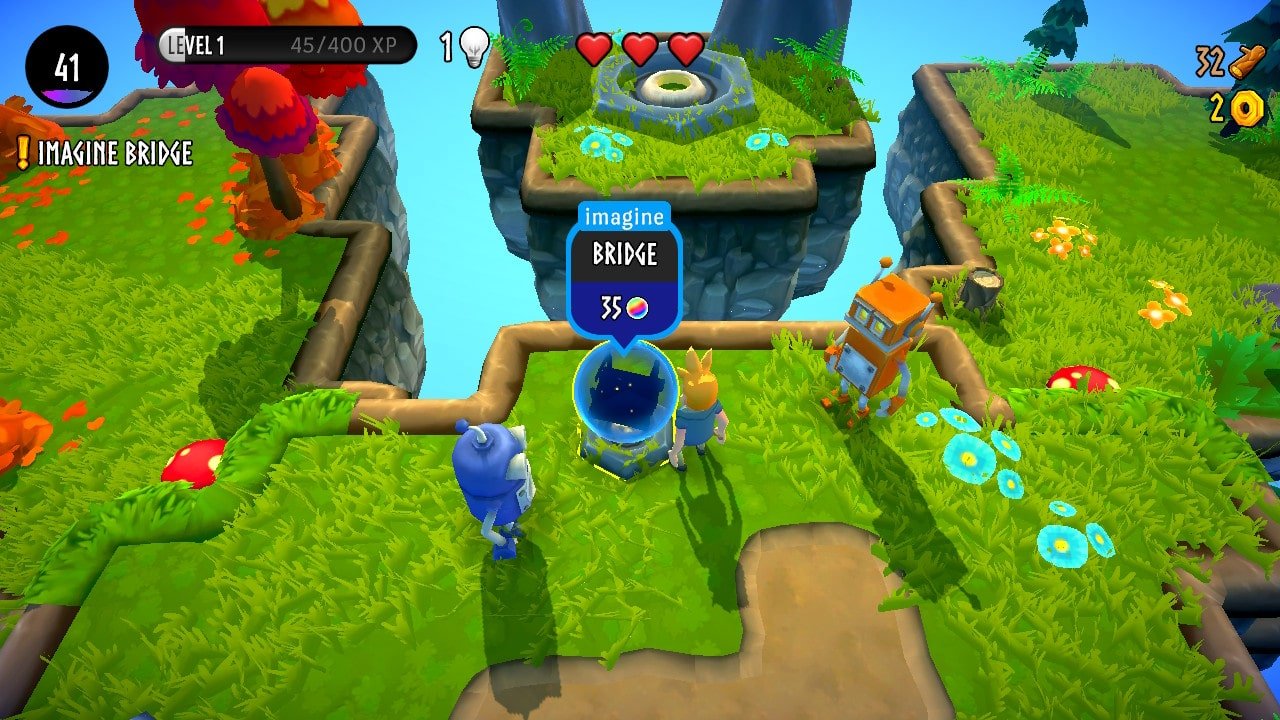 The Mario comparison is helped by the fact that you will be collecting stuff all of the time in Headland. Along with five Shards (the major MacGuffin of the game) and single-use, color-codes keys, there are five other currencies here! One is used to "imagine" objects into existence to get past obstacles, one is used to buy health or strength upgrades, and the other three are primarily for strengthening your weapons.
Surrealism Simplified
The world of Headland is an interesting one. Most of the environments look like a first draft at creating a level of Mario 3D Land. You spend a lot of time moving from one rectangular flat field surrounded by trees to another. There are some caves and some indoor environments, but it's all fairly bland… except when it isn't.
The whole story of this game revolves around imagination. From the start, it's clear that you are exploring a dream or some other sort of imagined place. So while the caves might mostly like generic caves, there might also be school lockers randomly stacked against one wall. A quaint village seems normal enough, but all of the NPCs who live there are giant-headed armless gnomes. And the primary enemy you fight against? Why that'd be walking acorns, of course.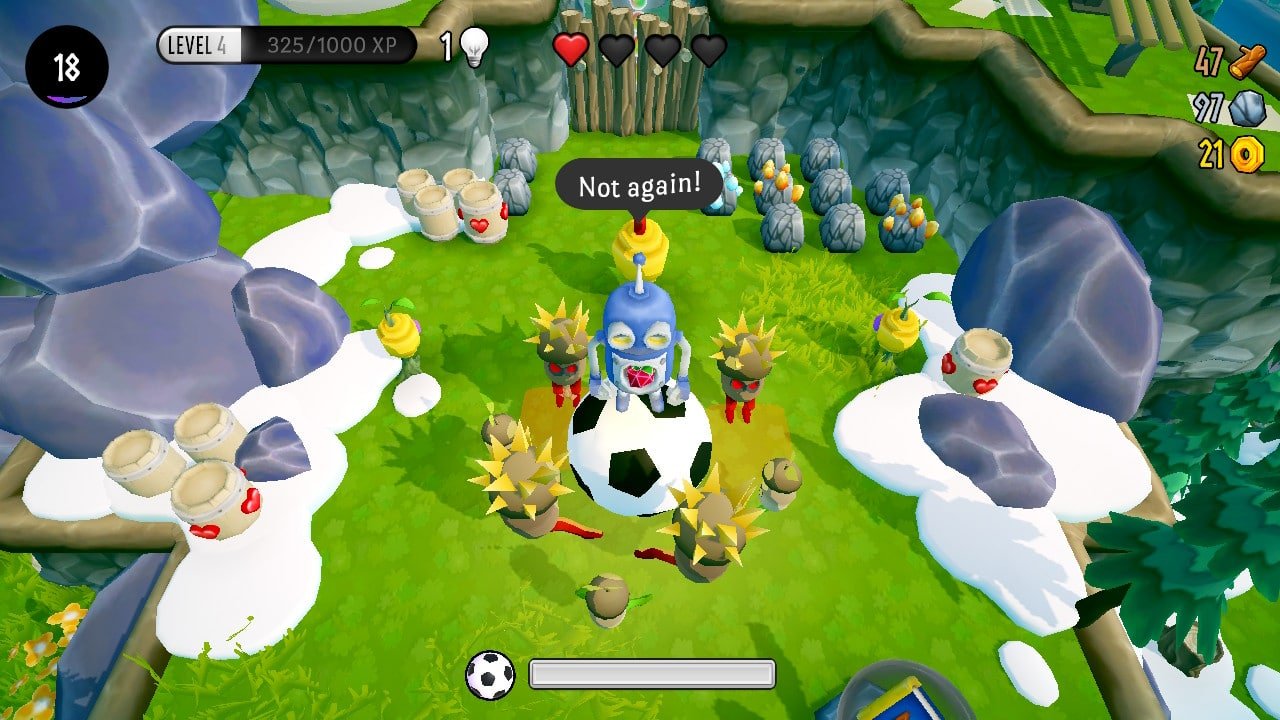 I loved all of the little details that made the world silly and weird, but it felt like maybe there weren't quite enough of them. The surrealism at play should have made for a really memorable and interesting world, but it felt more like a generic platformer with some weird details thrown in than something like Psychonauts.
A Surprisingly Poignant End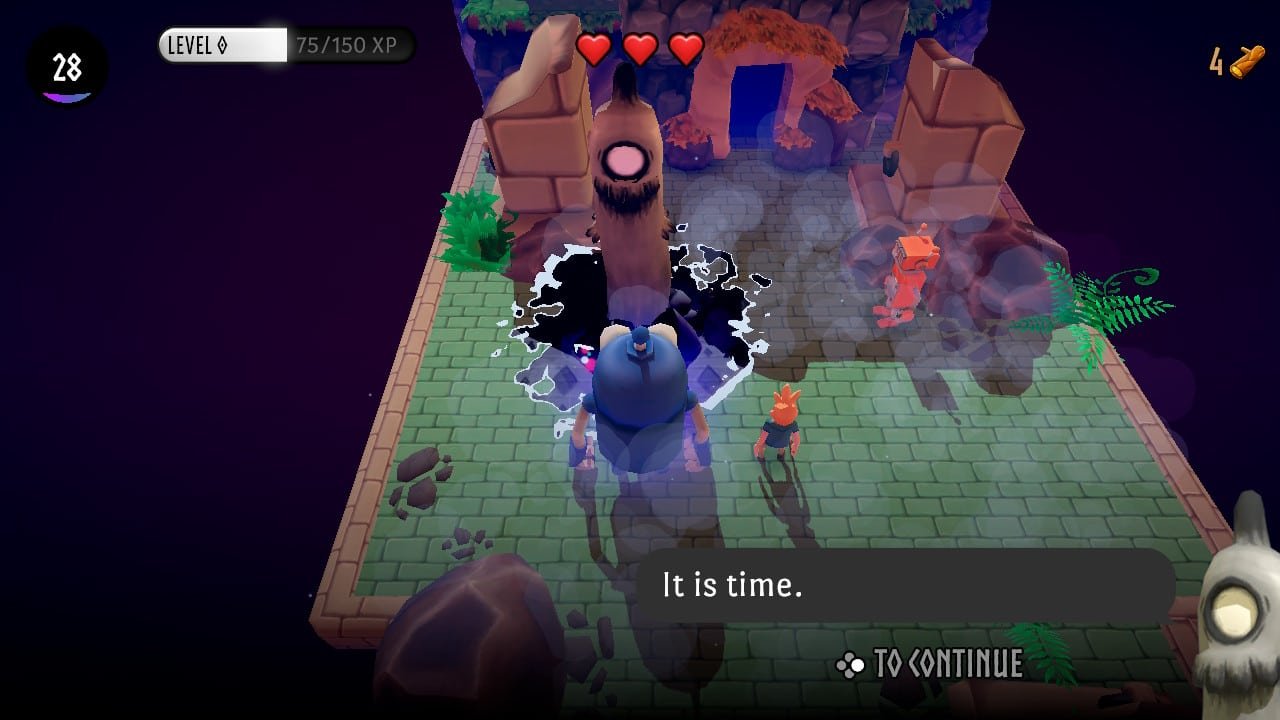 I don't want to go into a lot of depth on the ending of this game, especially since it only takes a few hours to get there. However, I really, really loved the end of this game, so it's hard not to talk about it at least a little bit.
Without getting into spoilers, the ending of Headland had three things that were absolutely wonderful. First, there's a story beat that happens at the end that isn't big, it isn't deep, it really isn't even very important… but it's sweet. It puts just a little bow on the whole premise of the game that I found utterly charming and positive and fun.
Second, the final boss fight in the game is really neat. It's not super challenging, but none of the game is so I didn't expect it to be. It does feature a really cool and kind of upsetting enemy design, and mechanics that had me multitasking in a way that even a lot of Zelda boss fights don't ask you to do.
Finally, the way that this game presents its credits is fantastic. Charming, ridiculous, and totally fantastic. This is up there with Super Smash Bros. in having a credits sequence that made me smile.
Final Thoughts
So yeah, that's Headland. It looks like a generic mobile game and it kind of is, but it's also a really fun and charming and weird game that I'm extremely happy to have played. The hacking and slashing both feel good, collecting all the collectibles you can find is satisfying as heck, and they managed to tell a story in just a few hours that had me going "awwww" at the end of it.
I don't think Headland is going to be a favorite game for many people, but I think it stands up well as a nice, simple entry point to top-down sword-based games. I'm actually thinking I might pick up a copy for my nephew who just got a Switch for Christmas because he'll probably have a lot more fun with this right now than he would with a full-on Zelda adventure.
Geek to Geek Rating: 3.5 out of 5 imaginary stars