Quick View
Game: Strange Brigade
Release Date: June 15, 2021
Price: $34.99
Rating: Teen
Platform: Switch, Windows, Stadia, Xbox, Playstation
Geek to Geek Media was provided with a review copy of this title.
Whether it's Harrison Ford, Brendan Fraisier, or Lara Croft, we've all got at least a little bit of a crush on a gun-slinging, fist-fighting, tomb raider. Strange Brigade caught my eye right away when it showed up in Nintendo's E3 presentation because it looked like it was mixing cooperative run-and-gun action with a pulpy 1930's aesthetic. The publisher was kind enough to hook me up with a copy of the game when it dropped on Switch, and it was everything I hoped for. It's super fun, looks great, and has some of the best online mechanics I've seen on the Switch. Other things ended up bumping it out of my queue, but I finally came back around to finish it off and can now whole-heartedly recommend Strange Brigade for fans of archeology, the occult, and shotguns.
A Classic Serial Story
The storytelling in Strange Brigade is really silly, in the best way possible. There's a goofy narrator with a classic mid-Atlantic accent who narrates black and white cut scenes that introduce each level. He's telling the story of a group of adventurers, the titular Strange Brigade, who travel the world in their dirigible fortress unearthing otherworldly mysteries.
The game follows a series of adventures the crew goes on regarding one specific mystical ne'er-do-well, but each level feels like its own, fairly contained story. The intro explains where you are and what particular artifact, ruin, or ancient evil you are there to investigate.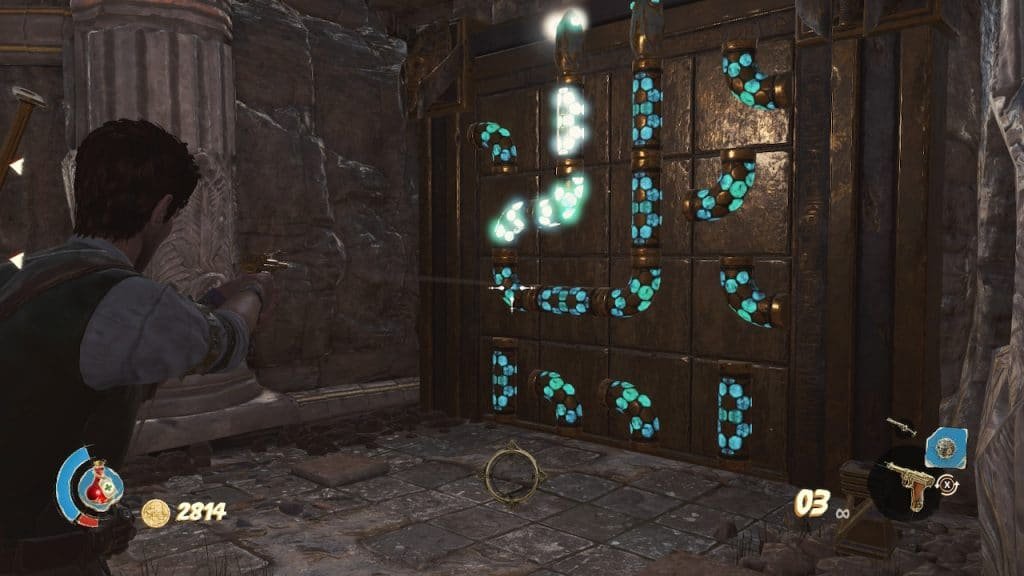 Once you hit the ground, after parachuting from your dirigible (because why not), the narrator serves as a constant companion. He introduces each new enemy class as they appear (and there are a surprisingly huge number of enemies), but also just comments on random things as you go. If you come across a puzzle door, he'll wonder if our brave heroes can open it. When you trigger a spinning blade of a death trap to decapitate enemies, he'll congratulate you on your carnage. And when you pause the game, your trusty narrator will commend you for realizing that you needed to take a break for a spot of tea.
Mechanically Sound
At its core, Strange Brigade is a wave-based shooter. Each level has you venturing forth fighting a few enemies here and there until you find some sort of gate that blocks your path. Inevitably, opening that gate by flipping a switch, shooting hidden glyphs, or finding a series of buttons results in a massive onslaught of undead and reanimated foes that you've got to shoot, melee, and explode your way through.
Each of the game's four characters has a default primary and secondary firearm and some sort of explosive. The shooting mechanics don't provide a lot of aim assist, so the automatic weapons didn't work great for me; I mostly found myself shooting around my enemies instead of at them. When I switched to using rifles and shotguns, the game got a lot more fun. I'd find myself getting up close and personal, shooting one or two skeletal foes, punching another with a melee attack, dropping a stick of dynamite, and then dodging away.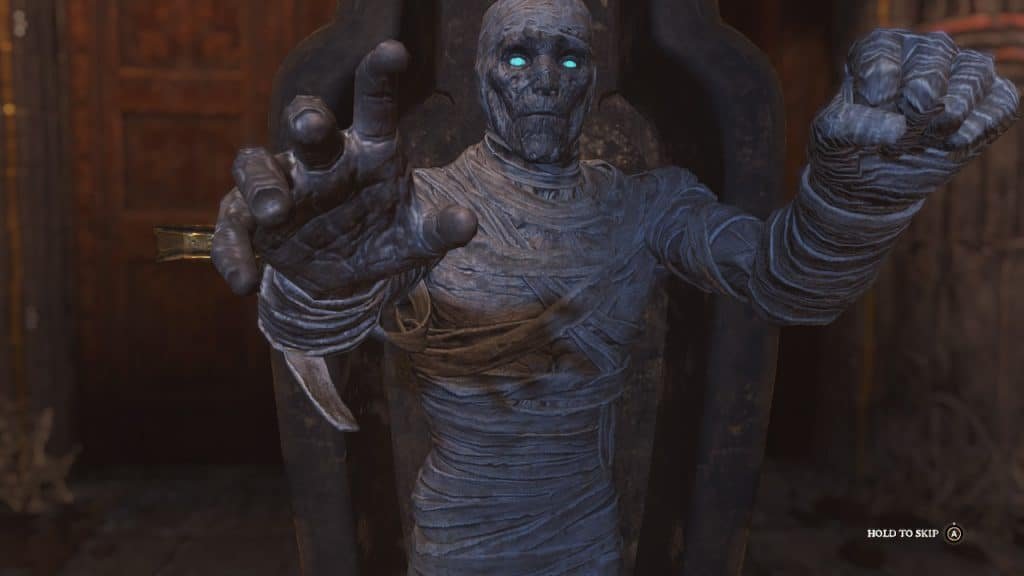 Each character also has a special, mystical ability they can execute thanks to a magical talisman. These build up over time as you battle, but I feel like they actually take too long to fill. They seemed like such a precious resource that I usually found myself hoarding the ability when it did finally fill up.
Looting and Shooting
I've spent most of my time with Strange Brigade playing it as a single-player campaign, and it really works well from that perspective. However, the fairly linear levels all have tons of gold (used to buy new weapons) to find and a few hidden items, so there's clearly a push for replayability here. Even though it doesn't feature an open world like Destiny or Borderlands, Strange Brigade is built to work really nicely as a multiplayer looter shooter.
I've been pleasantly delighted that each time I've started up an online lobby, I've had at least one player join in pretty quickly. Even without voice chat, having another player working with you to slay hordes of monsters is a lot of fun. The chaos works especially well because most of Strange Brigade's arenas are filled with traps that you can trigger by shooting them. One player luring enemies towards a trap while another triggers it feels great.
Between the tone and the goofy fun of multiplayer, this is an interesting parallel to the Spelunky games, even though the gameplay is wildly different. Playing through a level with others feels great, even though my time for playing online is short these days. Sadly, whether you are playing online or in single-player there is no mid-level save points. The levels aren't terribly long, but they are long enough that I've lost progress several times when I switched to some other game in the middle of a run.
Final Thoughts
Strange Brigade has been a real surprise for me. The tone and aesthetic in it work really, really well, and make for a super fun, goofy adventure. The gunplay feels really good, the game is a ton of fun with another player (or three), and it looks spectacular on Switch. If you are a fan of Indiana Jones and third-person shooters, this is absolutely worth picking up.
Geek to Geek Rating: 4.5 out of 5 cursed stars