2023 is the 14th anniversary of Dragon Quest IX (13th, if you're counting the English version), and that's a great time to go through the top 9 reasons that Square Enix ought to give us the remake (or remaster) that DQ9 truly and rightfully deserves.
We did a full podcast episode on this topic over at Dragon Quest FM, so be sure to give that a listen, too.
9. Better Graphics
Released originally on the Nintendo DS (technically, the DSi), Dragon Quest IX shows its age more in one place than any other: the graphics. It's definitely a pretty game, and the cel-shaded visuals have held up better than many DS games from that era, but despite that…having it redone in the engine for DQ Treasures or DQ Monsters 3 would be amazing.
I'd think even a full remaster of the game in 2D like we saw in Dragon Quest XI S and Tickington would be hella cool. Even the HD-2D engine they're using for the Dragon Quest III remake would be pretty snazzy. Just don't ask Austin what he thinks about the possibility of that style.
(Heck, even the FF6 Pixel Remaster got the Opera Scene redone in HD-2D, so it's all possible.)
8. Multiplayer Would Be Easier
DQ9 was the first Dragon Quest game to have multiplayer, either local or online, and the current generation of systems would make that so much easier than it ever was. We could go hunting treasure, delving deep into the random dungeons, or actually move through the story together.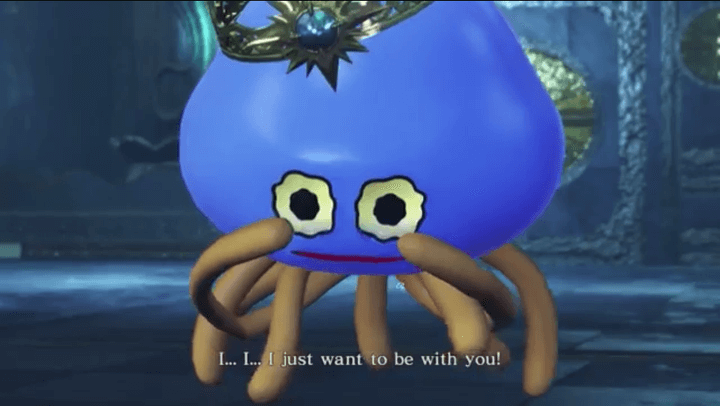 Not many of us have ever played through a JPRG with a friend, but I know I'd love to! (You can kind of delve dungeons together online in DQ Heroes II, so if you want to try that, it's pretty fun.)
You can still play DQIX with a friend locally, and Austin and I have done it a couple of times. It's a lot of fun, and we think the rest of the DQ fandom ought to get to experience that without having to figure out a way to sync up in person.
7. A New Generation of Fans
DQIX was really popular when it was new. It's still popular among the Dragon Quest fandom, but not a lot of mainstream, casual gamers are going to go find a DS cart and console to play a 14-year-old game.
But because it's so good, and because so many people loved it when it was new, a remake or remaster would not only gain a lot of attention for being a quality game, but it would also have a whole generation of fans championing it and trying tog et their friends to play it with them. It's a win-win.
6. It Could Have Voice Acting!
Just think, if we had a DQ9 remake, then Stella and Old Fatgut could argue and bicker and banter, and then we'd all get to listen and laugh at how totally absurd it all is.
I love these two together, and I would just adore getting to watch cutscenes that played out the way I read it all in the text boxes.
5. New Dungeons and Content
The original DQ9 had some really cool treasure maps that gave you random dungeons. And the static dungeons in the DS version are pretty spectacular and fun. But if there's ever a remake or remaster, there's pretty much a zero-percent chance that we wouldn't get additional dungeons, characters, and features.
Maybe we'd get new mini-games like DQ8's "take pictures of golden slimes" or maybe we'd have extra characters for the party like Red or Morrie. (Or just have the DLC-only characters like Aquila from the original included with the main game.)
Pretty much every Final Fantasy remake has superbosses and new dungeons (except for the Pixel Remasters, which I say is lamesauce), and I doubt that trend would not continue with a DQIX remake as well.
4. New Vocations (Jobs)
You can't have a Jobs-based class system in a JRPG and not include new ones in a remake. It's just not done. New ones were included in DQ7's remake for 3DS, the Final Fantasy V iOS/Steam versions had new end-game jobs, and even Fire Emblem: Engage gave you new classes once you finished the game.
DQ9 has my favorite Vocation system of any Dragon Quest game, and there are so many options for new choices for players. A remake of Luminary from the pop-star/minstrel character to one based on the DQXI hero is my personal vote.
3. Much Cheaper to Play
Retro games get more expensive and hard-to-find over time. Not only do you have to pay a secondary market price, but you have to buy/maintain the console to play it on. While the DS version of IX isn't as expensive as some other DQ games, it is about the price of what a Remake/Remaster would cost these days, if not a little more. Plus the cost of a DS/2DS/3DS to actually play the game.
If you don't already have the console, you're looking at around $125-$200 at least, depending on which console you buy. Given that many people these days already have a Nintendo Switch, and let's be honest that it's very likely to be only on Switch for a while, a DQIX remake would be priced around $39.99 or $49.99.
2. Actually Get to Play DLC
The DLC for Dragon Quest IX wasn't originally hard to get. It is now. You have to Streetpass maps (or maybe directly connect with people to get specific ones traded), and you can't even connect to the servers anymore with a DS Lite or DSi to get the free DLC with the party members or other quests or dungeons.
When I mentioned above that we expect new content, that should probably also means that we get new old content, too!
1. We (The Fans) Just Really, Really Want It
Okay, let's be frank. The number 1 reason DQIX should have a remake is because we, as a Dragon Quest fandom, really want it. As Paul Rudd says in Parks & Rec, "Gimme it."
To that point, DQIX is the only Dragon Quest game in the entire series that hasn't been remade in any shape, form, or fashion. It's never been retouched, it's never been updated or upgraded, and it's never been ported to another console. And it's high time that it gets the high-quality remake or remaster it's due.