Quick View
Game: Spartan Fist
Release Date: February 28, 2020
Price: $14.99
Rating: Teen
Platform: Switch, Playstation, Xbox, PC, macOS, Linux
The great thing about being a fan of action rogue-likes is that there are a billion of them. The bad thing about being a fan of action rogue-likes is that so many of them look and feel so similar. Don't get me wrong, I think Dandy Ace and Dreamscaper and Going Under are all a lot of fun, but they are also all a lot like Hades, which has established itself as a genre-defining keystone.
Lately, I've been spending a lot of time with another action rogue-like where you go from room to room beating up baddies and collecting weapons before ultimately battling a boss and then moving on to another world. I know, it sounds like more of the same, right? There are a few things that set Spartan Fist apart, and that's had me coming back to it over and over again.
A Different Perspective
First off, obviously, Spartan Fist has both a perspective and art style that are more than a little different from other games in the genre. Playing in first-person makes exploring each room interesting, even though every single room you'll encounter is the exact same size and shape. The variety comes in the form of the placement and number of enemies, traps, and obstacles that fill each one. I think having a god-view of these arenas would make them feel repetitive, but entering a room and just seeing a wall in front of you without knowing what is on the other side is weirdly intimidating and exciting.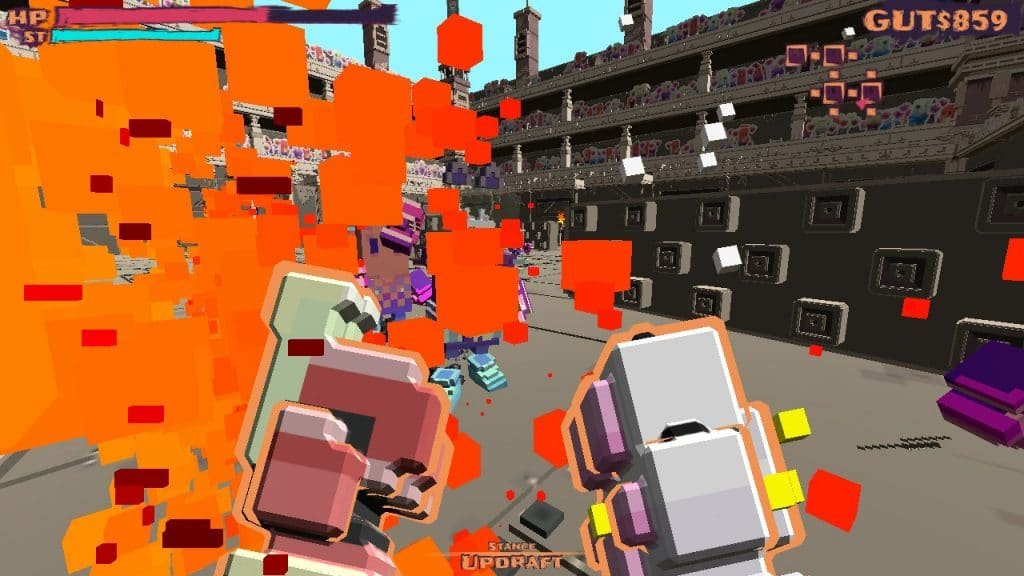 On the art style… it's eye-catching, but honestly not my favorite. All of the voxel characters are well designed and everything, but when the action gets intense it can get really hard to tell what's going on. Weirdly, this is kind of a gory game, with defeated enemies spewing out tiny cubes of blood. One of my favorite options in any video game is called "party mode", which replaces those bloody cubes with a multicolored rainbow of confetti, which makes obliterating waves of enemies a ton of fun.
All Punches All the Time
Speaking of obliteration, the tools of your trade is the other big thing that makes Spartan Fist stand out. You see, every single weapon that you'll find in this game is some sort of fist. You can equip a different fist on your left and right triggers, with each one having a unique standard and special attack. I tend to favor fast-paced options like the Rat Fist, but having a Stone Fist with a slow, powerful attack can be fun too.
You'll also get chances to add augments to your fists as you explore. These can gear you towards builds designed to regenerate health as you attack, or to strategize towards aerial attacks, or to try to make a big ole bear claw strike as fast as the Rat Fist.
Different… but the Same
When you die in Spartan Fist, and you will die a lot, you get an opportunity to spend currency you've accrued on upgrades to make you more powerful on future runs. Really, this is a pretty standard rogue-lite action game, but its unique style in terms of gameplay, perspective, and visual style all make it worth checking out.