Blizzard has issued a press release announcing a delay for their highly anticipated World of Warcraft: Shadowlands expansion. While Blizzard offered no specific release date, the press release said "later this year."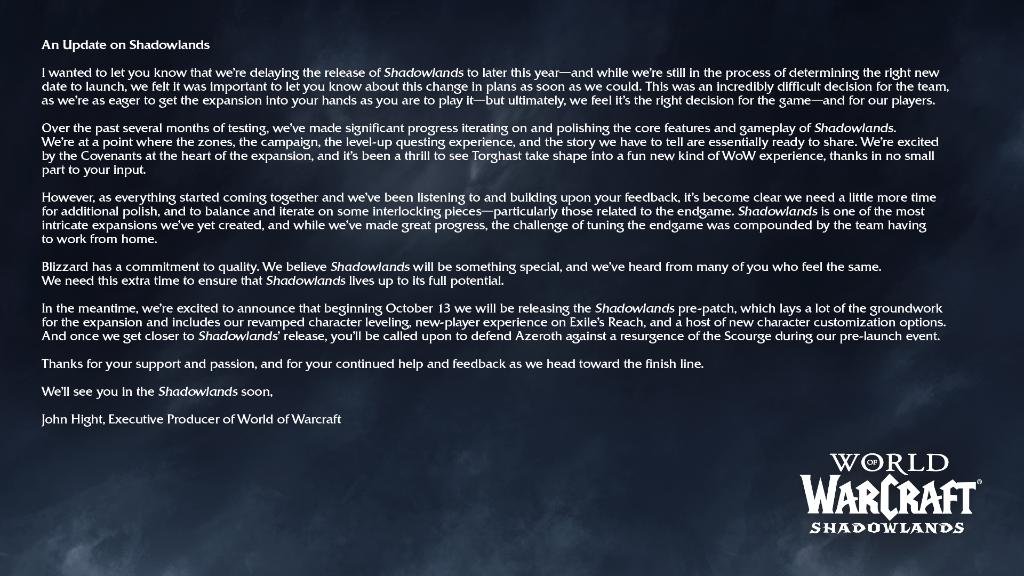 So at least we know Blizzard plans on releasing Shadowlands in 2020, but it will not be at the end of October as previously stated. Instead, they will be releasing the Shadowlands pre-patch on October 13. The included content includes the revamped character leveling (1-60 again, rather than 1-120), new character customizations, pre-Shadowlands story, and much more.
But Really, The Shadowlands Delay is a GOOD Thing
In the press release, Blizzard states that they really want to make something worth playing than rushing it out the door. And that COVID-19 has had an impact on development. Their candor here is admirable.
As everything started coming together and we've been listening to and building upon your feedback, it's become clear we need a little more time for additional polish, and to balance and iterate on some interlocking pieces – particularly those related to the endgame. Shadowlands is one of the most intricate expansions we've yet created, and while we've made great progress, the challenge of tuning the endgame was compounded by the team having to work from home".

Blizzard's Press Release
The internet – as always – seems to be a mixed bag of opinions on whether this is good or bad. Surprisingly, many people in the WoW community are in the same mindset as I am: this is a positive move by Blizzard. I am a huge World of Warcraft fan and have been anticipating Shadowlands as much as anyone.
Am I disappointed, though? Yes. I am. I also have numerous friends who requested time off of work for the launch who are now left wondering what to do. They are frustrated. And understandably so. There is going to be a lot of rescheduled PTO at the end of October now.
However, I honestly believe that delaying the Shadowlands expansion is a good move on Blizzard's part and other video game companies should take notice. Of course, I'm not saying that every video game company should be constantly delaying video game launches, that would not be helpful for anyone. Except for the devs under an unhealthy crunch.
Setting launch dates is important and should not be taken lightly, but there is a balance between holding strict to your launch date and recognizing when a game needs more time.
Why This is a Good Move
This shows that Blizzard wants to make a quality product rather than just getting the expansion out on store shelves. They want it to be up to a certain standard that we all expect from the behemoth World of Warcraft. Especially after the complaints following the previous Battle for Azeroth expansion.
Blizzard is listening to the players! This is huge! They are reading the feedback they have been getting, especially from players of the Shadowlands beta. They see that there are still some issues, some bugs, some inconsistencies. And they're doing something about it. They are acknowledging it. And they are taking the time needed (hopefully, at least) to fix them. Blizzard has said from the first announcement that they want Shadowlands to be something spectacula. This delay just proves that they meant it.
The coronavirus pandemic took a toll on everyone and everything this year…video games included. This delay is a good reminder that this year everyone should be given a few allowances.
 Some of the best games in history had delays before being released. Fallout 3, Resident Evil 4, Persona 5, Team Fortress 2, even Legend of Zelda: Breath of the Wild. Taking the extra time to get it right can be worth it. It almost always is.
Finally, World of Warcraft is not a game that is lacking in content. No matter how many hours you have spent in the game, you can always find something else to do while you wait for next expansion to release. You can finish grinding reputation, go achievement hunting, hunt that elusive mount you've always wanted (why hast thou forsaken me, Raven Lord?). You could even decide to start leveling an all new main for Shadowlands now that it's been delayed. (Which will be incredibly interesting to see how the new leveling system plays out.)
You all know that no one can ever truly be done with this game. Any current or ex-player feels that pull from time to time. And it's because of the dearth of content that we keep returning. The Shadowlands delay is just more proof of that…because Blizzard wants to make it worth our while to stay. And we'll stay while we wait.
Now excuse me while I go level my archaeology in Pandaria.
What are your thoughts on the delay? Let us know in the comments!
---