The Game Awards held its annual event on December 10, 2020. Celebrating the best that the worldwide gaming industry has to offer. With new premieres of upcoming games, A-List entertainment, and shiny awards. It is a night of glamour and excitement. While the awards show was obviously different this year due to COVID-19 restrictions, it was just as impressive as ever. In fact, even more so! This marks the first year in which The Game Awards were able to broadcast live from Los Angeles, Tokyo, and London.
Our own Capsulejay did a full coverage stream of the event on his twitch channel. I, however, simply curled up in my recliner with my dog and cat and had my own little party. Here is a little recap of highlights that stood out to me. Of course, I would recommend watching the full awards show if you are interested.
Super Smash Bros. Ultimate
To everyone's astonishment, The Game Awards opened the show with one of the most anticipated announcements! Yes, a new challenger for Super Smash Bros. Ultimate. Sephiroth from Final Fantasy 7. While the trailer was amazing… it did make me literally gasp with this image: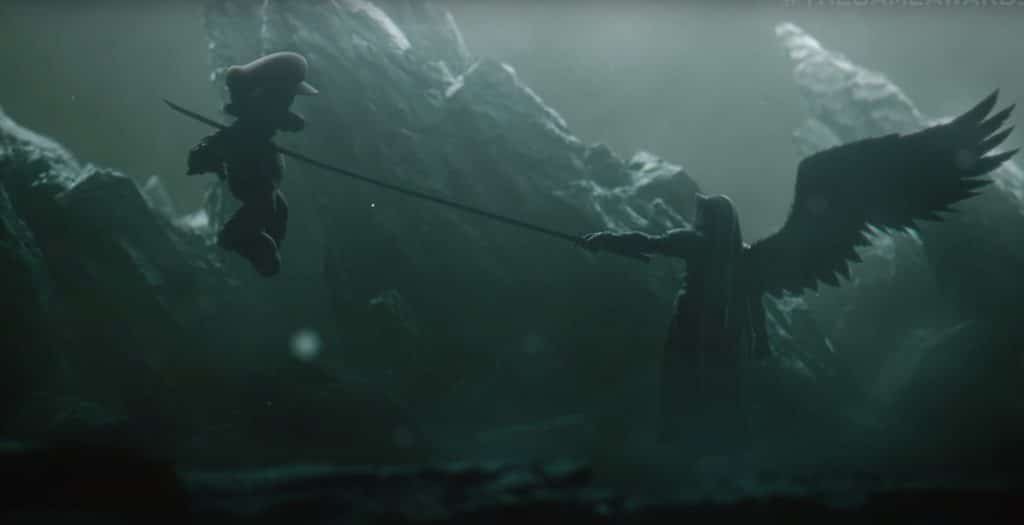 Celebrity Guests
You can't have an awards show without celebrity guests. Due to the pandemic, everyone was safely in their own locations and electronically streamed into the show. Gal Gadot, Keanu Reeves, Brie Larson, Ralph Macchio and Yuji Okumoto, Tom Holland, and so many more. Musical performances by the London Philharmonic Orchestra and Eddie Vedder. Not to mention the gaming giants who made appearances! Valkyrae, Reggie Fils-Aime, JackSepticEye, Josef Fares, and more.
The Biggest Special Guest?
There was one special guest who stole the show however. His appearance brought joy to all who watched. Yes, that is correct. The Swedish Chef.
Complete with his own tin foil award in hand, the Swedish Chef gave a speech to be remembered. If only we could understand it. I'm sure his eloquence and professionalism was unparalleled.
However, the famous Chef was there to promote his new cameo in a game! The popular game Overcooked: All You Can Eat has a new downloadable character. The Swedish Chef
Games and Music and DLC's Oh My!
While I'm sure everyone had different things that stood out to them, here are my biggest takeaways of the event.
New Game Premieres
There were SO MANY new game trailers and announcements. Many with actual gameplay footage. Here are a few that are going on my watch-list.
And Even Awards!
In case you were wondering… yes, there were even some awards given out! Among the many awards there were a few that stood out.
I feel as though I have barely skimmed the surface of all that was involved in this year's The Game Awards. Thank you to everyone reading this for joining me in my excitement of all that was announced.
The One Downside
My cat wasn't too impressed. I don't even understand.