If you grew up in the nineties without reading the Animorphs books, I can only assume it's because you were a Goosebumps fan instead. You probably stood in a Scholastic book mobile with "Welcome to Horrorland" in one hand and "The Message" in the other. You then opted for the series that had a ghoulish monster leering over the sign for a haunted theme park instead of the one with a Dolphin on the cover.
But holy smokes how wrong you were.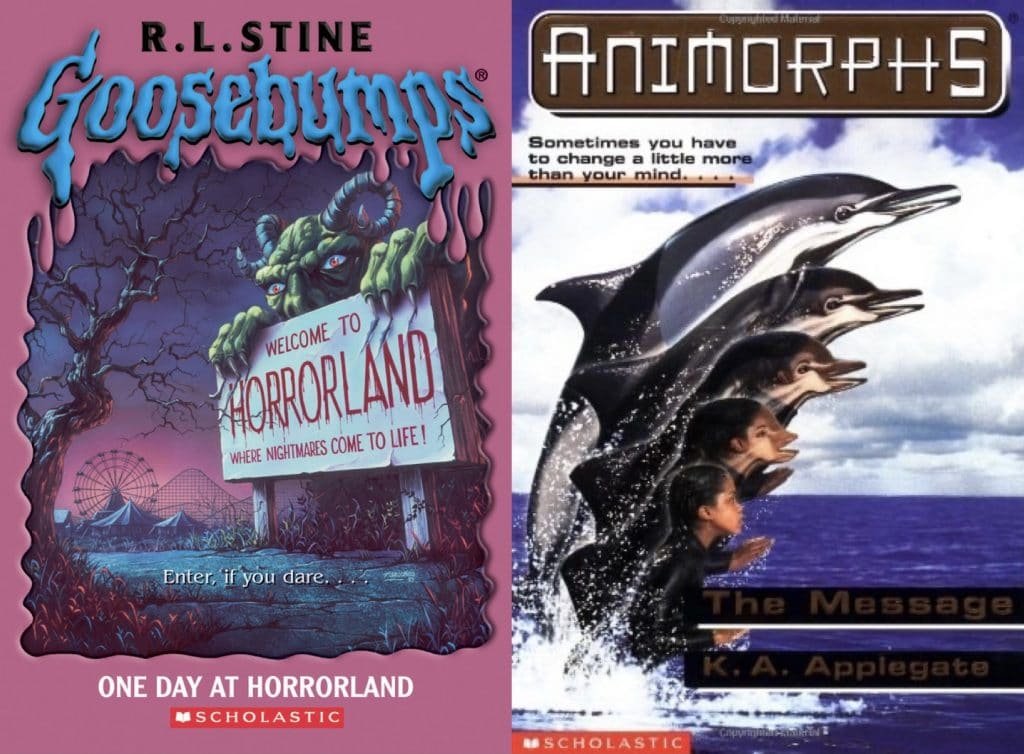 Lucky for you, there's a new Animorphs graphic novel out, where you can start fresh with the franchise and not worry about the somewhat insane backlog of the books (that are still absolutely worth reading).
What are The Animorphs, Though?
For the uninitiated, The Animorphs is a series of 54 main books and 10 side stories by K. A. Applegate, a pen name for couple Katherine Applegate (The One and Only Ivan) and Michael Grant (Gone).
The series chronicles the guerilla war a group of teens who fight against parasitic brain slugs (called Yeerks) that are invading planet Earth. Let me repeat: parasitic brain slugs that are invading planet Earth.
Impossibly outnumbered and unable to tell if there closest friends or family members have been secretly taken over by one of these Yeerks, the kids have to fight back while keeping their identities secret. To do so, they use a weapon provided to them by a benevolent alien upon his death: the power to morph into any animal they can touch for up to two hours at a time.
And These Books Were (Are) Awesome
These books were everything to me when I was a kid. If you got your hands on the Time Matrix and used it to check in on young Troytle, there's a good chance you'd find me rollerblading in a circle in our driveway with my nose buried in the newest Animorphs. (Editor's Note: DUDE! That's so dangerous! How are you still alive?)
A few years back, I reread the entire series, and I'm happy to say that it still holds up.
The books are a fun sci-fi adventure story on the surface, but looking at them again made me realize that they give an incredibly grim look treasuries of war. As a kid, these books helped me to understand the horrors of child soldiers, the concept of PTSD, suicidal thoughts, ethical treatment of prisoners, biological warfare, and even the calculus of taking innocent lives to move the posts toward a greater peace.
The Animorphs is an excellent middle grade book series, and was foundational in my early political development.
So, if you were one of those Goosebumps kids who thought that a haunted clock was scary, I think you owe it to yourself to give The Animorphs a try.
The Animorphs Graphic Novel is Your Second Chance
You see, even though the series of novels ended in 2001, Animorphs is back in a big way in 2020. There's a movie adaptation officially in the works, and today marks the release of a graphic novel adaptation of the first Animorphs book, "The Invasion" – written by the original authors and illustrated by Chris Grine (Chickenhare).
I can't speak to its quality yet (my copy should be showing up in the mail any minute), but the absolute quality of the original books has me hopeful that it'll be worth reading.
I mean, it can't be worse than the live action tv show, right? Or the video games? Or the board game?
Come to think of it, Animorphs has a terrible track record when it comes to adaptations… but I'm hopeful that this one breaks the trend!
If nothing else, the Animorphs graphic novel is an easy onboarding point to the series so that you can see what it's all about. "The Invasion" is a good story and sets the world up well, so if you do like the graphic novel, be sure to hit up your local library and check out the rest of the series.
Psst… if you want to hear how frustrating the Animorphs game on the GameBoy Color is, check out TroytlePower's Audio-Only Let's Play Podcast!
Are you an Animorphs fan already? What books are your favorites in the series?
---