Cyberpunk fans should be playing ANNO: Mutationem. It looks great, has a wonderfully engaging narrative, and features a queer relationship at its center.
Quick View
Title: ANNO: Mutationem
Release Date: September 1, 2022 (Switch Version)
Price: $24.99
Suggested Audience Age: Rated T for Teen by the ESRB
Availability: Switch, PlayStation, Steam
Recommended for fans of: Cyberpunk, Brawlers, Detective Stories, and Queer Romance
Geek to Geek Media was provided with a review copy of this title.
I know that Cyberpunk 2077 has been having a resurgence thanks to the new anime, but that world still hasn't hooked me in yet. Sure, it looks really cool, but every time I pick that game up I just find my mind wandering and end up playing something else.
As soon as I saw ANNO: Mutationem in motion on a Nindie Nation stream, I knew I had to try it. It brought all of the weird cyberpunk aesthetics but smashed it up with sprite-based character models and a 2D brawler-style combat. I ended up getting totally hooked on the game. The setting was interesting, the combat was solid, but it was really the plot and two main characters that held my attention.
Update: You know, when I first saw this game on Nindie Nation I thought it looked familiar. It turns out that's because both Data_Error and CapsuleJay talked about it here on Geek to Geek Media ages ago. There is even more ANNO: Mutationem content here and a stream here. Sorry, guys!
Ann and Ayane
ANNO: Mutationem kicks off with just a peek at the shadowy conspiracy that is happening in the background of the entire adventure. There is a man in a fancy hat, shadowy figures, and a mysterious plot. Honestly, that little peak didn't do much to pull me in, and most of that plotline stayed a little too obscure for me to be motivated by it throughout the entire game.
Thankfully, right after that, you get introduced to the playable character, Ann, when a package gets dropped off at her apartment. She opens it up and a hologram projector pops out and we meet Ayane, Ann's girlfriend. Ayane is with you throughout the entire adventure in this holographic form, and a lot of the story comes through her and Ann talking through the events they experience. I was worried that with Ayane's high-pitched voice and anime visage she was going to feel like Paimon, but I ended up loving both her and Ann so much that seeing their relationship through became the main thing I kept coming back to the game for.
Without getting into specifics, both Ann and Ayane have some BIG issues going on in their lives. This game deals with chronic medical issues, disability, religions and cults, family strife, self-harm, and suicide. I was really surprised at how deep things can get. I like a dreary city covered in neon lights, but I was really excited by such a personal story pulling me through that landscape.
Welcome to Noctis City
ANNO: Mutationem's world is super interesting to me, in that it's a lot smaller than it feels. The game sort of presents itself like an open-world RPG set in a massive cyberpunk city, but everything is much more contained than that. There are basically three main districts of the city that you can visit, each with a few streets worth of stuff to see, then a few other areas outside of town. A huge bulk of the game actually takes place adventuring through an underground labyrinth on the outskirts, and another chunk on a freight ship at sea.
In all of the neighborhoods and areas you explore, Ann can move around in 3D, but with a camera that always stays pointed at her as if she was in a side-scrolling game. When you hit combat, the game does actually turn into a full side-scrolling brawler, with Ann and the enemies all existing on one plane. In those moments it weirdly felt like a throwback to some GBA action games I've been digging into lately. The shift back and forth between these two modes is very fluid, since the camera is basically the same in both cases. The only part of the shift I don't love is that Ann has a massive jump when she is in combat and can't leap at all in exploration. It just feels weird.
Narrative First
Throughout the main story of ANNO: Mutationem, Ann and Ayane are following a series of clues to try to track down Ann's brother, who is in turn trying to track down a cure for a rare disease Ann is suffering from. In just about every area you can explore there are NPCs who can set you off on side quests, but I never really engaged with those mini-storylines. The few that I pursued granted me some extra cash for healing items and weapon upgrades or experience to unlock new abilities. Even without those boons, though, I was always in pretty good shape for combat.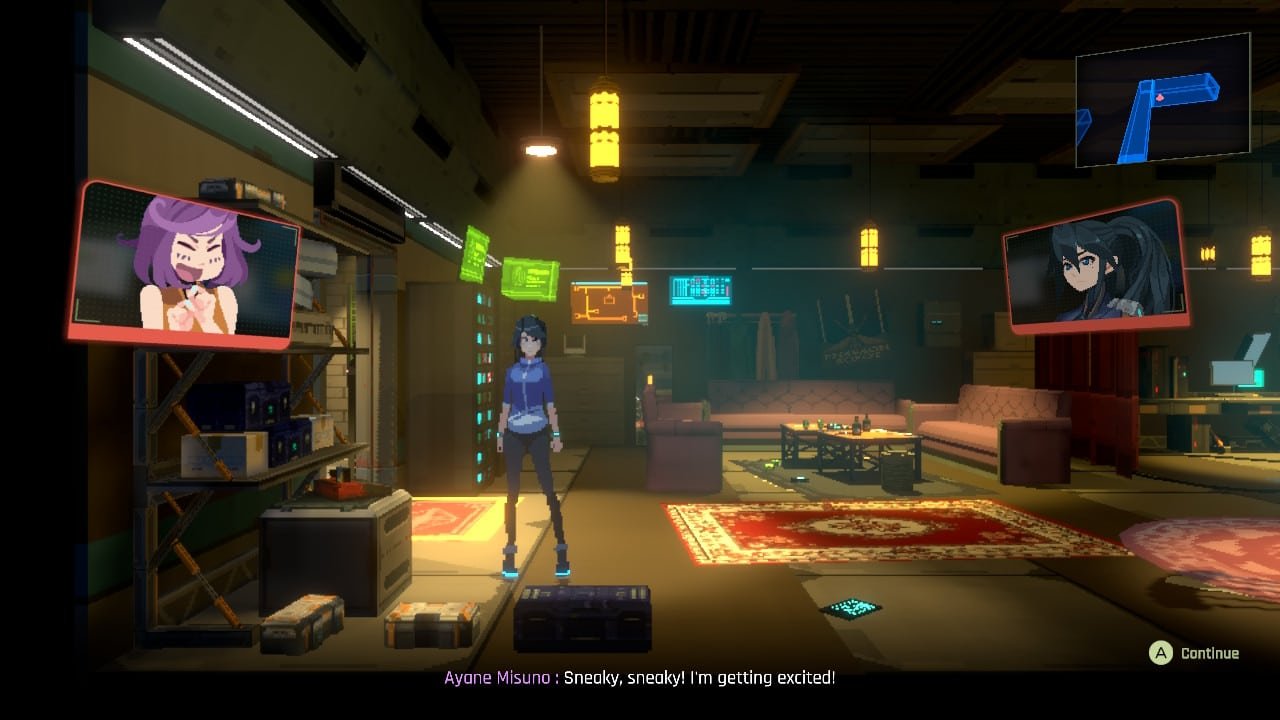 The biggest reason that I stayed on the main path was that the narrative and signposting of the story were both really propulsive. There's never anything like an actual ticking clock pushing you forward, but the writing and voice acting from the two main characters never made me feel like I could relax. Throughout that underground area I mentioned before I found some teleporters that I could have used to head back to the city to complete side quests or upgrade my gear, but turning away from the pursuit at that point would have felt like a betrayal of the character.
That feeling is certainly not helped by the fact that the game always gives you a giant red marker on your map telling you where to go next. I didn't mind that being there since I always wanted to move on to the next major story beat, but it is a bit at odds with having a world to explore, side quests to find, and even with some plots points where Ann is supposed to be searching for something, but the map shows you exactly where it is.
Final Thoughts
I really, really like ANNO: Mutationem, and I'm glad that I saw Nindie Nation checking it out on their stream. Honestly, just seeing the visuals in motion was enough to make me interested, and now it is one of my favorite games of the year. True, it is extremely linear, the action is pretty button mashy, and the world is smaller than it looks, but it's also visually stunning, beautifully written, narratively compelling, and just a ton of fun to play.
I think anyone who is willing to play a game for its story should take a look at this one, and with a free demo on the Nintendo Switch eShop, there is very little reason not to.
Geek to Geek Rating: 4.5 out of 5 Stars
Check out The Power Play-Throughs Podcast or the video below to hear TroytlePower's live first impressions as he plays the first 45 minutes of this game!