Cotton Fantasy is the first new shoot 'em up game in the Cotton franchise in nearly two decades. Was it worth the wait?
Quick View
Title: Cotton Fantasy
Release Date: May 20, 2022
Price: $39.99
Suggested Audience Age: Everyone 10+ (ESRB)
Time to Play: 1 hour
Availability: Nintendo Switch, PS4
Recommended for fans of: Arcade-style Shoot 'em Ups and maybe Pocky & Rocky Reshrined
Geek to Geek Media was provided with a review copy of this title.
After years of relative obscurity in the West, Success Corporation's iconic cute 'em up franchise, Cotton, has suddenly become much more accessible. Over the past year, various remakes and ports of the classic games have reached our shores, bringing in new fans (myself included). However, fans everywhere have had to wait nearly 20 years for an entirely original installment of the candy-loving Witch's adventures. This week, the wait finally ended with Cotton Fantasy (aka Cotton Rock n Roll) releasing on Nintendo Switch and PS4.
Overview
Cotton Fantasy is the newest entry in the long-running Cotton series of cartoony shmups. Like previous games in the series, Cotton Fantasy tells a story of a witch on a quest to each as much magical candy as possible, while inadvertently saving the world in the process. The game consists of horizontally scrolling shoot 'em up stages with waves of enemies and challenging bullet-hell bosses. By collecting crystals, players can power up elemental spells and screen-clearing bombs to wipe out enemies more efficiently. In addition to playing as the titular character, Cotton, other player character options change the mechanics to add variety to repeat playthroughs.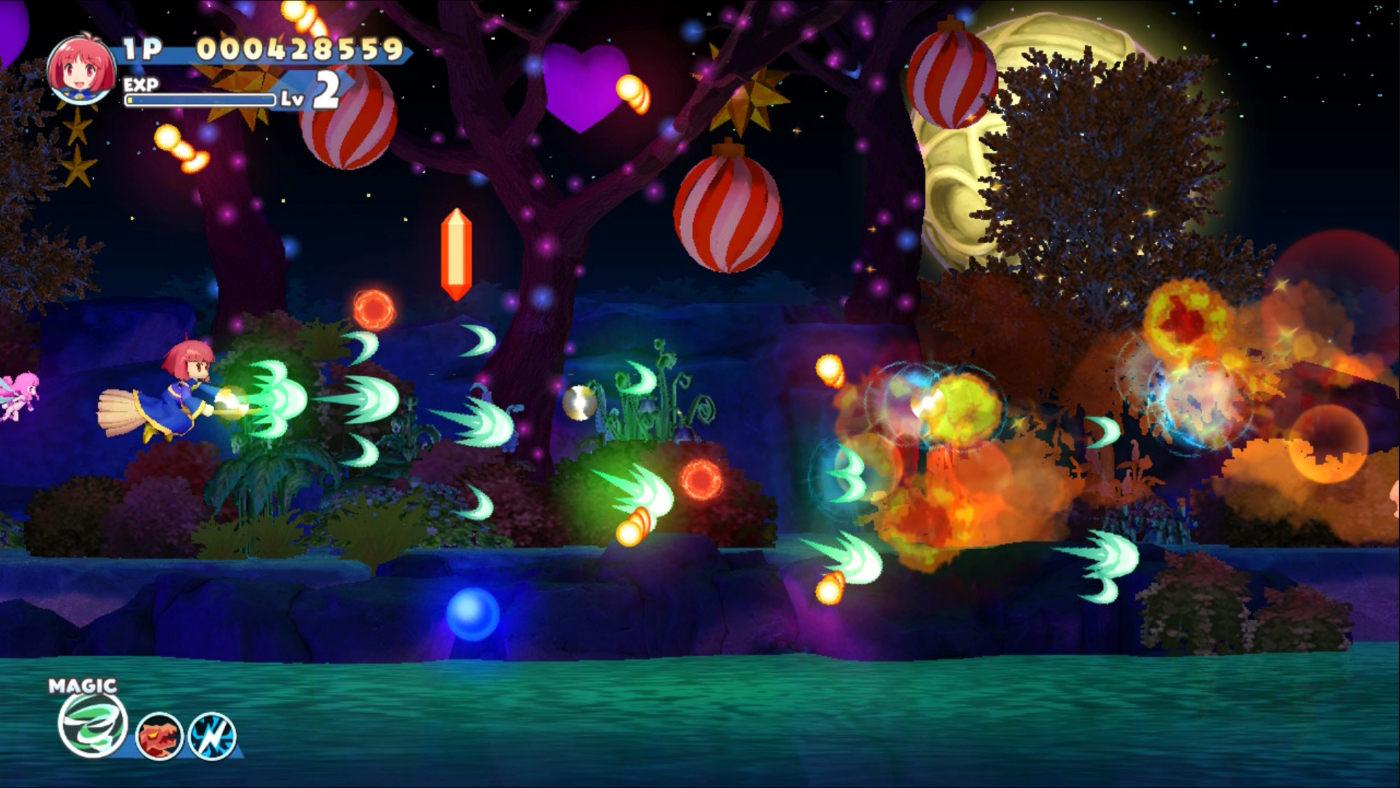 Pros
Similar to Cotton Reboot, Cotton Fantasy takes the iconic look, and sound of the classic games and reimagines them for modern hardware. I was continually impressed by vivid background art for each level and found myself bobbing my head to the music.
While story isn't often the selling point of a shmup, I had entirely too much fun watching the cutscenes of Cotton Fantasy. This entry may be the most ridiculous Cotton story yet, and that's saying something. Every voice actor turns their performances up to 11, which works well for what this game is going for. In general, fans of anime humor can expect some good chuckles in the scenes between the action.
Cotton Fantasy introduces a mechanic I haven't seen before in this franchise: a level select screen. With the previous games being strictly limited affairs, it was interesting to be able to choose my path. After beating the game and meeting certain criteria, new levels unlock to vary up subsequent playthroughs. Based on what I saw on the online leaderboard, there appear to be many routes through the game.
Another new feature I appreciated was having multiple character options right off the bat. While some of these new characters were fairly similar to Cotton, but with tweaked abilities, others offered radically different mechanics. For example, one character has infinite lives but has a strict time limit that can be extended by gathering crystals. This is another way Cotton Fantasy incentivizes playing through the game multiple times.
Cons
While Cotton Fantasy brings some new elements to the table, I felt that it didn't innovate quite as much as I'd expect for the sixth entry in a series. In some ways, it feels more basic than Cotton Reboot. The crystal refraction mechanic from reboot is gone in favor of a more basic power-up system (likely to make each character easier to learn). I was also a little disappointed that Cotton Fantasy doesn't do more to leverage mechanics introduced in the 3D Cotton games. I would have liked to see some 3D battles similar to Panorama Cotton or Rainbow Cotton; instead, these mechanics are confined to Cotton Fantasy's bonus stages.
Compared to the earlier games in the series, Cotton Fantasy moves extremely fast. While I expect a modern shmup to move quickly, at times this game's speed almost feels like too much. In some battles, I found it difficult to navigate Cotton through bullet patterns because she darted around the screen too quickly to keep up with. (Maybe I'm just getting old, though.)
The elephant in the room is that, like most arcade shmups, Cotton Fantasy is a very short game. It only took about an hour for me to go from booting up the game to rolling credits. While it offers plenty of replay value in the form of multiple player characters, unlockable extra levels, and online leaderboards, the total amount of content is considerably lighter than what most players would expect from a $40 game in 2022.
Verdict
While Cotton Fantasy may not exactly reinvent the wheel, it takes the already-strong foundation of the classic games and polishes them to a shine. Thus, a shmup junkie like me had a blast with it and will probably revisit it whenever I need an hour of excitement and laughs. If you're a genre fan like me, you couldn't go wrong with Cotton Fantasy. However, for newcomers, I recommend testing the waters first with Cotton Reboot (ideally during a sale).
Geek to Geek Rating: 4 out of 5 Irresistible Willow Candies
Jay streamed Cotton Fantasy on his Twitch channel. Check out this highlight to see the game in motion: Cotton Fantasy First Playthrough