It's not always easy to find a fun solo card game with high replay value which is easy to learn and quick to play. Thankfully, For Northwood! fits the bill perfectly.
Quick View
Title: For Northwood!
Designer: Wil Su
Publisher: Side Room Games
Release Date: April 11, 2022
Price: $15
Suggested Audience Age: 10+
Number of Players: 1
Time to Play: 30 minutes
Recommended for fans of solo tabletop gaming such as Palm Island or small games like Tinderblox

Geek to Geek Media was provided with a review copy of this title
What's The Story
In For Northwood! you are tasked with peacefully uniting the various fiefs of the woodland kingdom. To do this, you visit each of the rulers of the 8 fiefs individually and engage in a dialogue with them. If you win them over during your dialogue round, then they will join your side. However, if you fail to meet their requirements then they become hostile toward you.
What the Gameplay Feels Like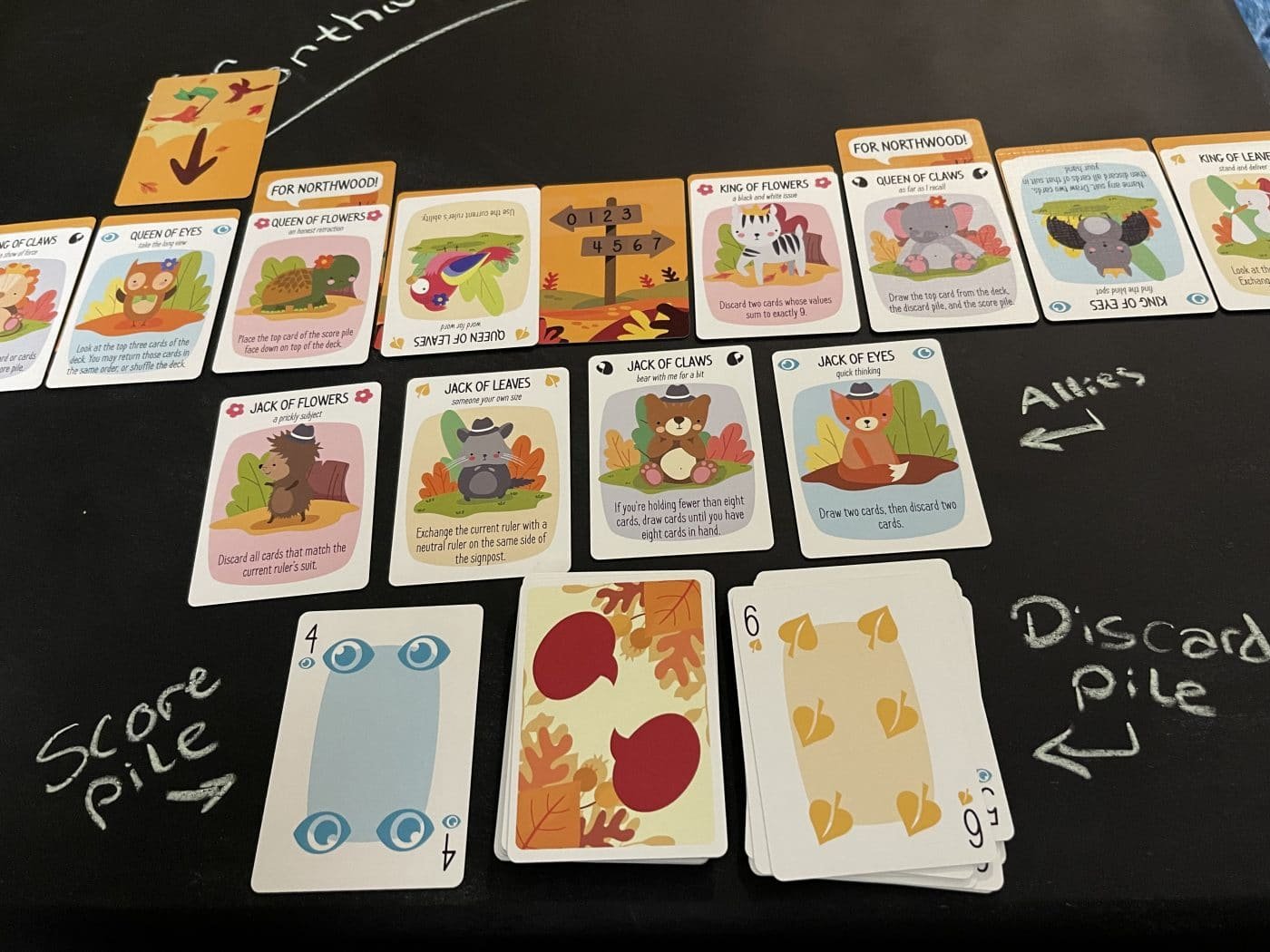 For Northwood! is essentially a solo hand management and precision trick-taking game. There are 8 fiefs who you need to persuade to join your side (really there are only three that you need…but you don't know which ones they are). The center signpost between the fiefs states what the necessary score for each fief is in order to win them over. You must hit the exact score they require in order to successfully persuade them to join you. The scores are not based on the numbers on the cards, but rather on how many cards end up in the score pile during that round.
You begin a round by drawing 8 cards into your hand. You then decide which fief you will visit and move the arrow to point to that ruler. The "dialogue" begins by turning a card over from the draw pile as the fief's opening statement. Essentially, you will play based on the cards' suit and number. Once you either run out of cards in your hand, or in the draw pile, the dialogue is over. If the number of cards in the score pile equals the target score you needed for that ruler, then you have won that round and they are on your side.
You also have allies to assist you. Allies are either the four Jack cards or can include one of the rulers who have been won over to your side. The abilities written on the bottom of their cards can be activated during a round to assist you.
Obviously, I have not gone into the rules in-depth in this quick explanation, however, the rules are very quick and easy to pick up.
What I liked
I was very impressed at how quick and easy it was to learn For Northwood! and yet that it is still a game with high replay value. It has a large element of luck-of-the-draw to it, but also includes a lot of strategy and planning. If you utilize your allies well and plan ahead for the what-ifs by weighing probabilities, it can become very strategic. However, you can also play by simply relying on luck and pushing forward, and still achieving some good results.
The artwork for the game is also very cheerful and stylized. The cuteness of the design and the story behind the game really adds a lot to the otherwise pretty basic gameplay.
What I didn't like
Really, not much. I have played the game several times now and honestly, I have enjoyed myself every time I pull it out and have wanted to play it more. I can see For Northwood! joining Palm Island as one of my favorite solo games.
Geek to Geek Rating: 5 out of 5 Fief Rulers
I don't know how long this will be available, however, at this time you can download a print-and-play copy of For Northwood! from Gamefound