Fans of GameCube era 3D platformers will find a lot to love in Kao the Kangaroo, a new throwback with just a few blemishes keeping it from being top-tier.
Quick View
Title: Kao the Kangaroo
Release Date: May 27, 2022
Price: $29.99
Suggested Audience Age: Everyone 10+
Time to Play: 10ish Hours
Availability: Switch, Xbox, Playstation, Steam, Epic
Recommended for fans of: Platformer mascots like Mario, Banjo & Kazooie, and Ty the Tasmanian Tiger
Geek to Geek Media was provided with a review copy of this title.
I'd somehow never heard of the Kao the Kangaroo franchise before this game caught my eye, but as a recent fan of marsupial-based 3D platformers, I felt like I had to give it a shot. What I found was a fairly linear game with surprisingly smooth mechanics that feels like it's a little polish short of really shining.
Become the Kangaroo
Kao the Kangaroo is the fifth game in the series, but it does a great job of welcoming new players from the very beginning. You play as the titular Kao, who inherits his lost father's magical boxing gloves and uses them to set off on a quest to save his sister, naturally.
Okay, yeah, the story is a little bit thin, but the characters all have neat enough design and writing to carry it through. The slightly cheesy voice acting feels just right. Only about 2/3rds of the game is voice-acted, though, so whenever I get just a text box it feels a bit weird.
Collectathoning at its Best
The world of Kao the Kangaroo is a series of open hubs that take you to linear levels. The opening area is Kao's village, and there are tons of coins, diamonds, and runes to collect as you explore the environment and talk to the locales. Throughout the village are a series of ominous purple gates, each of which requires a certain number of runes to unlock. Once you open one up, you jump into a linear 3D platforming level, most of which take about 15 to 20 minutes to complete.
Within the levels, you'll find more coins, diamonds, and runes. In fact, there's not actually an intrinsic reward for completing the levels, and instead what matters is whether you nabbed all of those pickups along the way.
There are a few hidden paths throughout each level, which reward you with health upgrades, extra lives, and a hidden K-A-O in each level a la Donkey Kong.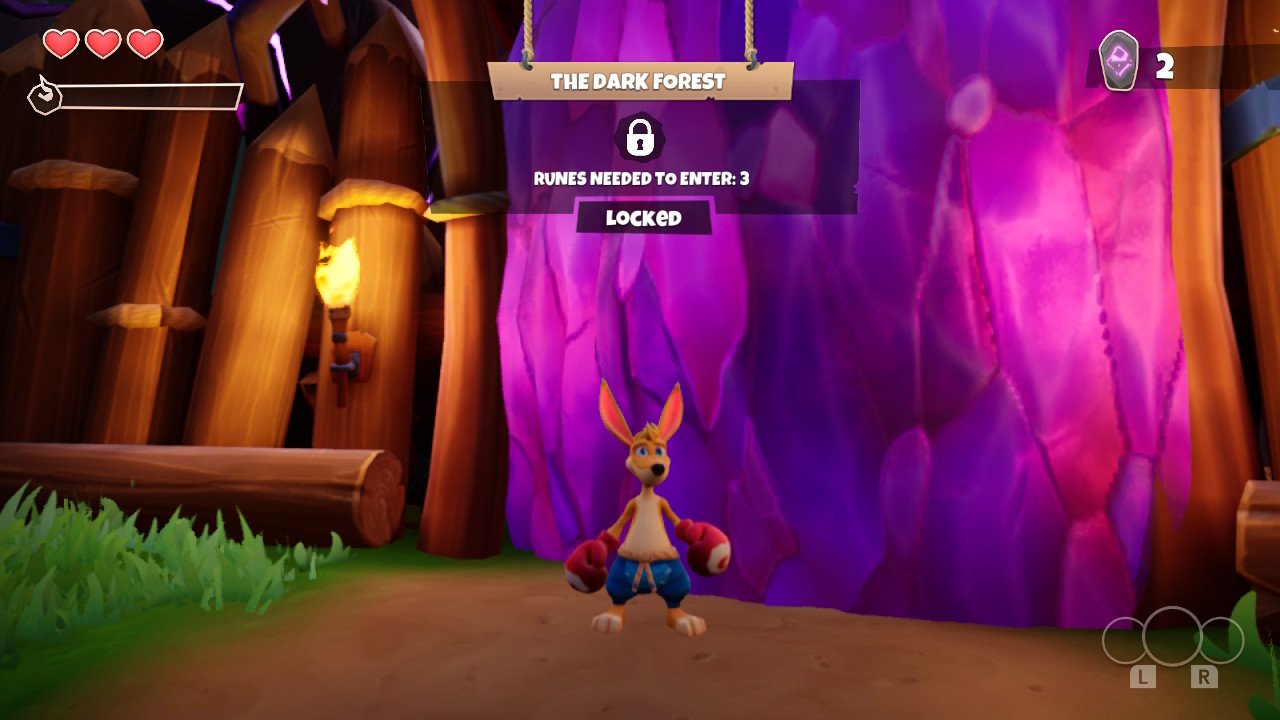 Weirdly, there doesn't seem to be any reward at all for collecting those three hidden letters. It's just… a thing you can do. The diamonds also don't seem like much of a reward, since so far I haven't found any use for them. The coins let you buy some cosmetic items, which is nice… but really it's only the runes that seem to be a required collectible.
The rest of the pickups are just there for the joy of collecting.
A Few Bumps in the Road
I generally like Kao the Kangaroo. 3D platformers are one of my favorite genres of game, and this feels like a solid upper-middle tier entry in that pantheon. The lack of engaging rewards for a lot of the collectibles is a bit of a letdown and I ran into more frame-rate drops than this feels like it should have, but there are a few other issues that lean more towards active frustration.
On the gameplay side of things, moving Kao around feels just fine 90% of the time. Every once in a while there's a weird camera angle that makes a jump way harder than it should be, but the game has pretty frequent checkpoints so falling to your doom never feels too punishing. The more annoying aspect is that this game is built on a health and lives system that feels super archaic after playing more welcoming games like Mario Odyssey. Missing a jump once isn't punishing, but missing it a few times and having to start a level over from the beginning blows.
Glitches get Stitches
I've also run into a few different game-breaking glitches that really dampened the experience. The first time that I tried to buy a new shirt for Kao the game got stuck in a weird menu loop and I had to force it to close. When I booted it back up my coins were gone but I didn't have my new shirt.
I also ran into an issue where my progress didn't save after I finished a level, which meant I had to replay the whole thing again. The second time through I switched to a different game partway through only to find out that the game doesn't actually save mid-level checkpoints, which meant I had to replay the whole thing again. The third time through a specific mid-level trigger didn't go off for some reason, which meant I had to quit out of the level and replay the whole thing again.
No matter how fun a level is, being forced to play it four times in a row is no fun.
Final Thoughts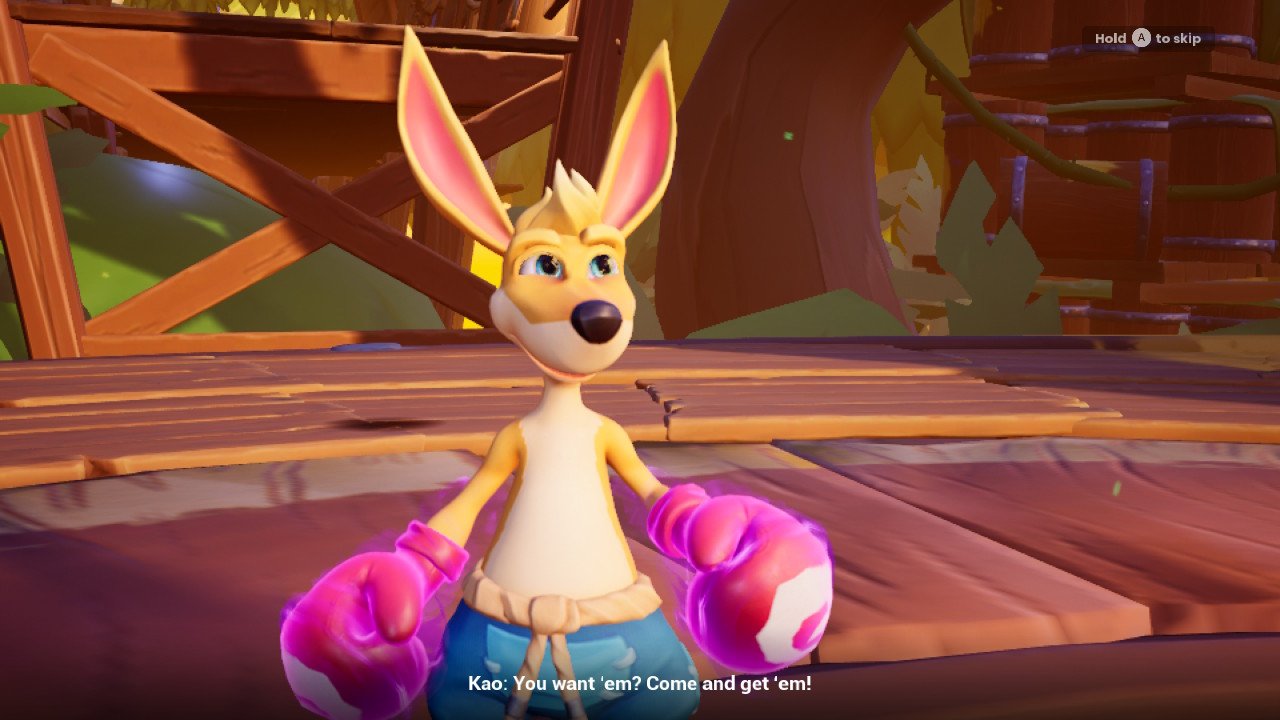 I haven't finished Kao the Kangaroo yet, but I plan to keep picking away at it. It's a fun little platformer with a lot of charm and a fairly satisfying, if unsubstantial, gameplay loop. As long as I don't run into too many more bugs through the game, it'll easily be a game I can recommend to fans of GameCube era platformers who are looking for something new.
Geek to Geek Rating: 3 out of 5 Stars